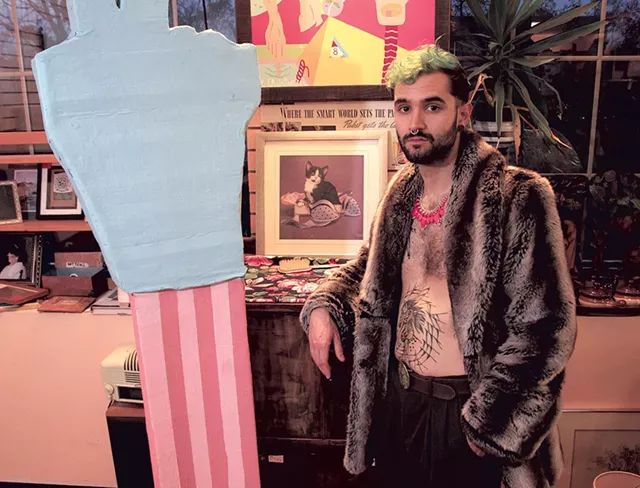 Matthew Thorsen
Dylan Hebert
Palm trees, luscious lips, cigarettes, flaming cars, eyes and crosses are all frequently appearing symbols in the lexicon of St. Christopher, an emerging Burlington artist with a pseudonym rooted in iconography. "If you want to see work by St. Christopher, you talk to Dylan," says Dylan Hebert, 25, who moved from his hometown of Plattsburgh, N.Y., to Burlington last December, after a seven-month stint in Troy, N.Y.
Describing the reasoning behind his alias, the self-taught artist refers good-humoredly to a line spoken by Bruce Willis in Pulp Fiction: "I'm an American, honey. Our names don't mean shit." He adds, "[Dylan Hebert] sounds like something you'd hear at roll call."
Why St. Christopher? Hebert recalls a medal his mother gave him that depicted the saint, who is widely recognized as the patron of travelers. Though Hebert has spent most of his life in Plattsburgh, he relates to concepts of nomadism — and searching — in other ways. In seventh grade, he was "ejected from Catholic school for asking questions," he explains, and claims that he's held "38 or 39 jobs since turning 16." Those include positions in retail, the food industry, construction, a movie theater and a 1950s vintage shop. While perhaps it could go unsaid, Hebert suggests earnestly, "I don't belong in any kind of job setting."
But his enigmatic persona is not the whole story. Hebert's work, primarily paintings, stands out for its playfully raw depiction of a singular landscape, rendered in matte pastels and filled with iconographic signposts. The scenes look like art-deco-meets-mod postcards from Los Angeles or Miami — cities Hebert has never visited. He describes the images as "dreamscapes of how I see the world," and adds, "I needed to find a place in my body of work."
Burlington locals may have already seen some of Hebert's work at Uncommon Grounds Coffee and Tea last summer, or in a new mural on the west side of Pearl Street Beverage. For the latter, he collaborated with area artist Mariah Hill and Anthill Collective's Harrison Holmes.
Shortly before Burlington's December First Friday Art walk, fliers appeared around town advertising an art show at Battery Street Jeans called "Trajectory." The funky thrift and vintage shop at Pine Street and Marble Avenue is a local fixture, but it's not in the habit of hosting exhibitions. For Hebert, the staff made an exception and cleared an entire back corner to hang St. Christopher pieces.
Courtesy of St. Christopher
He painted his five newest works on wooden panels; four of them are 16-inch squares; the fifth, 12 by 16 inches. The visual anchor of this grouping is one of Hebert's primary images, which recurs in his work: a nude that represents a woman he calls "Moorno," or "Mo" for short. He reveals no more than that.
Moorno looms large in the new works, a headless body that forms the landscape, as it were, of the frame's activity: a burning plane soaring toward a cross with an eye at its center; a disembodied, Uncle Sam-like hand forming a two-fingered peace sign and smoking a cigarette. As the show's title suggests, motion — a distillation of travel — is key to these images. For an immersive effect, Hebert recreated both the hand and a flaming car as large-scale cardboard sculptures to install at Battery Street Jeans.
One guest at the "Trajectory" opening was John Bates, owner of Vermont Art Supply and Black Horse Studio Project Gallery in Burlington. Bates first encountered Hebert some months ago, when the young artist came into his shop looking for advice on materials. Hebert created many of his earlier paintings using children's paints with a lifespan of only a few years. Bates helped set him up with sturdier materials, including an acrylic wash that he describes as "highly touted by the animation industry."
While acting as a sort of impromptu supply mentor, Bates has been impressed with Hebert's output. "He's extremely talented, and I think he's got a bright future ahead of him," he says of Hebert. "He's working with an old-school palette of these very soft pastels, and you don't see people do that as much. He's also doing really offbeat imagery, and he's brought the two together beautifully."
Bates also noted Hebert's relationship with tattoo art. A quick perusal of the St. Christopher Instagram account (or Hebert's arms) offers ample evidence of a fascination with ink. Hebert writes in an email, "I have an overwhelming love and respect for the art and craft of tattooing, and spent many years painting tattoo flash."
Clearly, this is an artist who's open to experimenting with fluidity among mediums. He's even embroidered some of his flash-inspired designs onto T-shirts. "I've always considered myself a folk artist," Hebert says.
Courtesy of St. Christopher
A few of the pieces in "Trajectory" fall more neatly into a recognizable art-brut tradition, depicting deliberately crude characters on found surfaces. Hebert echoes a sentiment of many creators, particularly so-called "outsider artists": "[My work is] its own thing. I just facilitate it."
Currently, he's putting together a book of his earlier Moorno series — a preservation project. The grouping includes some 20 works that he rendered in ephemeral materials. Hebert plans to paint over the originals with archival-quality pigments, but he says he anticipates losing the works' original colors and some of their spirit.
St. Christopher is a still-emerging entity, but one worth watching. The artist seems to be testing how far icons can travel — both preexisting ones and those he's still developing, such as Moorno. The future may hold many things for Hebert, but a static trajectory is unlikely to be one of them. As he puts it, "I want my paintings to be more like windows than frames."