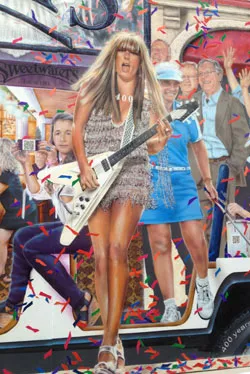 Grace Potter's likeness on the Church Street mural
A new year is not unlike a new pair of shoes. Just out of the box, it is sparkly clean and smells of fresh leather. Or something. But much like new shoes need to be scuffed up and broken in before they feel right, a new year needs to be lived in a little before you can truly get a sense of the mysteries it may have in store.
Now that we're a solid week-plus into 2013, it is time once again to gaze into the mirror ball — this is rock and roll, we don't do crystal — and glean what we can about the year to be. While some of these predictions contain a nugget of truth, most are meant to be lighthearted — don't read into them too deeply. After all, in the six-year history of this column, we've yet to get a single prediction right. So, on that note, here's what to expect from local music in 2013.
Burlington's EDM scene continues to explode. New DJs and producers emerge at a record pace. Local dance clubs are packed nightly as revelers get down and dirty to the genre's hottest new trend, Zoombaton, a hybrid EDM-fitness craze invented by Mushpost founder Nick Concklin.
With fewer places to play following the closings of Langdon Street Café, Lamb Abbey and, most recently, the Black Door, the Montpelier music scene appears to be on life support. That is, until the Golden Dome Musicians' Collective is approved for a business loan and opens a new club, the Golden Dome, in the old LSC building, which the co-op guts and completely renovates. The venue is a smash success, drawing a wide variety of local, regional and national acts — not to mention happily paying customers — and serving as the home base for the city's once more flourishing arts and music scene.
Faced with another PR disaster after a staffer unwittingly approves permitting for a Memorial Auditorium concert at which 12 minors are arrested for being drunk — a brostep festival called "K.I.D.S. Intoxicated" — Burlington Mayor Miro Weinberger closes the hall to music for good, which upsets … well, no one, really. However, in a widely criticized move, he also enacts a Footloose-type ban on public dancing within city limits. As a result, South Burlington's Franny O's becomes the area's premier dance club.
DJ A-Dog, aka Andy Williams, makes a complete recovery from leukemia and is back rocking local clubs by June. Thanks to incredible community support, money raised to help the DJ pay for his treatment far exceeds his medical bills. The remaining money is used to start an emergency fund for local musicians with medical emergencies. There's no joke here. Get well soon, Andy.
Kickstarter continues to be an effective tool for musicians to fund recording projects. That is, until it reaches a critical mass in Burlington when every band in town simultaneously start campaigns. While each campaign reaches its goal, no albums are actually created because money donated to one Kickstarter effort is then donated to the next, and then the next, and so on, ad infinitum. The resulting conundrum becomes known as the Queen City Paradox and is the subject of several master's theses at MIT and a cover story in the New York Times, and leads to an Ann Coulter rant on Fox News against socialism, gun control, reproductive rights, universal health care and space aliens.
Grace Potter and the Nocturnals threaten to cancel the third annual Grand Point North Festival at Burlington's Waterfront Park if Potter's likeness on the recent Church Street Marketplace mural isn't changed to more accurately reflect the singer's appearance. "They made me look like a bloated, drunk Tina Turner," Potter tells a Rolling Stone reporter of the painting. When informed of Potter's comments, Turner is said to be enraged. That is, until the R&B icon is shown a picture of the mural. Turner later agrees to headline Grand Point North when the painting is fixed.
Seven Days music editor Dan Bolles continues a dubious trend as he places second in the Vermont Press Association's John D. Donoghue award for arts criticism for the fourth time in as many tries. As consolation for being the Susan Lucci of Vermont arts writing, the VPA creates a new award, the Dan Bolles Award for Music Criticism — for which Bolles finishes second.
Two local festivals, the Precipice at Burlington's Intervale and Waking Windows in Winooski, explode in popularity as mainstream audiences discover what hardcore fans have long known: Local music kicks ass. In particular, Waking Windows is such a success that it prompts a documentary by local filmmaker Matt Day, entitled Wakey Wakey, Winooski. The film is screened at Sundance, which leads to major media attention on the 2014 festival, including writers from Paste and Pitchfork, who liken the three-day event to the earliest incarnations of South by Southwest in Austin.
The Burlington Discover Jazz Festival celebrates its 30th anniversary in grand style. Highlights include nightly block parties on Church Street (complete with beer gardens!), the unveiling of an annual Ed Bemis Memorial All-Star Jam on the fest's closing day (deemed Ed Bemis Day), a tribute to late avant-garde composer Bill Dixon (who, despite living in Vermont, never played the festival), as well as an unprecedented number of marquee headliners, cutting-edge up-and-comers and talented locals. The weather cooperates, which is good news for the nightly showcases at Waterfront Park. The festival draws fans in record numbers, and though a good percentage of the acts only qualify as "jazz" under the most liberal definition of the term, it seems as though even purists heed the fest's controversial 2013 tag line: "Just shut the fuck up and have fun."
The print version of this article was headlined "Forward Thinking".