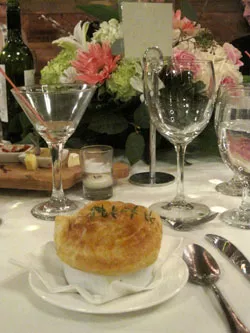 Last Wednesday, Round Barn Farm chef Charlie Menard posted a photo to his Facebook page depicting duck legs swimming in their own fat. The martyred mallards were curing in anticipation of their Saturday-night theatrical debut.
That was the seventh annual Green Mountain Opera Festival gala fundraiser. The event, like the group itself, was the brainchild of artistic director Taras Kulish. The Montréal-based bass-baritone has a booming career: He's performed around the world and even been featured on the Barihunks blog as a "Slav to the music." When Kulish first appeared at the Round Barn's Cultural Center, he identified a local thirst for opera and related events. So he decided to assume his first administrative role.
The new opera company debuted in 2006 with a production of The Barber of Seville. A benefit dinner the same year hosted about 40 people, recalled Kulish. Last Saturday, close to 200 packed the barn's top floor to share the tastes of La Bohème, which will run in June at the Barre Opera House.
Menard based his menu on dishes that might have been served in Puccini's 19th-century French setting, though the Latin Quarter bohemians of the tale would certainly dine more frugally.
Even before guests were seated, they were treated to the Festival's first signature cocktail, the Mimitini, created by Round Barn bartender Dan Weber and public relations strategist Alexandra Tursi. Tursi, a sometime singer herself who appeared in the chorus of Green Mountain Opera's Carmen last year, said she wanted the drink to capture the leading lady's consumptive frailty. "It just couldn't be red," she added, joking about the less-than-appetizing nature of a tubercular cough.
The result was as icy as the opera's third act, which is often staged with snow. French Cîroc vodka, made from iced grapes, provided a base that tasted like mild, grown-up grape soda, with none of the pucker of wine. Distilled five times, the tipple didn't burn like other vodkas, either. Weber added white grapefruit juice for a sweet-and-sour edge and threw in a skewer of three green grapes. Tursi only wished that they, too, could have been frozen.
As the mostly gray-haired attendees — clad in sparkly, creative black tie — were herded upstairs, Mimitinis took a back seat to butcher boards. The wood slabs were covered with house-cured meats and cheeses. Standouts included smoked salmon with pickled haricots verts and onions and herbaceous, bacon-coated pâté de campagne that crackled with chunks of pistachio, beautifully complemented by cranberry relish.
Another good side for the charcuterie was music. After a short introduction by Kulish — who does not sing for his own company — Canadian soprano Aline Kutan and Shelburne-bred baritone Geoff Penar took the floor. Kutan is a world-class coloratura whose next gig is with the Rotterdam Philharmonic Orchestra. Twenty-three-year-old Penar will make his debut with the Festival this summer.
As the seven-song set closed with the decidedly nonoperatic "Over the Rainbow," the air filled with the scent of butter. Servers were bringing in what looked like puff-pastry-topped pot pies. They were, but the contents were more exotic than chicken and carrots. Escargots, Brussels sprouts and mushrooms were bathed in a decadently creamy lemon-thyme-garlic sauce. Menard later admitted that he based the dish on one he had enjoyed on his prom night.
With the performance over, the menu took center stage, and courses came in quick succession. The duck confit took a crisp, salty bow alongside truffle-scented pommes de terre au gratin and crunchy haricots verts, all presented in a shallow pool of currant-flavored demi-glâce. The salad course was served à la française — after dinner. Indeed, the pile of green lentils, dressed with blood-orange slices and sprigs of frisée, tasted like a summer picnic in Provence.
The evening ended in high style, literally. Menard made like one of the world's first celebrity chefs, Marie-Antoine Carême, and prepared a slew of towering pyramids of cream puffs called croquembouche. The pâte à choux were filled with airy cream and bound together in a net of caramelized sugar. The result was so splendid, even Menard couldn't resist taking some photos to memorialize his handiwork.
There was no question the celebrants would remember the sights, sounds and tastes of the night.
The Green Mountain Opera Festival combines music and food twice more this season. An opera brunch at Timbers Restaurant at Sugarbush Resort is June 10. Opera singers take on Broadway for a picnic concert at the Round Barn Farm on June 13. "La Bohème" is performed June 22 and 24 at the Barre Opera House. greenmountainoperafestival.com