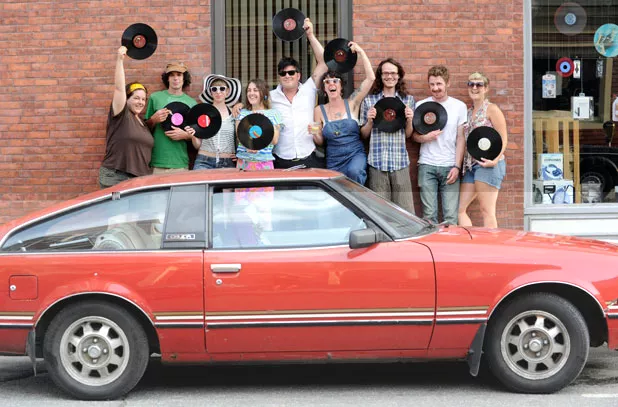 Members of the Cheap Thrills Record Club in front of Buch Spieler Music
It's 6 p.m. on a warm, sunny evening on Langdon Street in downtown Montpelier. Inside Buch Spieler Music, record store manager Knayte Lander is adding up the day's receipts, but his day hasn't ended yet. It's the one night a week Buch Spieler stays open after hours — unofficially — for a meeting of the Cheap Thrills Record Club USA #1, a small, informal group of musicians and music fans who meet to listen to and review records.
The idea for the club came to Lander on New Year's Day 2013, when he and some friends started talking about the isolated nature of music listening.
"So many people are missing out on the social aspect," Lander says. "In the old days, somebody bought the new record, and everybody went to their house to listen to it. But what I was seeing at Buch Spieler was people buying a record and going home to listen alone." He decided to remedy that, and Cheap Thrills was born.
As Lander chats about the club's beginnings, members start to wander in. By and large, they're thirtyish, and many are associated with Montpelier's State & Main Records. There's Jeff Thomson, of the band Lake Superior, and his partner, Hannah Bean, whose vintage shop the Getup Vintage shares space with Buch Spieler. There is Ben Roy, drummer for the Concrete Rivals. There are Pete Rahn, also of Lake Superior, and his wife, Amy Rahn. And there are singer-songwriter Dan Zura and Brad Giresi, who collaborates with Thomson in the experimental band July 26th Movement.
Thomson carries a bag of corn chips and another of pretzels. Random chilled beers, both high end and low, appear from plastic bags and backpacks. A few folks grab rickety chairs, but most sprawl on Buch Spieler's weathered hardwood floors. Emily Warner's dog, Butter, reclines contentedly across a handy lap.
At the heart of Cheap Thrills are a few rules. The first rule is simple: vinyl records only.
Why?
"Even if you're not obsessed with sound quality, a record is a thing," Lander says. "A stream is the ghost of a thing. It's not something that sticks with you."
The second rule is that all responses to recordings are presented as haiku. This ancient Japanese poetic form, composed of three lines of five syllables, seven syllables and five syllables, respectively, has been employed primarily to reflect on nature. Is it a good fit for responding to records in 2013?
Absolutely, says Thomson, who came up with the haiku concept at the first Cheap Thrills session.
"There are a lot of different ways you can go with haiku," Thomson says. "Sometimes a record triggers a memory, or you get very specific about the music itself. Sometimes the poems get very dreamlike, expressing the feeling of listening to the record itself."
The third rule of Cheap Thrills Record Club is that all records come from bands no one in the club has ever heard of. When asked why, Giresi doesn't hesitate.
"Because we're all in bands that nobody else has ever heard of," he says.
After the laughter dies down, his wife, Robyn Joy Peirce Giresi, elaborates.
"We want to support the little guy. But we are also interested in what people are doing, and knowing about current music," she explains. "I'm old. I don't know how to keep in touch with music right now. I come into [Buch Spieler] and talk to Knayte, and he recommends things, but Record Club is a better way of doing that."
It also doesn't cost much. Club members chip in a couple bucks each to pay for the week's record — hence the name "Cheap Thrills."
Now it's time to start. Thomson distributes slips of writing paper, and Lander sets the Oblivians' Desperation (In the Red, 2013) on the turntable and lowers the tone arm. The music that fills the room is a nod to 1990s punk. It's a reunion album, and less edgy than the band's previous work, but it still kicks.
Halfway through side one, the casual conversation has been damped down. Some people hold their pens poised in concentration. Others are writing swiftly, tapping out rhythms with their pens or mouthing words as they count syllables with their fingers. There's a short break between sides, but no commentary on the music. Haiku is the focus.
According to (Emily) Warner, there's a reason for that. "You really need to plug into your creativity to get your point across," she says. "You could talk for half an hour about the record. But when you only have 17 syllables, you really need to choose wisely.
When people finish their haikus, they fold them up and deposit them in a hat. Once all are collected, the first haiku is drawn. Its author, Pete Rahn, wins the Oblivians' record and the chance to have his poem read first.
Trash can trampoline
Escaping and on the run
Fire on your heels
The author of the second haiku drawn, Zura, wins a digital download of the record. The author of the third, Amy Rahn, wins the right to choose next week's record. After the first three, all haikus are drawn and read in random order. Some capture the mood of the record from the perspective of a character:
Greaser says fuck it
Guitar blast beehives all night
Sing if I want to
Others are more abstract:
Dirt on leather skin
Denim fringe curtains open
The sun kissed salt lick
And one is harshly critical:
Obvi obvi oh
Shake your ass to the bathtub
The first thing came out
To top off the meeting, the group composes a letter, which is signed by all and popped into an envelope with the original haikus, to be shipped off to the band. Later, the poems are posted to the Cheap Thrills blog.
"There's a crowdsourcing aspect," Lander says. "You have 17 syllables each, but if there are 10 people, you have 170 syllables. When you read all the poems together, it's like one strangely unbiased but cool review."
So far, the club has gotten some great responses. The most prominent was coverage in Brooklyn online mag Mass Appeal, which now publishes haiku reviews by Cheap Thrills. But the primary thrill here is social.
"We don't discuss the music as much as we enjoy each other's company," Lander says. "It's a time right after work to do something together, and it's what records used to be."
The original print version of this article was headlined "On the Records."