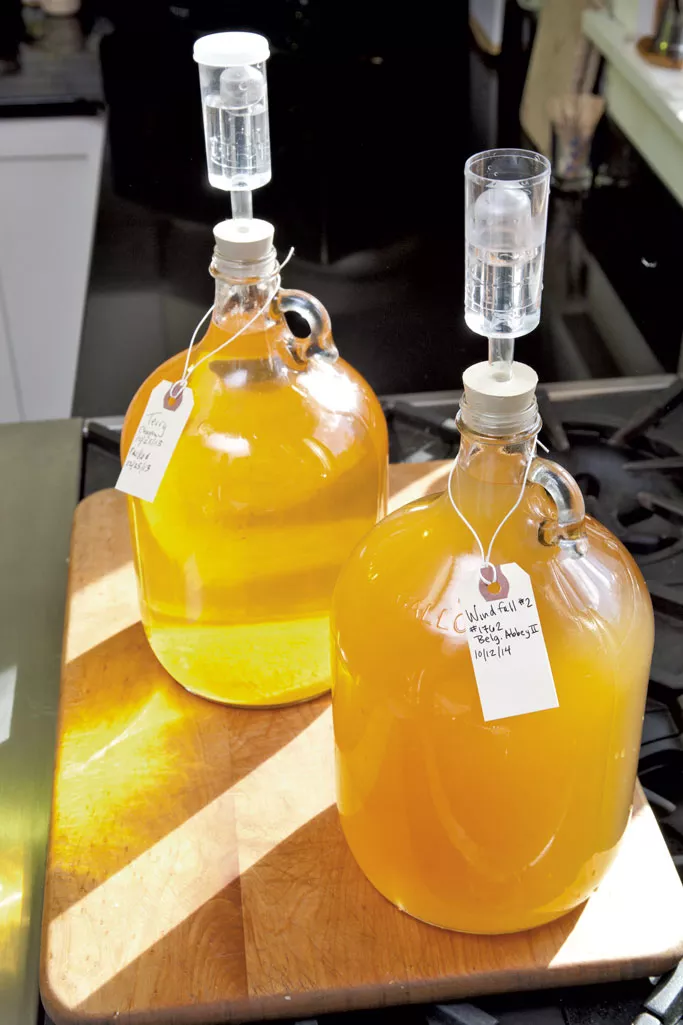 Matthew Thorsen
Fermenting cider
I never really had a drink until my mid-thirties. Soured by the blandness of brews I chugged as a teenager and appalled by the vomitous antics of my pickled pals, I swore off drink until just a few years ago.
When my wife and I moved to Vermont about a year and a half ago, I realized I'd lucked out, libation-wise. I'd already cultivated a taste for hard cider, but had no idea I'd be arriving at the dawn of the Cider Renaissance. And I certainly wouldn't have guessed that I'd be making the stuff myself.
I love cider's effervescence, tartness and capacity to complement foods both savory and sweet. My history-geek side likes knowing that hard cider flowed like water in this country for its first couple of centuries. It's practically like communing with a tipsy Ben Franklin every time I take a draught.
Judging by the increasing availability of hard ciders, even in my neighborhood supermarket, I'm clearly not the only Vermonter who appreciates them. King Beer won't be unseated from his throne any time soon, but cider now has a comfortable seat at the royal table.
Vermont cider makers are capitalizing on this resurgence. Woodchuck Hard Cider of Middlebury is the second best-selling brand in the country. Citizen Cider in Burlington continues to expand its products and distribution. Stowe Cider now ships all over Vermont.
Commercial cideries are not the only ones capitalizing on the growing fondness for what might be called America's original national beverage. In increasing numbers, homebrewers are bubbling up hard cider — whether alongside their beer-brewing operations or as a stand-alone project. The process' simplicity particularly appeals to first-time homebrewers, including me.
Matthew Thorsen
Anne Duany Whyte
Right now, my first batch is quietly fermenting in the basement. The bucketful of frothy brown liquid ain't much to look at, but I'm hoping its contents will make for excellent drinking in several months.
Like many other home cider makers in the area, I purchased my must (aka juice) from Essex Junction's Chapin Orchard, which recently held its annual Cider Crush. Vermont Homebrew Supply has cosponsored the late-October apple-pressing event for nearly 20 years — roughly as long as the full-service shop has occupied its malt-scented quarters in Winooski. For less than $150, I bought all the gear I needed, and Vermont Homebrew co-owner Anne Duany Whyte provided crucial advice.
First, she said, "Have patience. [Cider making] doesn't lend itself to someone who wants cider in three or four weeks." A homebrewer herself, Whyte added, "This year, for Thanksgiving, we're having last year's cider."
Yeast can't be rushed into the alchemy of fermentation, so Whyte's advice is sound. And the output of local commercial cider makers ensures that I'll have no shortage of brews to quaff while I wait for my yeast to do its thing. (A bonus: When thoroughly cleaned, the 750-milliliter bottles that hold store-bought ciders make perfect vessels for the homemade stuff. Whyte cautioned me, though, not to use bottles that haven't previously held a carbonated beverage. Wine bottles, for instance, aren't rated to withstand the higher pressure produced by a fizzy cider.)
Whyte also advised me to take good notes on the cider-making process, a message reiterated by my guide, Claude Jolicoeur's The New Cider Maker's Handbook: A Comprehensive Guide for Craft Producers. The $44.95 hardback from Vermont's Chelsea Green Publishing is the last book on cider making you'll ever need, whether you're fermenting five gallons (as I am) or starting your own orchard. The book addresses everything from chemical formulae to how to build your own press. At the moment, I'm assiduously noting such factors as my batch's specific gravity and acidity.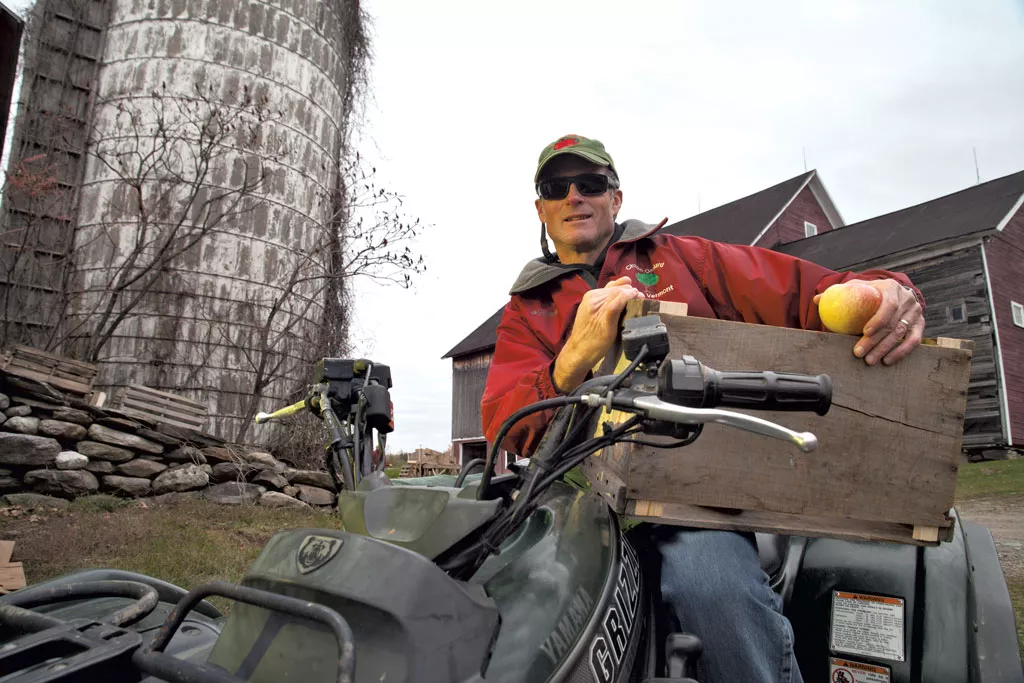 Matthew Thorsen
Phil Murdock, owner of Chapin Orchard
Whyte noted that the number of people signing up for the two-day Cider Crush has increased every year. Chapin Orchard manager Jim Bove confirmed that, this year, he had to turn people away because there wasn't enough juice to go around. That's a big change from even five years ago, said Whyte, when home cider making was just "the other thing" that home beer makers did on the side. Today, she said, "We're getting a lot of folks coming in who've never brewed beer and never made wine who have discovered hard cider for what it is. This is their introduction to homebrewing. It's pretty exciting," Whyte added, "in that there are enough ciders around now that people treat it as its own stand-alone beverage."
In other words, cider begets more cider. When Bove took on managerial duties at Chapin 14 years ago, he supervised the crushing of 350 to 450 gallons of juice, he estimated. This year, the orchard had to draw the line at 1,000 gallons. "We feel like, at this point, anything over a thousand gallons is getting to be too much for us to do in two days," Bove said.
At the Crush, brewers get a flavorful, complex must, and the orchard — which necessarily operates on a seasonal basis — gets a welcome, last-minute boost in its profits. "It's been a great little piece of our business," Bove said, "because, after Columbus Day, our business tends to drop off — after 'pick-your-own' closes and it starts to be 40 degrees and rainy."
Thirteen of Chapin Orchard's 35 acres are planted with apple trees of many varieties, 15 varieties of which provided fruit for this year's Crush. By volume, Liberty apples contribute the most: 13 of every 40 bushels squeezed by the orchard's heavy-duty press. (Jolicoeur calls this species "excellent for cider.") The juice of Russets, Northern Spies and lesser-known "antique" varieties such as Esopus Spitzenburg and Tolman Sweet joins Liberties in the tank. A handy, wall-mounted whiteboard lists the Crush's percentages of constituent apples. I'm not the only one to snap a photo of it, as the list provides vital information about specific gravity and tannin content.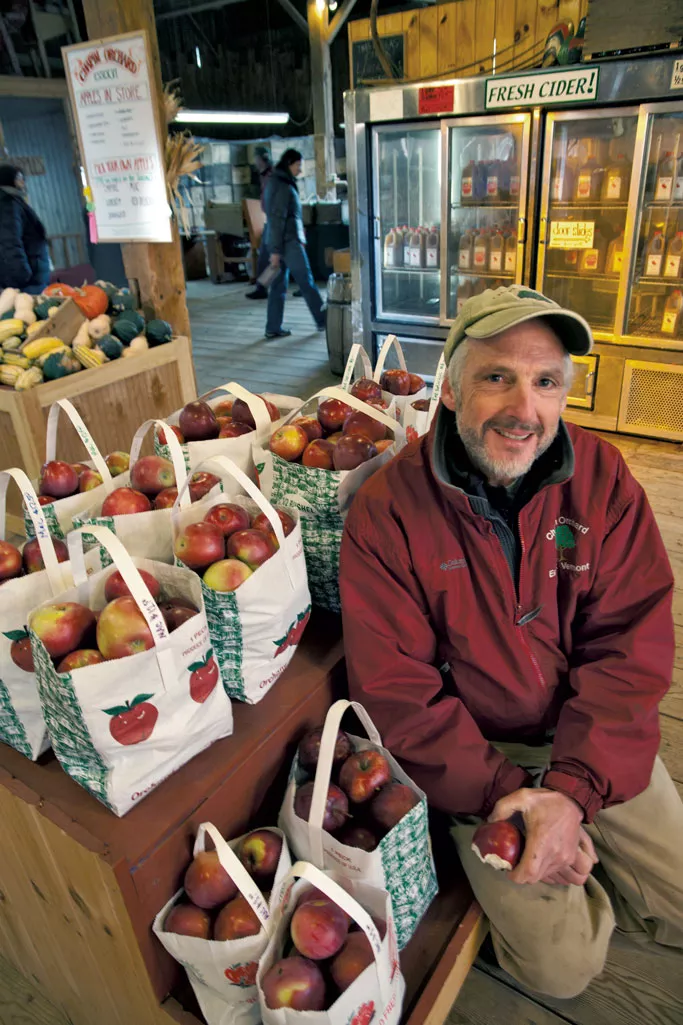 Matthew Thorsen
Jim Bove of Chapin Orchard
Jim Smith of Burlington made only one gallon of hard cider last year and "immediately wished [he'd] done more," he recalled. This year, he walked out of Chapin's 19th-century barn with 11 gallons of juice. The orchard's must, he said, "has some extra flavor to it — some of the more tart flavors that you don't get from the store-bought cider."
Like Smith and Whyte, I prefer my cider quite dry; I also plan to add sufficient yeast to yield a cider that falls somewhere between pétillant ("crackling") and fully sparkling. The yeast needed for that final fermentation is added in the bottling process. Before that, though, I'll need to rack the must from its bucket to a five-gallon carboy, where the slower secondary fermentation will take place. This stage, which can take three to 12 months, is when the cider transforms from opaque to translucent.
Besides those crucial steps, cider making doesn't seem to require much more than the patience Whyte recommended. And that's OK. I'm thirsty, but I can wait.
The original print version of this article was headlined "House Cider Rules"