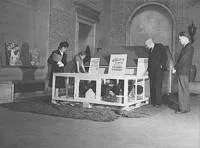 An economizing strategy enacted in ostentatious poverty
When asked about the curious title of her new play — Ostentatious Poverty (An Economical Quartet) — Rachel Perlmeter explains it by relating a bit of family history. "It was inspired by a phrase that was coined when my mother was young and running around with a group of precocious bohemian types," reveals the Burlington-based playwright. "It captures a mindset that conveys the crux of the problem for creative types — that creation might outdistance their resources."
Spending beyond one's means is a precarious norm in the modern world, and certainly not limited to artistes. Perlmeter wraps this reality in a "madcap, absurdist play of ideas" that is simultaneously serious and silly, she says. Economic theory is not known for its humor, nor are game and chaos theories, which the play also references. But Perlmeter insists the premise is funny: A pair of "bohemian nonconformists with champagne habits and limited means" collide with a pair of "malevolent economists." Capers and get-rich-quick schemes ensue.
"We're wrestling with a lot of weighty content," Perlmeter concedes, "but it's also rollicking — if it's working properly."
Ostentatious Poverty is being presented as a work-in-progress on June 3 at the FlynnSpace. It follows Perlmeter's staging of Marguerite Duras' avant-garde drama India Song last fall at the University of Vermont's Trinity campus. Now a guest artist in the theater department, Perlmeter brings serious playwright and directing chops to the Green Mountain stage: Her writings have been developed by the Playwright's Center in Minneapo- lis, the Soho Think Tank and Mabou Mines in New York, and at the New Work Festival at the University of Texas at Austin. That's where Perlmeter earned her Master's in Theatre History and Criticism. She received a Fulbright in 2001 to work in experimental Russian theater in Moscow, and is developing an international arts program in Ecuador. She moved to Burlington in 2005 when her husband, Ernesto Capello, took a position in UVM's history department.
Perlmeter is drawn to heady concepts, but she employs word play and music to communicate them. In Ostentatious Poverty, banter and jazz are both essential. UVM music prof and flutist Patricia Julien composed a score for the work that is performed live and interacts with the dialogue. "Our goal was to invent a methodology in rehearsal wherein the actors are almost scatting at points, and the musicians are almost speaking," Perlmeter explains. It's no coincidence the show was scheduled during Burlington's Discover Jazz Festival.
Julien performs with her husband, guitarist Alex Julien; bassist Jeremy Harlos; and drummer Skeeter Camera. The young "bohemians" are played by UVM students Allissa Shapiro and Adam Gould; the older economists by Margot Harrison and Shawn Lipenski. Sounds like this play gives new meaning to the phrase "spending time."