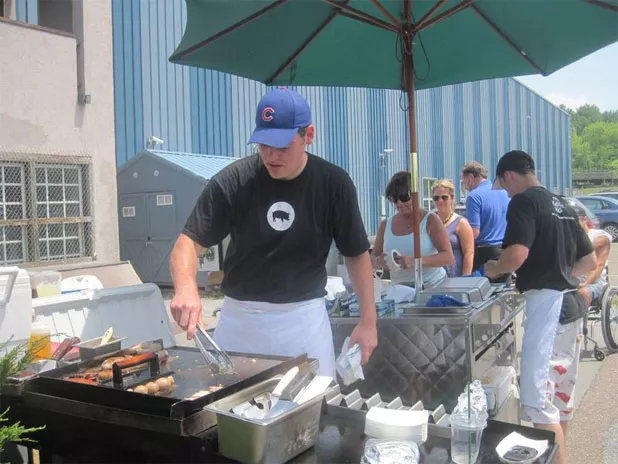 Misery Loves Co. has gone brick and mortar in Winooski, and Muchacho Taco is sticking to catering for the cold months. Luckily, this week brings Burlington another food truck to keep hot breakfasts and lunches on the road.
The Hindquarter, a collaboration between Cloud 9 Caterers owner Sarah Moran and chef Luke Stone, begins regular service this Wednesday. That day, the red truck will park in front of Pine Street's Maltex Building from 11:30 a.m. to 2 p.m. On Thursday, the truck will keep the same hours at Burton Snowboards on Industrial Parkway. On Fridays, service will start at Citizen Cider in Essex at 5 p.m.
Stone says the menu will change weekly and include a few weather-dependent specials. This week, he forecasts that the bone-chilling temperatures may call for soups and stews. The first regular menu includes the ramen bowl and braised chicken torta that Stone's culinary team perfected at its December soft-opening forays. Joining those dishes are a housemade mortadella sandwich topped with a fried egg, a lamb-meatball sub, and a house-ground burger with country bacon.
Breakfast service is also part of the plan, beginning next Wednesday and Thursday at the Maltex Building only. Baker Mike Buechler will provide pastries, including scones, while Stone will fry up breakfast sandwiches with house bacon, local eggs and clothbound cheddar.
Moran and Stone's hot-dog cart, formerly known as the Noble Pig, will return next summer. Owing to legal issues with Noble Pig Winery in Oregon, it will be called the Local Grind. Look for both the truck's information and scheduling on the Hindquarter's Facebook page.