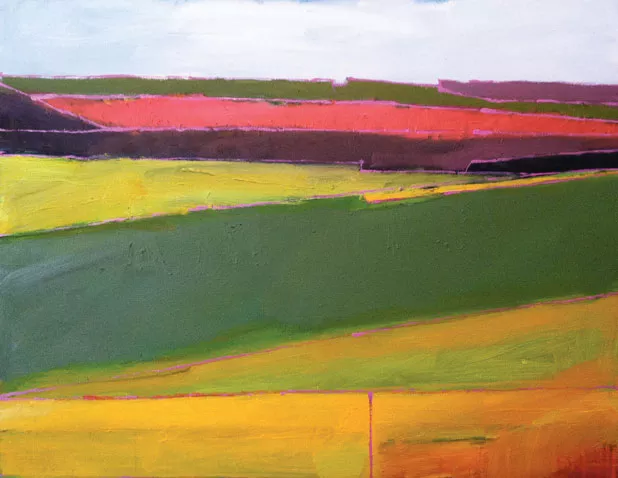 "Morse Farm Abstraction" by Frank Woods
Central Vermont artist Janet Van Fleet likes to make things happen. She cofounded Barre's Studio Place Arts, where she maintains a studio. She cofounded, with the late Marc Awodey, the Vermont Art Zine. She's an active working artist who produces found-object sculptures and installations, with a steady stream of exhibitions to her credit. And she's an occasional blogger. But apparently Van Fleet had some extra time on her hands, because now she's launched, with fellow artist Alexandra Bottinelli, yet another volunteer enterprise: Embracing Art.
Simply put, Embracing Art is about artists donating artwork to nonprofits. That is, art to hang on the walls. "It's for humanizing the workplace," Van Fleet explains. "We know that having original work in the workplace gladdens the heart and opens up dialogue."
But aren't artists always asked to give away work for charitable purposes? Haven't we all been to silent auctions where donated artwork sold for far less than it was worth?
All true. On the other hand, few artists sell all their work, according to Van Fleet. "I realized I have a huge backlog of pieces in my studio, and it occurred to me it would be nice to donate some of this work to organizations I want to support," she says. She sums up Embracing Art's guiding spirit as "We've got art, you've got walls; let's dance."
To get the project off the ground, Van Fleet and Bottinelli selected 13 recipients — "women's [groups] that deal with violence and abuse, and 10 environmental organizations," says Van Fleet. Each will have the opportunity to select one piece of work from those of the 14 artists participating so far. After that, the organization is responsible for communicating with the artist and picking up the work.
Can the nonprofits sell the donated artwork?
Yes, Van Fleet says, with this caveat: It can't be sold at less than the retail value, and 50 percent of the proceeds must go to the artist. In addition, she cautions, "People don't realize how hard it is to sell art."
Van Fleet expects that Embracing Art will expand — both in contributors and beneficiaries. As for the project's name, she explains, "The artists want to embrace the work done by all these wonderful nonprofits. And we also want them to embrace having art in their lives."