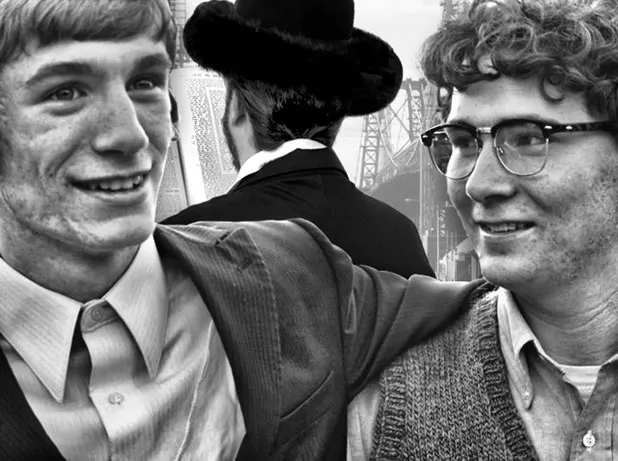 Charlie Yarwood and Adam Joselson
Theatre Kavanah, a new, local theater group dedicated to sharing stories of the Jewish experience, premiered on September 9 and 10 with staged readings of The Chosen, Chaim Potok and Aaron Posner's 1999 theatrical adaptation of Potok's acclaimed 1967 novel. Company founder Wendi Stein, a longtime player on area stages, considers the venture a "project," not a company per se, pending formation of an official nonprofit entity and a concerted fundraising effort. But the strong response to Theatre Kavanah's premiere has given her hope.
"I think we needed some credibility," she says. "The Chosen has allowed me to go forward. Sharon [Panitch] is the other company member. Now we're reaching out to other people."
The North End Studios venue was nearly full for the September 9 matinee, despite no paid advertising. Word of mouth took on new meaning in notices and press releases promising homemade chicken soup at the show. Before the actors took the stage, you might have mistaken the event for a Jewish holiday gathering of a large, not particularly observant family.
Under the direction of Mark Alan Gordon, six thespians brought to life eight characters in Potok's coming-of-age tale set in Jewish enclaves of World War II-era Brooklyn. Teen actors Adam Joselson and Charlie Yarwood played two Jewish boys from opposite sides of the Orthodoxy whose fast friendship is challenged by their respective families' witness to history — the revelation of the Holocaust and the founding of the state of Israel. Even though the actors were reading from scripts, Gordon elicited impassioned performances, especially from Mathew Winston as Reb Saunders, a Hasidic rabbi trying to prepare his son, Danny (Yarwood), to assume leadership of his flock.
For Stein, who majored in theater at Brandeis University, the decision to launch Theatre Kavanah was both personal and communal. "I've been looking to combine my love for theater and my renewed interest in my heritage in Judaism," she says. "It seems to me that, when I'm left on my own to learn about that stuff, it's harder to fit into life. But when there's a project involved, that's when I'm forced to focus on it."
A Chosen program note indicates that the term kavanah derives from a Hebrew word meaning "to direct with purpose and intention."
Theatre Kavanah's way forward is still uncharted, but Stein says she's considering a few projects, including more staged readings, a family show and a work to coincide with Yom Hashoah remembrance of the Holocaust in the spring. While she looks to such Jewish theater companies as Theater J in Washington, D.C., for inspiration and ideas, she would like Theatre Kavanah's productions to evoke distinctly Jewish themes while "crossing boundaries beyond the Jewish community," she says. "I'm not interested in something so specific to the Jewish community that it might feel isolating for the broader community." Stein is also open to showcasing other types of performance, such as music and poetry, around the "backbone" of Kavanah's theater offerings.
The Chosen reading was a complimentary introduction to what Stein calls "a bit of an experiment." A script or two have come her way, and solid audiences provided a foundation on which to build. Stein is encouraged. As she told the audience gathered for a postreading Q&A: "I'm kvelling now, is what I am."