Matthew Thorsen
Torrey Valyou (background), Matt Renna and Will Stevenson
At one point in the early 20th century, Vermont's largest employer was the American Woolen Company. Factories beside the Winooski Falls, powered by rushing water and a workforce of young women and children, churned out cotton and wool fabrics that fueled Winooski's booming textile industry.
The massive flood of 1927 crippled the mills, and they never recovered. Today, those same hulking brick structures house tech companies, downtown shops and high-ceilinged, big-windowed apartments.
But up the hill from the river, in a nondescript industrial park at the top of Weaver Street, Winooski's textile industry is seeing a quiet renaissance. Matt Renna of Queen City Dry Goods is hard at work on Vermont-made T-shirts and leather goods. Torrey Valyou of the screen-printing and design shop New Duds is inking his designs on T-shirts.
Together, the two independent but complementary companies have formed a textile collective they're calling Factory 450, named for the address of the Weaver Hill industrial park. And they can call on the skills of their next-door neighbor, Vermont Bosna Cutting, a family-run business that cuts and sews Vermont-made clothing, from Renna's T-shirts to seamless underwear.
Collectively, the three businesses are the closest thing Vermont has to a fashion district.
The idea behind Factory 450? Share space and resources. Swap referrals for customers. Renna points to a recent job as an example: A client came to Renna and Valyou for help handmaking high-end amplifiers for musicians. Renna cut the fabric; Valyou designed and printed the pattern.
"It's kind of one-stop shopping for clients who come through," says Renna.
The two companies' "synchronicity," as Valyou puts it, "kind of fell into our laps." Valyou and his wife, Tessa, met Renna about a year and a half ago. At the time, Renna had a shop above Church Street in downtown Burlington, where he'd been manufacturing and peddling high-end clothing, hats and leather goods. Renna was ready to "scale up" to more wholesale production. In the process of investigating manufacturing opportunities in Vermont, he met the Bahic family behind Vermont Bosna Cutting.
Meanwhile, Valyou and his wife were holed up in Fort Ethan Allen, their first official storefront and production space after they started their screen-printing company in their apartment six years ago. They wanted to purchase an automated press that would cut down on physical exertion and allow New Duds to take on more work. But the press — "It's like a big robot," Valyou explains — was unwieldy. They knew they would need significant renovations to make room for the machine they've now nicknamed "Ted."
Renna was looking for space, too, and the Valyous realized it might make sense to partner up. The Bahics, whom Renna had met just months before, happened to be set up next door to an unoccupied 3,200-square-foot shop at the Weaver Hill industrial park.
Now, a few weeks after New Duds and Queen City Dry Goods celebrated their grand opening in the space, both entrepreneurs are at work on their biggest collaboration to date: a "Made in Vermont" T-shirt. Renna came up with the design, and the shirt will bear the Queen City Dry Goods label. Bosna Cutting is cutting and sewing the huge swaths of gray, blue and black U.S.-knit cotton fabric into shirts. And New Duds is embellishing some with its own prints.
For Renna, the T-shirt project — which he financed in part with a crowdfunding campaign late last year — marks a pivot toward a more affordable product. While he's still designing and selling aprons, jackets, and canvas hats and vests, the T-shirts are a far cry from Renna's flagship product, a $595 waxed-twill racer jacket. The blank shirts will sell for $22 apiece and wholesale for between $12 and $16.
"I'm kind of narrowing in on 'OK, what's practical to scale up?'" Renna says. With production of the first batch of T-shirts currently under way, he's begun to think about the next addition to the Queen City Dry Goods lineup: a henley.
Renna is banking on the appeal of "Made in the U.S.A." goods; he says consumers are increasingly eager to know where and how their clothing is made. Anecdotal evidence, he and Valyou say, suggests that there's a market for Vermont-made shirts.
Valyou recalls his conversations with browsers at art fairs and craft markets. "We get asked all summer if our shirts are made in Vermont," he says, "and up until now we've had to say no."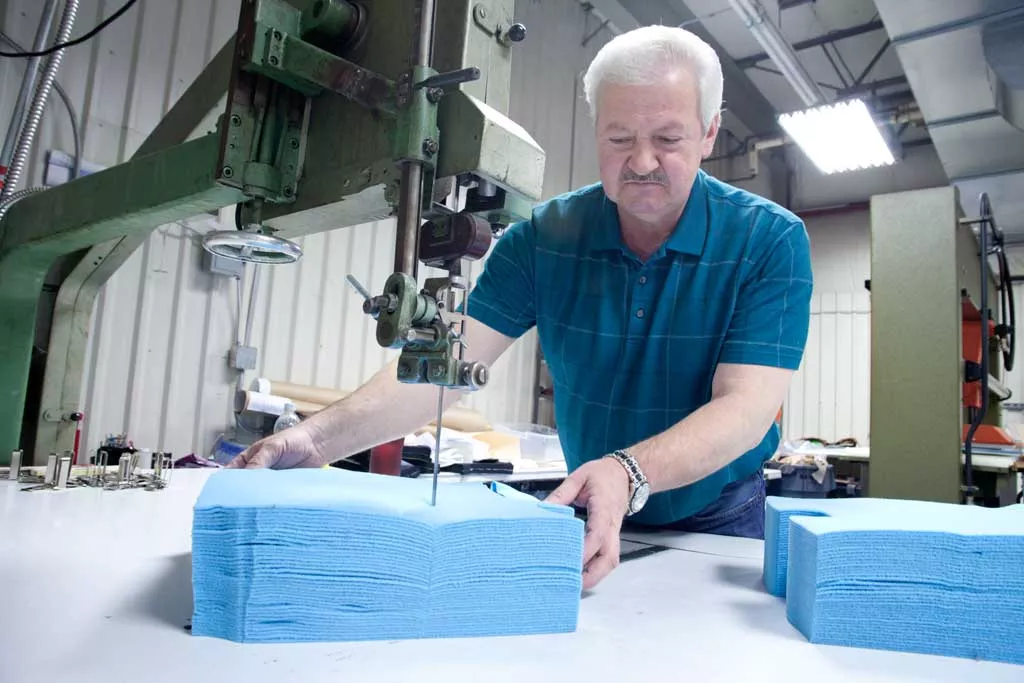 Matthew Thorsen
Ramadan Bahic
Of course, "made in Vermont" isn't a new trend. To be reminded of its deeper roots, all one has to do is step into Vermont Bosna Cutting.
For 20 years, the husband-and-wife team of Ramadan and Fehreta Bahic has quietly but proficiently made a living cutting and sewing for Vermont clothing companies. Today, their 28-year-old son, Naren, helps with the business, and they employ another nine workers.
The Bahics settled in Vermont in 1994 as Bosnian refugees fleeing war in the former Yugoslavia. Ramadan and Fehreta were both graduates of fashion design school; though they spoke no English when they arrived, they quickly landed work at East Coast Leotard in Colchester. The Bahics recall learning English from television and makeshift conversations with their new Vermont friends and neighbors; they had no time for formal lessons.
Soon Ramadan Bahic made a name for himself as an expert cutter — a job that requires slicing through dozens, sometimes hundreds, of layers of fabric according to a pattern. He was fast and experienced, but most importantly, he was accurate.
He still is.
"If you're cutting that much fabric at once, and you do it wrong, the consequences are huge," Renna says.
"What do you do when you make mistakes?" this reporter asked during a recent visit to Bosna Cutting. Simultaneously, Ramadan, Fehreta and Naren Bahic responded: "We don't."
Ramadan Bahic does almost all the cutting for the business in the backroom of its Winooski shop. He and his wife roll out fabric by hand.
On a recent morning, the table is piled high with dozens of layers of black and beige cotton-Lycra that will soon be cut into underwear and slips for Commando. The South Burlington company produces, among other items, seamless underwear that is praised by fashion designers and models for eliminating pesky panty lines. Because many of Commando's undergarments have no hems to hide the raw edges of the fabric, Bahic's cutting has to be perfect.
In the adjoining room, seven or eight seamstresses are hard at work on slips and bras. Their machines hum and whir. One station goes unmanned, for the time being, but the bright-blue fabric nearby hints at new work to come: Renna's T-shirts. Fehreta Bahic shows off the carefully sewn seams on one prototype.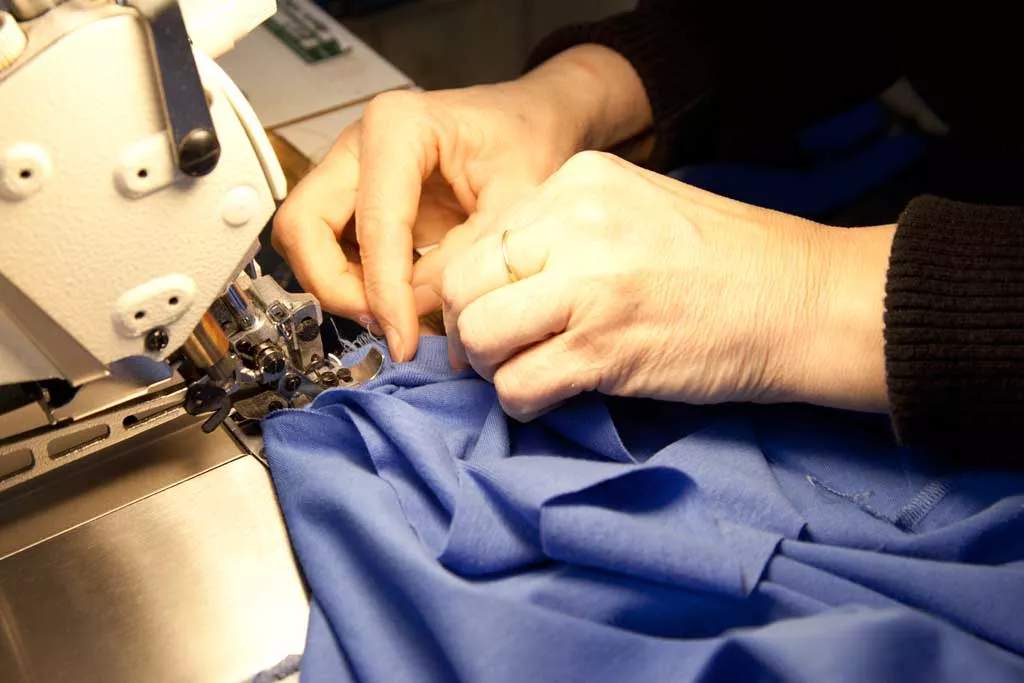 Matthew Thorsen
Sewing Queen City Dry Goods T-shirts
For the Bahics, Renna's business is a welcome addition to their workload. Business is steady right now, but they've had their fair share of rough patches in recent years. During a slow period last year, the family decided to take a $100,000 loss rather than lay off their experienced seamstresses.
Other Vermont cut-and-sew companies haven't managed to stay afloat during these difficult times. The only other remaining cut-and-sew factory in the state that took on contracted work for other designers, St. J's Stitching in St. Johnsbury, closed last year. Naren Bahic says that he and his family learned about the auction of St. J's equipment a few days too late; no one showed up, and the equipment was sold for scrap.
The Bahics say they often hear from customers who ship their manufacturing overseas, only to return to local cut-and-sew shops because the quality at home is much higher. They've been charged with fixing and resewing projects manufactured in China that weren't fit to sell. Even so, they find some customers are astonished at the price difference between domestic and international production. "You can't survive with that price," says Ramadan Bahic of the typical overseas rate.
Valyou and Renna say they are confident that their customers will be willing to pay a bit more for a locally made T-shirt. And, if the customers line up, Renna hopes his business can offer more work to Vermonters in the cutting, sewing and fashion businesses. While his enterprise won't reach the scale of the old Winooski mills, he says, he could easily see employing 10 to 15 more workers in the Weaver Hill space.
Of course, Renna, Valyou and the Bahics know customers care as much about the garment itself as about what's on the tag. Renna's T-shirts, Valyou says, have a lot more going for them than just the "made in Vermont" cred.
"The fit and the fabric is fantastic," says Valyou, "and that's what people are looking for."
The original print version of this article was headlined "Sew Local"