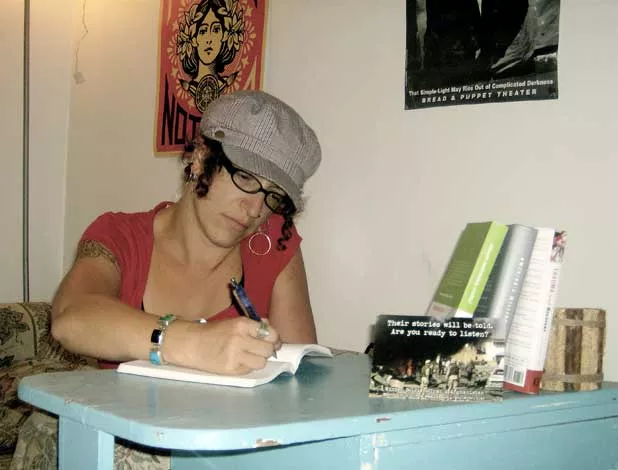 Jen Berger has an ear for heart-wrenching tales. As director of the Burlington Peace & Justice Center's 4-year-old "Recruiting for Peace" campaign, the 36-year-old activist travels to high schools around Vermont telling teens what recruiters won't: that war is not nearly as fun as glossy Army press materials would have them think. While educating students about their right to "opt out" of school-sanctioned recruiter databases, Berger relays real-life stories from modern-day soldiers.
Last winter, she realized those stories were brimming with dramatic potential. Having helped stage-manage productions in Burlington for a few years, she'd heard about the "New Art Space Assistance," or NASA, grants offered through the Flynn Center for the Performing Arts. So in March, while traveling to D.C. for "Winter Soldier" - an event featuring eyewitness testimonies from veterans and active-duty soldiers - Berger filled out an application with a combat-themed play in mind. She won, and the Flynn awarded her a development space for the summer.
Berger's show, titled Sound Off: Combat Stories Revealed, will be performed this Sunday, August 24, at the FlynnSpace, followed by a Q&A session. Crafted from newspaper articles, interviews and testimonials from "Winter Soldier," the production probes the hearts and minds of four soldiers. One is AWOL (absent without leave); another is female; a third has been "stop-lossed," i.e., forced to serve after contractual obligations have expired; and a fourth grapples with the ongoing epidemic of soldier suicide.
"Basically, it shows the darker side of war," observes Drew Cameron, a Burlington antiwar Iraq veteran who consulted on Berger's project. Cameron's war-inspired "Combat Paper" artwork has been featured in galleries across the United States and in The Washington Post. "It's the full picture," he says of Sound Off, "the stuff that we're sanitized from, and it's devastating."
Although Berger's material was lifted directly from primary sources (similar to Jessica Blank and Erik Jenson's 2002 off-Broadway play The Exonerated), she concedes that her multimedia production is still a work in progress - the show took shape in 10 weeks through improv sessions. After gathering feedback from audience members on Sunday, she'll tweak the script in preparation for an anticipated statewide tour.
That said, Berger would like Sound Off - the title is a pun on common military parlance - to spur local residents and students to action. "Art is a really powerful tool for creating social change," she asserts. "I hope that people will take this information to the next step by calling their representatives, supporting vets, or getting involved in some way to stop the occupations of Iraq and Afghanistan."