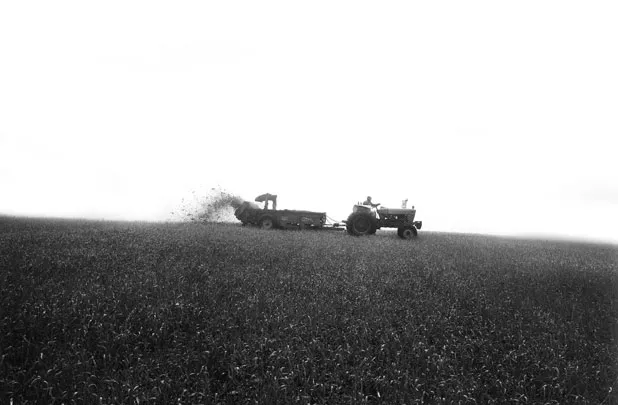 As the owner of Image Relay in Burlington, Skye Chalmers manages customers' digital assets. As a photographer and co-owner of the now-defunct Pursuit Gallery, he has worked with any number of artists and brands in the snowboard industry. Yet, despite these high-tech and hipster connections, the Vermont native is no stranger to cows.
Or, more to the point, to dairy farms. Chalmers, 41, has long worked with Cabot Creamery Cooperative, at first providing promotional stock images that he calls "pretty," and more recently for an extended project taking pictures of the co-op members: farmers around New England and upstate New York. But Chalmers wanted more than straight portraits. "I wanted to take it a step forward and show the farm in its different aspects," he says. "The mechanization, the personalities of farmers, their relationships to their cows, the land, to growing [crops]."
Fast-forward three years, and we have Sending Milk, a big, square coffee-table book filled with black-and-white images of farmers, their families, tools, buildings and, yes, their photogenic bovines.
Why black and white? Chalmers believes it "draws people in" more than color does, and that he has better control over the quality. Both are fair assessments. His photos hold a richly evocative range of grays and exhibit sharp focus, a result of using classic Tri-X film and a variety of large-format cameras. A viewer can't help but be reminded of Waterbury photographer Peter Miller's iconic images of old Vermonters and the agrarian way of life.
But Chalmers has his own style and a good eye for details, both aesthetic and sociological. Some "portraits," for example, depict a farmer just from torso to kneecaps, standing against a hay bale, or holding a swirl of rope, the focus on those hardworking hands. Given what all Vermonters know about the challenges to dairy farming and the decline of family farms in recent years, the photographs might seem to document an endangered species. For his part, Chalmers says that, although he was familiar with the farming life before this project — his family in Weston raised crops and animals for their own consumption — his intensive interactions with Cabot's co-op farmers left him "continually humbled. They work 365 days a year. My passion grew off their passion."
If Chalmers was blown away by farmers' work ethic, he also admired their resilience and resourcefulness. This comes across in his photos of farmers' tools and machinery — carefully maintained for long life and often refurbished for new purposes when replaced by a technological advance. Chalmers says the farmers were keen to impress on people "where their food comes from and what goes into it."
Sending Milk is not a polemical tract, however; in fact, it's text free except for an eloquent intro by author Stephen Kiernan and an index sourcing the photographs. Nor is the book sentimental. If Chalmers sings the praises of dairy farming in person, his photos are plainspoken depictions of life on a farm. Some images capture unexpected beauty — such as a cathedral-like barn interior, sunlight streaming through cracks in its worn wall — but many simply show this grueling lifestyle as it is: Farmers piling tires on top of a plastic-covered manure pile; tilling a field, row after row, in a tractor; repairing a truck; heading out to the barn for yet another round of milking.
That is not to say Sending Milk lacks expressions of satisfaction or joy or pride — far from it. The farmer's life is hard, but the smiling faces Chalmers has captured suggest there could be far worse things to do with one's time than work with animals, feed others, be stewards of the land.
Chalmers notes that this is "the year of the co-op," which is why Cabot Creamery sought to commemorate its farmers, he says. When it came to producing his book, he wanted to use an employee-owned printer — and found one, ironically, in Wisconsin. "When I went out to do press checks," says Chalmers, "I found a lot of the workers were from dairy farms."
It's difficult to get photography books published these days, Chalmers says — his is self-published in a limited-edition hardback and paperback — but he notes that his brother-in-law "owns Northshire Bookstore [in Manchester], and he's handling the online orders." Chalmers is personally distributing to independent bookstores around the state, as well. So far, Amazon is not sending out Sending Milk.
"Sending Milk: The Northeast Farms and Farmers of the Cabot Creamery Cooperative," photographs by Skye Chalmers, introduction by Stephen Kiernan. 3x120 Press, 144 pages. $39.95.