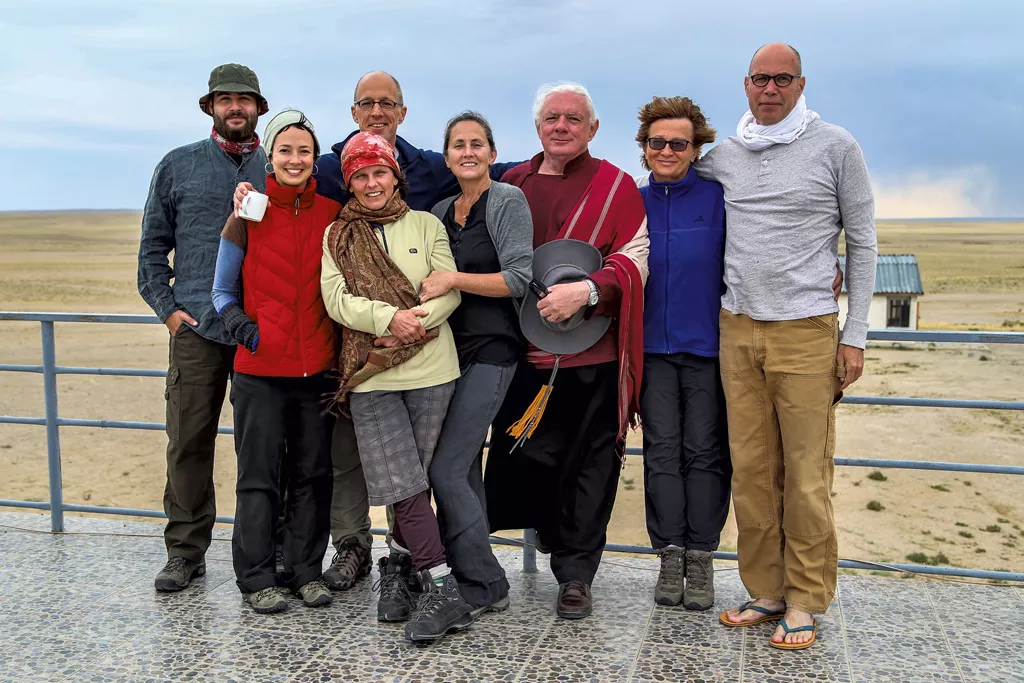 Jon Schechner
Left to right: Jon Schechner, Tamin Totzke, Clemma Dawsen, Marc Wennberg,Sarah Brutzman, Glenn Mullin, Magdalena Naylor, Ronen Schechner
According to Buddhist legend, the first incarnation of the holy figure Padmasambhava occurred in the eighth century, when he appeared as a small child inside a lotus blossom adrift on a lake. Regarded as unusual and holy, the child was nurtured in the Buddhist tradition and eventually became known by the name Guru Rinpoche. In Tibet, he's a figure of supreme spiritual importance, reflected in the nickname bestowed on him: the Second Buddha.
Guru Rinpoche's life, message and mythos are the subjects of the ambitious multimedia exhibition "Precious Guru," which opens at Burlington's (coincidentally aptly named) Karma Bird House Gallery this Saturday, June 20. Consisting of photographs, video, prose, poetry and soundscapes, the project is a step toward an ultimate goal: a feature-length documentary about Padmasambhava and his vast, lasting influence on Buddhist practice.
It's a long way from the Green Mountains to the Himalayas, but that didn't prevent the artists of "Precious Guru" from undertaking the journey in 2013. Making the trek were project director Marc Wennberg, writer Clemma Dawsen, sound artist and dancer Sarah Brutzman, and the father-and-son team of Shelburne filmmaker Ronen Schechner and photographer Jon Schechner. Aiming to absorb the story and influence of Padmasambhava, the group visited Mongolia, Tibet, Nepal, Bhutan and India.
"Precious Guru" collects the participants' artistic responses to their immersion in an ancient world. The guru's story appealed to Wennberg, currently the director of St. Albans' Community Justice Center, because "it's the kind of story that, when you peel back one layer and think you've got it, then you realize there's a layer below that," he says. "There's something mysterious and complex about this story that affected my imagination and keeps me excited and interested in learning more."
The story of Guru Rinpoche is a rich and vivid one, filled with fanciful adventures and liaisons with gorgeous consorts. But the only reason his story is known at all, Wennberg says, is that the guru left behind him termas, or treasures, which can take the form of "objects that are hidden in the landscape, or hidden in people's minds," he explains. In time, "the right mediator" discovers the termas and passes on the guru's teachings to a new generation.
If all this seems a bit mystifying, the works in the exhibit attempt to provide artistic specificity. Jon Schechner's photographs balance the vibrant colors of prayer flags and dyed robes with the stark grandeur of the Himalayas. Dawsen's written accounts of her journey are part travelogue, part poetry and part spiritual exploration.
Israeli-born Ronen Schechner produced the 11-minute trailer that the team intends to use in fundraising. He also created several short documentary videos after returning from the trip, several of which have been posted to the project's website, triptychjourney.org. These videos viscerally depict the remarkable sights the team witnessed, including people and pack animals harvesting wheat at the foot of the Earth's highest mountains, and images of ritual dances in Nepal's remote Mustang district.
"For me, the most incredible place was Mustang," says Ronen Schechner. "It's a place where you feel that time stops. People still live almost without technology; everything is done by hand. It's one of the many places where Padmasambhava is most fully influential — I would even say 'alive.'"
The story of the guru is the spine of the project — informing, along with his teachings, each of its artistic components. To reinterpret and recount that story in a variety of artistic modes, says Wennberg, is to become a part of it. "It's a story that responds to the needs of the time, and for each of those times produces new teachings and new ways to embrace the basic, core tenets of Buddhism: emptiness and compassion," he says. "It is continuously remaking itself through new discoveries."
As Wennberg's words suggest, "Precious Guru" maintains an attitude of reverence toward Buddhism and central Asian folkways, yet he and some of the project's other creators say that it is not explicitly a Buddhist project. Dawsen is the only one of the project's artists to self-identify as a Buddhist. She engages in "really deep Tibetan Buddhist practice," she says, in her roles as a writer and educator, and in her daily life. "There's no separation between me and my Buddhism," Dawsen adds. "It's not a religion. It's the way I live my life."
Wennberg expresses gratitude for Dawsen's participation in the project, noting that she brought a perspective others could not.
Yet all of the "Precious Guru" artists have addressed the project holistically, with the intention of expressing the ways humans have made myth into reality. Though the story of Guru Rinpoche may seem fantastical, "These myths are true, and making peace with that is very difficult in our culture," says Dawsen. "This sort of thing can be absolutely true, not just considered as a metaphor."