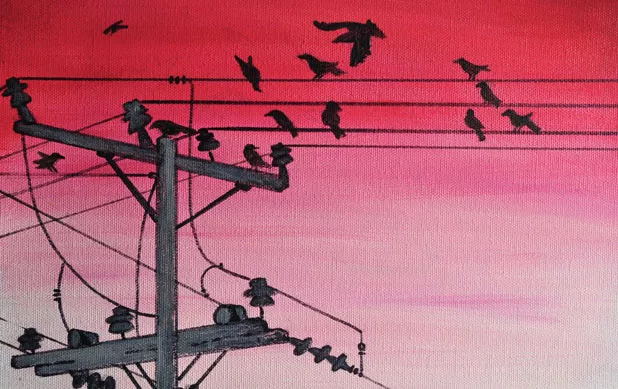 Kimberley Hannaman Taylor needed a place to display her paintings of crows. Acquaintances were offering to buy them before she'd even had a chance to hang them on a wall. "I really didn't want to do it in a coffee shop," she says — not that there's anything wrong with exhibiting work that way, she adds. Taylor just wanted a bit more drama.
Her solution wasn't exactly simple: I'll just make an art gallery, she thought. And with that, the 45-year-old chef, writer and artist joined forces with two other artist friends — thirtysomething Maya Urbanowicz and twentysomething Ren Weiner — who were also itching for spaces of their own. Calling themselves the Firefly Collective, they created a studio and gallery in downtown Burlington.
"We're using it, first and foremost, as our art studio," says Taylor. "But we have enough space that we want to extend it to the community." The three plan to invite local artists to show their work in the front studio and offer classes such as live figure drawing and tango lessons. "It's kind of a hodgepodge of artistic endeavors," says Taylor. "We already have people lining up to use it."
The Main Street building caught Taylor's eye when she visited a friend who runs an ecology-oriented job-training school there, the Flashbulb Institute. A space had become available when the Burlington Violin Shop, which had occupied the building for about 14 years, moved to Church Street. The downtown location was especially attractive because Taylor, who lives in the Old North End, rides her bike everywhere — she wanted a studio she could get to in the winter without risking frostbite.
"The building is kind of turning into an art center," she says, noting that her new neighbors include architect Brad Rabinowitz, Wild cLOVEr Photography, Burlington's Internet radio station WBKM, and DJ Craig Mitchell's music studio.
The three women signed a lease about a month ago. "We very ambitiously decided to do all the renovations of the space ourselves and hang our work in one month," says Taylor. "We're screaming into the home finish now."
Firefly's first show, "Works of the Founders," opens this Friday and features Taylor's crow paintings as well as photographs, installation and "upcycled whimsy" by Urbanowicz and Weiner.
All three artists have worked as chefs at some point in their lives — Weiner and Urbanowicz are currently cooking at ¡Duino! (Duende) and Taylor used to cook at SugarSnap. Once they get the gallery off the ground, Taylor says, they're hoping to put their culinary talents to use at receptions and events. "We won't have your usual art-opening Cheetos," she promises.
As for the gallery's name, Taylor explains, "You collect fireflies in jars. We're all bringing our talent, our light, together. We want our little jar to get bigger and bigger."