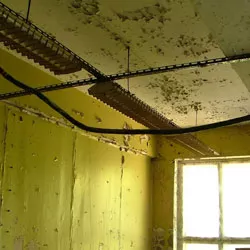 Medical researchers have known for years that people who are exposed to lead paint, chips and dust can experience a variety of health problems, including nausea, fatigue, impaired concentration and neurological problems.
But in recent weeks, Vermont landlords and contractors have begun reporting a new set of lead-related symptoms, including irritability, anxiety and insomnia.
No, the new complaints aren't caused by direct exposure to lead itself but to new safety regulations issued by the U.S. Environmental Protection Agency. Under the new law, which took effect on April 22, any contractor or landlord who works on homes, offices, schools, daycare centers or rental properties built before 1978 must get special training and certification on handling, managing and disposing of lead-tainted debris.
The new law is expected to have a dramatic impact on contractors and landlords who work in Vermont, which has one of the oldest housing stocks in the country. According to the Vermont attorney general's office, approximately 66 percent of the state's houses and 88 percent of its rental units were built prior to 1978 — the year lead-based paints were banned. Five years earlier, the EPA began phasing out leaded gasoline, another major contributor to childhood lead exposure.
"We're hearing about a lot of sleepless nights and anguish over this," says Joe Sinagra, executive officer of the Home Builders and Remodelers Association of Northern Vermont, the state's largest housing contractor organization. "The new law is so open to interpretation."
Under the new law, workers who disturb more than six square feet of interior space or 20 square feet of exterior space containing lead paint must take steps to prevent lead chips and dust from spreading. This includes everything from wrapping the building in plastic and scaffolding, to investing in new vacuums and filters, to outfitting workers with special masks and protective gear.
Local builders and contractors are expressing surprise, concern and anger about the new rules. For starters, they complain that the EPA didn't do an adequate job of getting the word out. As Sinagra puts it, "Every day we get half a dozen phone calls from homeowners and contractors who say, 'There's this law that just took effect? What's going on?'"
Much of the confusion stems from the fact that the state of Vermont already has one of the strictest lead laws in the country. Trying to figure out how the sometimes conflicting laws interact, and which one applies when, is not easy. Mistakes can be costly: EPA fines for violations can run as high as $32,500 per day.
"Every single person who touches old paint is liable," notes one Burlington landlord, who asked not to be identified because he has yet to take the new EPA certification class. According to him, a recent renovation of a Burlington apartment, which was done according to the new EPA lead rules, took his people two hours to demolish — and another six hours to clean up.
This same landlord reports that price quotes to install new windows are running as much as 40 percent higher than earlier estimates. "This is huge," he says.
Brian Pine, assistant director for housing in Burlington's Community and Economic Development Office, admits that some of the contractors' complaints are justified, particularly when it comes to sorting out the differences between state and federal law. "Those are barriers for people, and it's a legitimate complaint," he says.
It's one reason Pine is hoping that the Vermont legislature will do what some other states have done: combine all existing lead-control requirements under one state law. The EPA allows it, but lawmakers are wrapping up the session and won't be back until 2011.
One of Chittenden County's biggest landlords is taking the new regs in stride. With about 225 rental units in Burlington, Bissonette says he's probably investing about a quarter-million dollars in his apartments to do lead containment. And that doesn't include another $10,000 in necessary routine maintenance related to lead paint.
"It's significant, but it is what it is," Bissonette says. "This is the business I've chosen to be in, and if I want to continue to be in it, this is what you do."
There are new costs associated with the new rules, many of which are likely to be passed along to tenants and customers. Whereas Vermont's mandatory, four-hour EMP — or "essential maintenance practices" — training course was free, the new EPA law mandates an eight-hour training course that costs $300, as well as a four-hour refresher course every three years. Like Vermont's lead-paint law, the new federal rule requires at least one trained supervisor for every job site.
Despite the widespread grumbling, Sinagra says that most of his home-building members plan to comply with the new law, too. He claims some contractors plan to solve the problem by simply avoiding pre-1978 structures.
"They just don't want to take the risk," Sinagra says.
Who's going to be stuck? Small landlords. And "I think in the long run it's going to hurt homeowners," Sinagra adds. "The homeowner often goes with the low bid, and often there's a reason it's the low bid: Without licensure in Vermont, anyone can be a contractor."
It should be noted that the new lead-containment rule doesn't apply to home-owners who do their own renovations, though the EPA recommends that they, too, follow the lead-safe guidelines.
Few people dispute the importance of having some lead-safety laws in place. But even after more than three decades, lead-based paints in housing are still the primary cause of lead poisoning in children, which can cause permanent brain damage, lower IQs and other health problems.
In 2006, Vermont had 108 confirmed cases of children with elevated blood-lead levels, out of more than 9000 children tested, according to Centers for Disease Control statistics. While that number has been steadily dropping in recent years, it's still higher than public health officials would prefer.
For his part, Sinagra isn't opposed to putting measures in place to prevent kids from being exposed to lead. But he is critical of the timing of the new rules, which have been in the works for nearly two decades.
"It's been a tough year and a half. The economy is just starting to turn around and … contractors who were able to hang on are getting a little excited that there's work to do," he says. "It's not like lead has suddenly become a problem in the last six months. These homes have been around for 33 years."