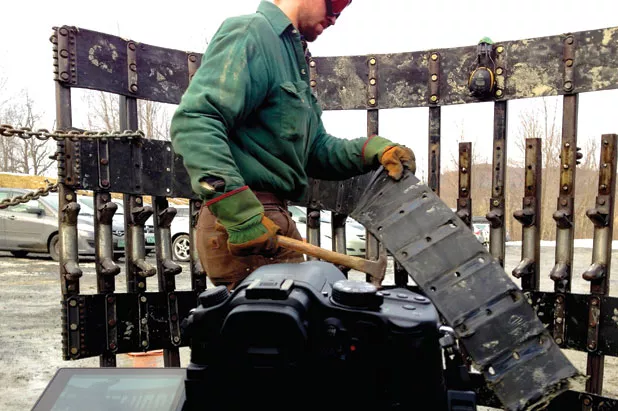 Growing up in Vermont, brothers Elliot and Tyler Wilkinson-Ray spent countless happy hours skiing. The slopes their family favored were not at the state's major resorts, however, but at the "neighborhood" ones — including Cochran's Ski Area in their hometown of Richmond and Northeast Slopes in East Corinth. These were the kinds of places equipped with motorized rope tows jerry-rigged from old tractor parts.
Elliot, 26, and Tyler, 24, have played "ski bum" around the country, but they've stayed true to their roots. The sense of community they felt on Vermont's small ski slopes was just as important as the skiing itself, they say. When the brothers — cofounders of Richmond-based T-Bar Films — decided to share this passion in a documentary, they became unexpected activists.
That's a word Elliot hesitates to use, but he allows that making United We Ski — "the first ever film exploring Vermont's small ski hills" — not only deepened his connection to these communities but provided a way to give back. The 35-minute doc premieres this Thursday, November 7, at the Film House at Main Street Landing in Burlington.
"The idea of producing a film came out of realizing that Cochran's is really special, and then realizing that there are more of these places ... in Vermont," Elliot says. "It's the perfect example of a community resource that's changing the experience of living in a cold environment."
In addition to Cochran's and Northeast, United We Ski visits Hard'ack in St. Albans, interviewing skiers, volunteers and proprietors at each of the slopes. In focusing on moments of camaraderie and seat-of-the-pants equipment, the Wilkinson-Ray brothers make their case clearly: It's the small-scale slopes that are keeping Vermont's skiing history alive.
All of these little ski slopes are "different, funky and special in their own ways, which goes to the core of our history and our culture," Elliot says. "They're just like town meetings, except they're super-informal and they happen all the time."
The brothers believed the story of Vermont's small ski areas needed to be told, and that video was the perfect medium for doing so. But they didn't want to make what Elliot calls "ski porn" — a film with lavishly shot scenes of stellar schussing. "We wanted more storytelling, less action," he explains.
The story told in United We Ski goes back to the 1930s, when the first rope-tow area in America opened in Woodstock. One of the film's interviewees, Jeremy K. Davis, is a ski historian, author of 2010's Lost Ski Areas of Southern Vermont and founder of the web-based New England Lost Ski Areas Project. Speaking by phone from his home in Saratoga Springs, N.Y., Davis notes that in the years immediately following World War II, the number of ski areas both small and large "exploded." That boom continued until about 1970, when economic factors such as fuel costs, accessibility to air travel and competition from larger resorts led to the closure of many small ski areas.
An avid skier, Davis suggests "there's plenty of room in the state" for both types, but says smaller ski areas offer an appealing "funkiness." He cites Cochran's in particular as providing a "nonthreatening environment" for beginning skiers, as well as a "super-friendly" staff that's happy to discuss the slope's history and show people around. Similar qualities come through in United We Ski.
"They've created the anti-ski movie," says Biddle Duke, publisher of the Stowe Reporter and Waterbury Record, of the documentary. "It's got beautiful photography of fantastic skiing, but it also has the story of what skiing really is. It's a passion, it's a feeling, and it's ... still going on at these obscure little wonderful nuggets."
Duke observes that skiing used to be "an accessible family activity. If you lived in New England, you'd drive until you found the snow, and then you found a little towline and went skiing. You did whatever you needed to do to slide down a hill."
He laments the bygone days when the region had upward of 700 lift-accessible slopes, many of which cost "a buck a ride," Duke says. He praises the Wilkinson-Rays for capturing skiing's lost history, and for focusing on the few small places that remain.
At T-Bar Films, Elliot and Tyler have benefited from more than their family's long-held passion for skiing. Their father, Jim Wilkinson-Ray, produced corporate videos for IBM for 35 years before taking his talents to Vermont Public Television, where he still works. United We Ski sparkles with his wintertime imagery, and is laced with appealing home-movie skiing footage.
For their doc, Elliot and Tyler used the Panasonic GH3, an innovative "prosumer" camera that yielded excellent, high-resolution images of even the fastest skiers. United We Ski does take a cue of sorts from "ski porn," but on a lower budget: Rather than hiring a hellaciously expensive helicopter for aerial shots, the brothers enlisted the services of Projection Films, a Middlebury company that uses lightweight, battery-powered drones to capture footage from as high as 400 feet. Company owner Tim Joy explains that the gyroscopically stabilized Octocopter has eight small motors and eight propellers. The rig is remote-operated by two people: one piloting the 'copter, one working the camera. The results in United We Ski are gorgeous, exciting shots of skiers and snowboarders carving up bright, white slopes.
The video was produced for just $20,000, half of that raised via Kickstarter. In making it, Elliot observes with a touch of astonishment, "We became filmmakers." Beyond the skills they picked up along the way, the brothers found a model for community involvement, employing local videographers, graphic designers and other professionals. That hiring decision, Elliot says, was central to the project. He speaks excitedly about the potential of such small-scale investment, and of using video in other projects — including an in-progress one about a nonprofit in Haiti.
"Just because someone has the skills to produce video content doesn't mean they should," Elliot says. "I could make something that looks cool, but I only want it to be something I care about. It was never the idea of this project to just 'create content.'"
"United We Ski" screens on Thursday, November 7, 6 and 8:30 p.m. (reception 7:30 p.m.), at the Film House at Main Street Landing in Burlington. $8-12; and on Sunday, November 10, 7 p.m., at the St. Albans Historical Museum. $7. For future times and locations, visit t-barfilms.com/united-we-ski.