File: Eva Sollberger
Bo Muller-Moore
Bo Muller-Moore's story is the kind that crusading documentary filmmakers love. The Montpelier T-shirt maker has been in the national spotlight since 2011, when he began speaking publicly about his trademark conflict with fast-food chain Chick-fil-A.
Muller-Moore's handmade T-shirts say "Eat More Kale"; the chain's slogan is "Eat mor chikin." Can a company own the phrase "eat more"? In two cease-and-desist letters — the second sent after Muller-Moore applied for his own federal trademark — Chick-fil-A's lawyers argued that it could. "This is legitimate David-versus-Goliath corporate bullying," Muller-Moore told Seven Days in November 2011.
The conflict spawned a social-media crusade, head-shaking commentary in the national media, a pledge of support from Gov. Peter Shumlin and a successful Kickstarter campaign to raise $90,000 for a documentary about Muller-Moore called A Defiant Dude.
But sometimes documentaries change in the making, and stories don't go the way we expect. So suggests James Lantz, the Burlington filmmaker who's been following Muller-Moore for the past four years.
Last September, after years of delays and setbacks, Muller-Moore finally received his trademark certificate in the mail. Lantz had the triumphant conclusion he needed.
Or did he? In his 59th update to backers of the film, sent on February 10, Lantz outlined a "narrative" that appeared to surprise some of them.
"Our story began as the tale of a T-shirt David versus a corporate Goliath," he wrote. "But four years later, I think what we ended up with is a Tom Sawyer story — a lovable yet shrewd small-business owner who got a lot of us to help him paint his fence."
Lantz's new metaphor got immediate notice — and blowback. Muller-Moore responded the same day on Eat More Kale's Facebook page: "I've worked well with Jim [Lantz] and his crew ... still look forward to seeing the upcoming full-length doc. film ... but am surprised at how he is choosing to 'frame' this story."
Muller-Moore's post drew more than 40 comments, with many expressing perplexity at the filmmaker's statements, and a few declaring a desire to withdraw their support from the doc. Several commenters singled out another statement that Lantz highlighted in his update: "Chick-fil-A is a minor player in our story. The conflict between Bo and the billion dollar chicken chain was inflated and, for the most part, non-existent."
What kind of David-and-Goliath story lacks a Goliath? Who is Lantz suggesting "inflated" the conflict between Muller-Moore and Chick-fil-A? And what is his evidence?
File: James Lantz
James Lantz
The answers can be found in a 75-page narrative — with copious footnotes — that Lantz made available to backers of the doc. Written like long-form journalism, with colorful digressions and a touch of Bill McKibben-like style, it traces not just Muller-Moore's case but also Lantz's changing views of it.
It's the story of a filmmaker who digs into a simple, accessible story — small businessman versus corporate monolith — and discovers a far more complicated one. As Muller-Moore's case dragged on, Lantz crisscrossed the country, gathering footage to put the case in context. He interviewed trademark scholars and small businesspeople who had found themselves in similar situations to Muller-Moore's — threatened by giant corporations over their use of a seemingly common word or phrase. Most rolled over; a few fought and lost everything. None sparked the public imagination the way the Eat More Kale case did.
In short, A Defiant Dude was becoming a film not just about Muller-Moore but about trademark bullying. And, while Muller-Moore has been a prominent voice against just that, he's also eager to defend his own hard-won trademark. Lantz quotes an exchange in which the filmmaker asked Muller-Moore if he would "have a problem" with "a farmer out west ... printing Eat More Kale on his boxes of kale." Muller-Moore reportedly responded, "I do."
Is claiming ownership of the phrase "eat more kale" — and potentially contesting its use by noncompeting businesses — comparable to claiming ownership of the phrase "eat more"? That seems to be one question that Lantz wants to put before the moviegoing public.
Lantz's narrative also alleges that, at times, both Muller-Moore and his media supporters played fast and loose with words to make Chick-fil-A's letters seem more threatening than they actually were. "Some folks in the media and across much of Facebook have incorrectly stated that Chick-fil-A was suing Bo," he writes. "Even Bo said so on his Eat More Kale website."
But if A Defiant Dude is an exposé, the U.S. Patent and Trademark Office, not Muller-Moore, appears to be its primary target. In his update for backers, Lantz reports on the outcome of a Freedom of Information Act appeal that netted him certain emails related to the Eat More Kale case. From them he concluded, he wrote in a statement emailed to Seven Days, that "the USPTO had a strong interest in blunting public controversy over the ... case" — which meant delaying its resolution.
Lantz claimed that "the USPTO and Bo both benefitted from a legal process that dragged on for years. I think their interests were well aligned."
Muller-Moore has a different take on those delays. "Jim has suggested that by me making lots and lots of money, this somehow makes me a less admirable character in this story," he said in a phone interview with Seven Days. "To me, it boils down as simply as, I was handed a box of lemons, and I chose to create lemonade. Every businessperson recognizes that you play the hand you're dealt."
As for Lantz's parallel between his enforcement of his trademarked phrase and Chick-fil-A's, Muller-Moore called that "a fairly cynical comparison to make." He said he has sent "eight at the most" "polite emails to T-shirt copycat artists" and others using the phrase, and "in each case the artist capitulated, admitting they didn't realize how much time and work I'd put into Eat More Kale." The situation with the kale farmer, he said, is a "hypothetical" that has never arisen.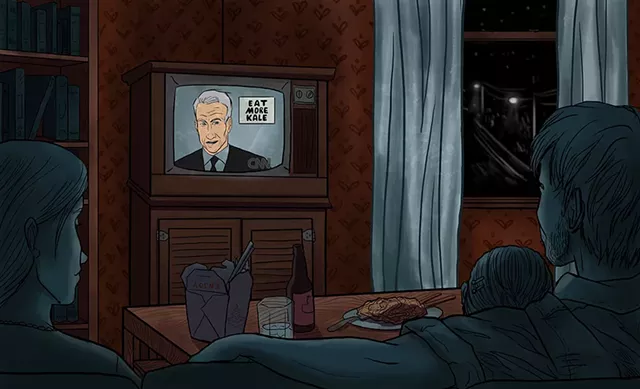 Emily Rhain Andrews
From "A Defiant Dude" website
By contrast, Muller-Moore said, Chick-fil-A sent him "a list of 40 other businesses that had conceded and capitulated on receiving [their cease-and-desist] letter." The company's threat, he said, was real: "If I had not done anything in response to that letter, I'm certain there would have been further actions."
How have the documentary's backers responded to Lantz's framing of the story? Initial reactions were positive, Lantz wrote to Seven Days, but after Muller-Moore's Facebook post went up, "I got hit with 20 or so negative comments and letters." He said the "biggest pushback" came from his Tom Sawyer analogy, and that while he didn't intend that description to "insult Bo or his community ... I stand behind it."
Muller-Moore put his own spin on that analogy with characteristic aplomb. "Now, the way I see it," he said, "a community saw me desperately trying to paint a giant fence and, without me asking ... reached out and helped me, and they grabbed paintbrushes and rollers on their own and went to work in any way that suited their strengths. I think Tom Sawyer laid in the shade and watched all this transpire, while I didn't take a day off for three years." His supporters, he reiterated, aren't "gullible" or "country bumpkins."
Like that "giant fence," the public story of Eat More Kale versus Chick-fil-A has been a collective effort — a narrative spinning out in traditional and new media, through CNN broadcasts and Facebook comments alike. How much will A Defiant Dude influence that story?
"I'm having to come to the reality that this is a film that one man is going to craft," Muller-Moore said. "And the story that he creates may not be the exact story that I feel that I've lived, and lived with my community. He takes a seed of truth, and a filmmaker gets to frame it how they choose."
In his Facebook post, Muller-Moore noted that he will receive 25 percent of the documentary's profits but has no "say-so" in its making — a claim that Lantz corroborated. Muller-Moore said that he and Lantz have had "no contact for the past year" because "he doesn't want me influencing his take for the movie. But when I do see him, I'll certainly give him a hug, because we have been through quite a bit together."
Lantz, too, stressed that he and Muller-Moore have not had a "falling out." His primary concern, he said, is to stick with the facts and not make a "documentary that's based on the story we'd hoped it would be."
And when will that documentary be finished? Lantz said it all depends on what he decides to do with the information he received via FOIA. Also vital is future funding — the Kickstarter funds "were never meant to last this long."
"While I can understand that some people might read my last update and think that I've changed direction, I haven't," Lantz told us. "This is the course our film has been on for a long time."