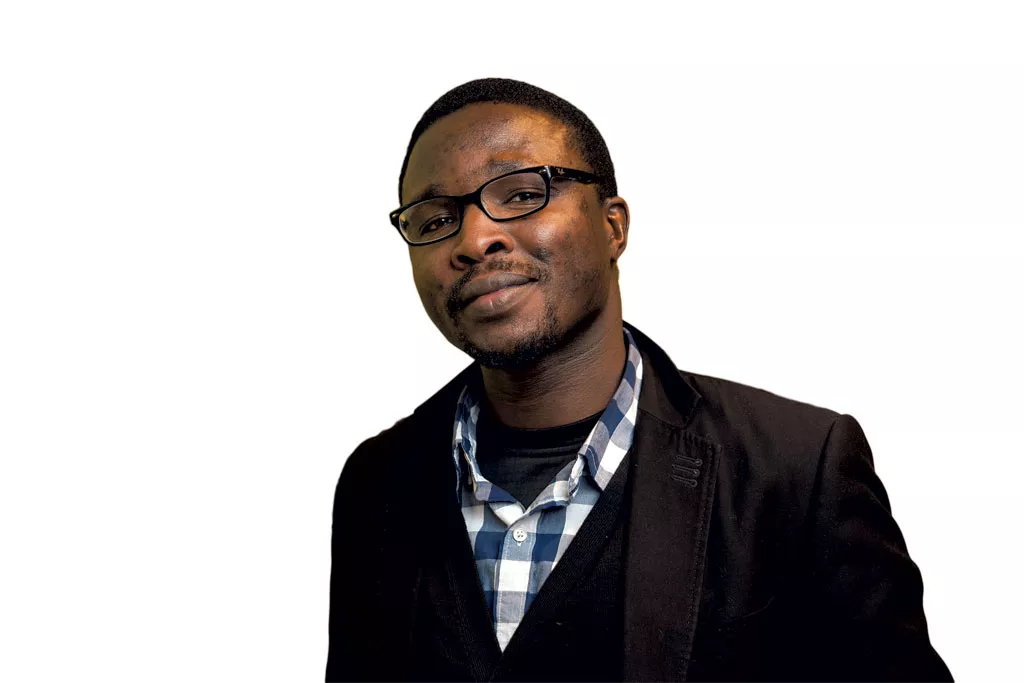 Caleb Kenna
Ugochukwu-Smooth Nzewi
Dartmouth College's Hood Museum of Art is recognized by specialists as having one of the most extensive African art collections of any teaching museum in North America. The Hood's holdings of about 1900 objects from all corners of the continent will soon be better known to Upper Valley residents, while likely drawing visitors from afar, as well.
The collection began in 1772 with the acquisition of a stuffed zebra. Now it's being juiced by the "electrifying" addition of Ugochukwu-Smooth Nzewi as curator of African art at the Hood, says museum director Michael Taylor.
Smooth, as he's known to everyone, brings a full set of tools to the job he started six months ago. Born and raised in Nigeria, he's a 35-year-old sculptor, exhibit organizer, scholar and connoisseur of contemporary African art.
Smooth also brings "fresh eyes" to the collection, Taylor says in a phone interview, sounding excited about the April opening of "The Art of Weapons: Selections From the African Collection," the first Hood show assembled by the new curator. "We've hit pay dirt," the director declares.
The show examines the aesthetics of ceremonial as well as deadly objects, and it will enable the museum to engage several of Dartmouth's academic departments, Taylor notes. All the college's students will have the opportunity to become acquainted with a segment of the collection that has never been in the spotlight.
"As an artist," Smooth says in a phone interview, "I come to the collection with a different perspective." He's keenly attuned to the creative process and particularly interested in how today's African artists relate to traditional culture and its aesthetic expressions.
Ghanaian sculptor El Anatsui, Africa's brightest art star on the international stage, was Smooth's teacher at the University of Nigeria, Nsukka. After receiving his undergraduate degree, Smooth made art in Nigeria, trying his hand at pastels because, he says, he couldn't afford the cost of a proper sculpting studio.
At that same time, "I came to realize I needed more knowledge, not only art historical, but also about the politics of the art market and institutions," Smooth recounts. He earned a graduate degree in museum and heritage studies at the University of Western Cape in South Africa. Recently, Smooth completed work on a PhD in art history at Emory University in Atlanta.
He's already got a reputation as a curator in Africa. Smooth is a co-organizer of Dak'Art 2014, the 11th edition of a pan-African biennial that will open in Dakar, Senegal, in May. Last week, he was scheduled to jet off to Marrakesh, Morocco, to check out a North Africa-oriented biennial.
Smooth likes to schmooze with other artists. "I want to have an extended conversation with artists I meet," he says. "I want to have a drink with them and understand the space from which their art was created."
His immersion in what's happening right now in Africa may be the most potent juju Smooth confers on the Hood. Working with a "reasonable" acquisition budget, he says, he'll be sure to collect work by emerging as well as established African artists.
Smooth also wants to expose the Hood's constituents to what he calls "modern" African art — as opposed to the contemporary kind. He'll launch that effort with a show next year that focuses on "key figures and movements" of the 1980s.
It won't be an African edition of an '80s nostalgia jag. Smooth identifies that decade as a "turning point" when many artists in Africa were becoming less concerned with the legacy of colonialism — and the struggles against it — and began addressing the failures of postcolonial states.
Although he's barely begun to put his imprint on the Hood's collection, it seems fair to ask Smooth what he hopes he will achieve in, say, five or 10 years.
"I hope to organize exhibits that will draw lots of attention to the Hood and Dartmouth and cast new light on African art and traditions," he responds. "I hope to present exhibits that will be remembered."
Oh, and how'd he get that handle?
"I've been called Smooth since college in Nigeria," he says.
Is that because he's such a smooth guy?
"I'm really not able to say," he replies with a laugh. m
"The Art of Weapons: Selections From the African Collection" opens on April 26. hoodmuseum.dartmouth.edu