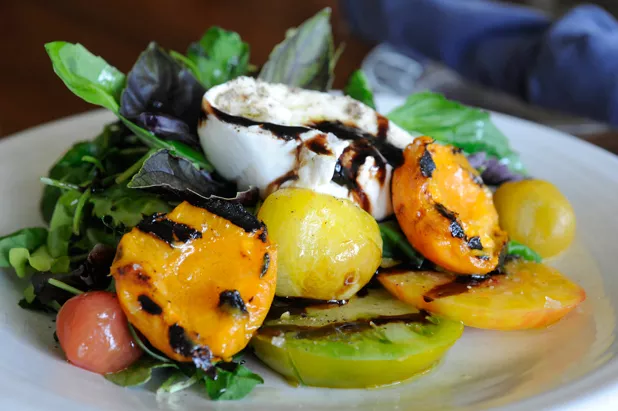 Jeb Wallace-Brodeur
Burrata salad
A job interview is, by nature, a stressful occasion. But when Harrison Littell flew to Vermont from Winston-Salem, N.C., at the end of May to interview for a job at Claire's Restaurant and Bar, he had an extra layer of pressure. Owner Linda Ramsdell couldn't meet her prospective new chef because she was stuck at an airport in Iceland. In her place, she sent a very qualified proxy: her close friend, famed food writer Marian Burros, who splits her time between Maryland and Vermont.
"I was like, Oh, my gosh, this amazing food critic and writer is interviewing me for this," Littell remembers. "Of course, I did my quick research [on Burros]. But it was a fun experience. Who has ever had that happen to them?"
For her part, Burros was impressed to see that Littell had read up on her. "I knew that he was a smart cook," she says. Littell prepared an impromptu lunch that further impressed Burros, as well as a number of other local luminaries on the guest list, including the owners of High Mowing Organic Seeds and Vermont Soy. Littell got the job.
With that, the recent New England Culinary Institute grad began reviving the one-time destination restaurant. An early example of the community-supported restaurant, Claire's opened in 2008 thanks to donations from a community hungry for well-made food crafted from the wealth of ingredients grown nearby. Late last year, Ramsdell bought out original chef Steven Obranovich, citing differing financial-management styles. Michael Bosia, Obranovich's husband and former Claire's co-owner, admitted that while the restaurant consistently broke even, it had yet to make a profit. Ramsdell promoted sous-chef Tom Cote to chef, but once Littell was hired, she closed the restaurant for a week to get ready for the changing of the guard.
Now, all eyes are on Littell to make the restaurant profitable. Sticking to the ingredient-driven formula laid out by Obranovich, Littell is putting his own southern stamp on Claire's.
A little more than two months after its grand reopening under Littell, Claire's is attracting a who's who of Vermont foodies. Burros says she's enjoyed Claire's since its inception, but now she raves, "I've never been this regular at any restaurant."
When we dined with Burros, another celebrated food journalist happened to be seated nearby. James Beard Foundation Award winner Barry Estabrook had driven all the way from Ferrisburgh to dine there with his daughters, one of whom was working at a camp nearby.
"You've gotta love a guy who's got a great touch with pork belly and polenta," Estabrook said the next day of Littell's cooking. "It's a solid hour and a half, hour and three quarters [drive] for me, but I would go up with no excuse now." Strong words from an editor of the late Gourmet magazine, who admits it can be tough to pass by restaurants such as the Inn at Shelburne Farms and Hen of the Wood to reach this out-of-the-way destination.
Estabrook is right: The pork belly is worth a trip. It's available in two sizes, with the small one big enough to satisfy most appetites at $13.
Littell renders the slab of Hardwick-raised Leblanc Family Farm meat until there's no extraneous fat — just a sturdy, fall-apart-tender chunk of love with crispy edges. The presentation, over a heaping bowl of cheddar grits and braised greens, visually suggests Chinese congee porridge dishes. But the flavors blend Littell's native North Carolina and his adopted Vermont home. Citizen Cider is the basis of both braising liquid and reduction sauce, while a hint of good-ol'-boy heat keeps the dish from turning into a Vermont stereotype.
Littell's Summer Poutine is a similarly unexpected take on a Vermont-adopted Québécois staple. Chicken braised in herb oil tops a plate full of well-salted, crisp russet frites. The cheese curds aren't weighed down with heavy brown gravy — instead, they're buoyed by a light sauce of lemon and fines herbes. Usually the term "summer on a plate" describes a fresh salad. This poutine earns that description, combining the airy sauce with perhaps the most summery taste of all — that of snackbar fries.
So Littell has a way with a braise, but what's really attracting the culinary literati? Perhaps it's that he's a member of the new guard of Vermont chefs who believe that emphasizing their farm-to-table approach is hackneyed.
"I'm a big believer that we should be doing that whether it's Claire's or TGI Fridays," Littell explains. "They should be doing everything they can to source locally for nutritional value."
For his own part, Littell spreads the wealth among local farms, though he doesn't list many specific partners on the menu. That's because, to ensure he has enough to cover an entire menu cycle — a new one will start later this month — Littell might draw on different farms on different days for a single ingredient.
Counting on his close relationships with farmers — many of whom have long sold to Claire's — Littell wants to continue that mission. More importantly, he seeks to thrill both the agrarian, blue-collar Hardwick community and experts like Estabrook who see the restaurant as a destination.
It's a role for which Littell has been practicing his entire life. A "career kitchen rat," he grew up doing odd jobs for his mother's company, Five Loaves Catering. After college, he realized that he was more passionate about cooking than about his major, international politics, he recalls. Littell moved through the ranks of kitchen jobs under "a European, classically trained hard-ass," starting out by washing dishes and potatoes.
Looking to learn more about cooking and sustainable agriculture, Littell chose to begin his studies at NECI at age 29. Since he was already an experienced chef, he tested out of much of the program, studying in Montpelier for only six months before moving on to an internship at the then-newly-opened Crop Bistro & Brewery in Stowe. Littell describes Crop chef and former NECI executive chef Tom Bivins as a culinary equivalent of A Beautiful Mind's John Nash, with an unparalleled knowledge of food.
Littell left Bivins' tutelage to return to Five Loaves as executive chef. But after a year, he was ready for the next challenge. A recommendation from mutual friends Annie Bakst and Robert Hunt of East Calais bakery Bohemian Bread spurred Ramsdell to call on Littell during her search for a permanent chef to replace Obranovich.
Now he's literally sending out smoke signals to tell the community there's a new regime in place. Littell got approval from the town of Hardwick and the state health department to park his smoker across the street from Claire's for Thursday night barbecue.
Specials on those Thursdays have included classic pulled pork and barbecue chicken, but some dishes lean more toward the upscale. Last Thursday, for instance, the special was smoked brisket with balsamic-cherry barbecue sauce, horseradish whipped potatoes and bean salad in pesto vinaigrette. The barbecue nights have drawn in crowds of music lovers already in town to see the Hardwick Chamber Ensemble, says Littell. Now they have another reason to make the trip.
Littell doesn't just serve Vermont ingredients with a southern accent. The smoker is also where he cooks his own long-cured house guanciale, house bacon and smoked Mountain Foot Farm trout.
There's a touch of elegance to many of Littell's dishes. A recent special of cold curried-zucchini soup, dotted with red-pepper coulis, was subtle and downright ladylike. Another special, which Littell expects will appear in some form on his new menu, was a sophisticated take on a Caprese salad. Over balsamic-dressed greens, cherry tomatoes and tiny grilled apricots, a blob of Maplebrook Fine Cheese burrata offered a sensuous burst of cream.
Cocktails draw in a bustling bar crowd with local spirits and other Vermont ingredients, such as flavorings from Hardwick neighbor Sumptuous Syrups of Vermont. Current refreshing tipples include the lavender lemonade, with Green Mountain Distillers Organic vodka, lavender syrup, lemon and soda water.
Littell says one of the advantages of working in a small town is that not only does everyone know your name, they're willing to tell it like it is about your food. Though Burros has no financial stake in Claire's, she says she considers it in her personal interest to encourage Littell to make the best food he can. In return, the young chef says, "I absolutely love Marian. She tells you straight up. There's no BS; it is what it is."
But Littell isn't just beholden to an expert's opinion. He wants to know what everyone in the community thinks, he says: "The more people let you know their opinions, the better it makes you in the end."
Littell has already brought buzz back to the tiny "town that food saved" — as journalist Ben Hewitt dubbed Hardwick in his 2011 book of that name. If the chef keeps his ears open, Claire's is sure to bring in more foodies, famous and regular folks alike.
Claire's Restaurant and Bar, 41 Main Street, Hardwick, 472-7053. clairesvt.com
The original print version of this article was headlined "Hardwick, Revisited."