Clay model of Ceres by Jerry Williams
Tucked away in a battered, graying building in Barre, the newest version of Vermont's most prominent monumental sculpture is taking shape. The clay model of Ceres — the Roman goddess of agriculture — currently resides in the Barre Sculpture Studios. This fall, a larger version will be installed on the Vermont Statehouse in Montpelier.
Granite sculptor Jerry Williams created the clay model. He is half of the team that won the bid to remake the iconic goddess, a version of which has topped the golden dome since 1858.
Later this summer, Calais artist Chris Miller will use Williams' model to create a 14-foot Honduran mahogany sculpture. It will replace the previous Ceres, which was removed during a renovation and regilding of the Statehouse dome that started in April.
Williams' and Miller's Ceres will be the third for the Statehouse; the last two succumbed to rot after 80-year shifts standing watch over Vermont's capital city. The pair was one of five teams that responded to the state's request for proposals. They bid $131,300, compared with the highest bid of $292,480, according to Christopher Cole, commissioner of the Department of Buildings and General Services.
The original figure for the dome, called "Agriculture," was the work of Larkin Goldsmith Mead (1835-1910), born in Chesterfield, N.H., and raised in Brattleboro. Williams believes that first Ceres was made of some variety of pine; it was taken down in 1938 owing to heavy decay.
Mead's rendition of the goddess was neoclassical in style. The influence of Roman and Greek sculptural traditions was evident in the draped chiton (a dress-like piece of fabric), lifelike posturing and strong brow and nose.
The second statue, dedicated in 1938, was less elegant. Vermont's then-sergeant-at-arms, Dwight Dwinnell, created "Ceres II"; apparently, by then, Mead's work had been nicknamed "Ceres."
Vermont State Curator David Schütz calls Dwinnell's rendition folk art. "He did his best in the midst of the Depression as a lifelong whittler and woodworker at 83 years old," Schütz says.
Courtesy Of Vermont Historical Society
Dwight Dwinnell carving "Ceres II"
Williams regards Dwinnell's version with something approaching amusement. At his studio, he produces a black-and-white photograph of Dwinnell seated beside the head of "Ceres II" and the decomposing head of "Agriculture." Dwinnell's goddess looks choppy and rustic compared with what was left of its graceful predecessor.
"I said we should title this picture 'Nailed It,'" Williams jokes.
Dwinnell's sculpture was less poised than Mead's, but it represented Vermont's do-it-yourself sensibility. The rustic Ceres is currently drying out in a warehouse, Schütz says. He hopes to put her on display in the Vermont History Museum this fall so Vermonters can admire her weather-worn physiognomy up close.
At the request of the state, Williams based his model primarily on Mead's version of the goddess — and it was no easy feat.
"There's not a lot of work we could look at," he explains.
Images of Mead's sculpture were grainy and hard to decipher, and the artist's sketches often didn't match up with the photos. In one drawing, Ceres appears with short sleeves; in a photograph, her arms are bare. So, for inspiration, Williams also looked to other 19th-century sculptors doing neoclassical work. Rather than remake Ceres, he reimagined her.
Williams used the same style of chiton worn by the original sculpture. To get the effect of draped cloth, he first sculpted a nude figure and then clad her in ribbed jersey fabric. Having taken pictures of this outfit for reference, he proceeded to add the dress in clay. Williams used the same procedure for Ceres' shawl. Since it was supposed to be slightly heavier, he used a silver lamé fabric to get the right effect.
Schütz and Tricia Harper of the Department of Buildings and General Services provided feedback throughout the model's creation.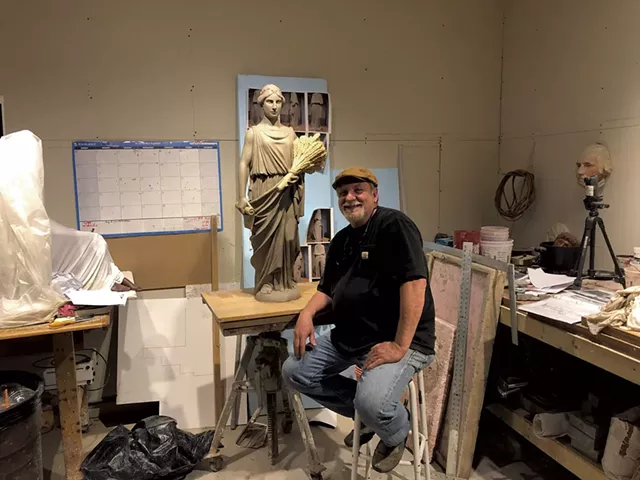 Sadie Williams
Jerry Williams and Ceres
"This is not a scientific process," Schütz says. "This is the art of knowing classical sculpture as Larkin Mead studied it and is something Jerry is familiar with."
Most of their notes on Williams' first attempt were about Ceres' face.
"I felt his original model was a little too pretty — it needed to be a stronger visage," Schütz says. "I told him to look at the face of the Statue of Liberty, because that face is what I see in the old photographs of Larkin Mead's [sculpture's] face."
The result: "She's less pretty and a very authoritative model of a strong woman who is representing agriculture," Schütz says.
"Less pretty" perhaps refers to Ceres' strong brow and aquiline nose, but these qualities certainly don't detract from her beauty.
Next, Miller will re-create Williams' Ceres in wood. Schütz says he'll likely start in "early to mid-August," using a computer-controlled router to cut away waste wood, then hand carve the rest. The public can observe Miller's work at the Vermont Granite Museum in Barre.
This fall, visitors to the capital will be able to see the new Ceres — through binoculars — on the Statehouse.