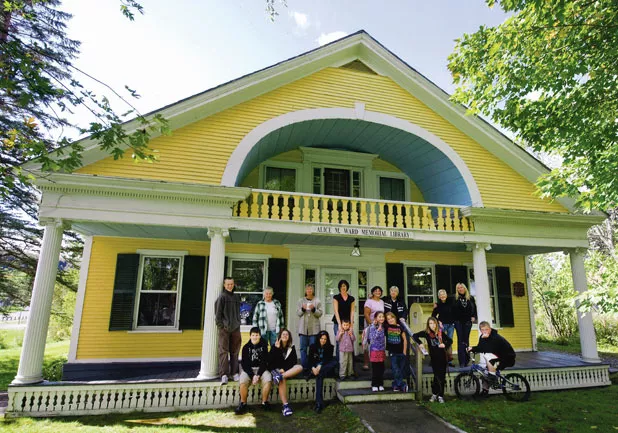 Alice M. Ward Memorial Library in Canaan
Lovers of libraries come in all stripes. Little kids like them for story hours and other fun pastimes. Parents like them for the same reasons — call it educational babysitting. Older kids and adults like, of course, to check out books, CDs and DVDs. Some folks appreciate hanging out in a cozy reading room, perusing newspapers, using communal computers or borrowing the Wi-Fi. And then there are fans of New England architecture who just like to look.
With so many reasons to love libraries, you'd think a calendar devoted to them would be selling like hotcakes.
So far, laments designer Marcy Kass, they're not, but she's still hopeful. Kass is the initiator, designer and editor of a new 2012 calendar called simply "Our Vermont Public Libraries." It's a "pilot project featuring a good cross section of buildings," she says. "I thought the Vermont public libraries could benefit from a little more visibility."
Kass worked with photographer Andy Duback and writer Katherine Bielawa Stamper to compile not 12 but 14 months — December 2011 through January 2013 — in a handsome 11-by-12-inch package. The project was the idea of Marti Fiske, director of the Dorothy Alling Memorial Library in Williston and immediate past president of the Vermont Library Association. Sales of the calendar will benefit both the VLA and the individual libraries represented — one from each of Vermont's counties.
Sure, most of us now rely on various digital devices to tell us the day and month, and to keep track of our engagements. But the flood of print calendar options on the market suggests that people still buy them in droves. Maybe we buy them for other people? To be sure, you can find a calendar for fans of just about anything or anyone: pugs, Twilight, Venice, "Seinfeld," Justin Bieber.
All these commercial, pop-culture options provide stiff competition to calendars that showcase treasures in our own backyards. It must be said, though, that there are more libraries in Vermont than there are sexy teen vampires (not sure about pugs). In fact, the Green Mountain State has more public libraries per capita — 183 — than any other state. "Public libraries have been part of the American Dream for over 125 years," writes Fiske in an intro to the calendar. She goes on to point out how the role of libraries is evolving. Yet while the public expects more high-tech amenities, funding keeps getting cut. "Even the best-funded libraries are restricting their budgets in recognition of taxpayers' anxiety during the long downturn in the economy," Fiske notes.
But this calendar is not a pity party in print. Rather, each month features a compelling photo that, suggests Kass, shows the liveliness of libraries. "Each library has its own personality," she says. The St. Johnsbury Athenaeum is one of the state's most beautiful buildings, period. Duback chose an interior aerial perspective, from a second-floor walkway, for his shot of a local knitters' group gathered around a wooden table. Shot from outside in early evening, the Rutland Free Library casts a warm glow that makes the stately antebellum federal building look inviting — even the alleged resident ghost is considered friendly.
Williston writer Stamper chose anecdotes about each library that convey its uniqueness. For example, when the Lincoln Library (December 2011) was flooded — not during Irene, but in 1998 — local literary luminary Chris Bohjalian wrote about the town's plight. In response, total strangers sent the library more than 14,000 books from as far away as New Zealand.
The demure South Londonderry Free Library is a former home, with a broad veranda. Indeed, Stamper writes, local residents call it the "house of books." The library owns a collection of rare glass-plate photos from the early 1900s, and even has an organ. The Rochester Public Library, built in 1849 as a Unitarian Universalist Church, boasts stained-glass windows and patronage that exceeds the population of the town.
Rochester, of course, was hit hard — and isolated for days — by Tropical Storm Irene. Kass contributes a note on the calendar's opening page about how library director Jeannette Bair held "rolling story hours" to assist families with young children. After the power returned, the library kept extended hours so that residents could access the internet.
You'll not find such stories — or pictures of beloved Vermont institutions — on a Hello Kitty calendar.