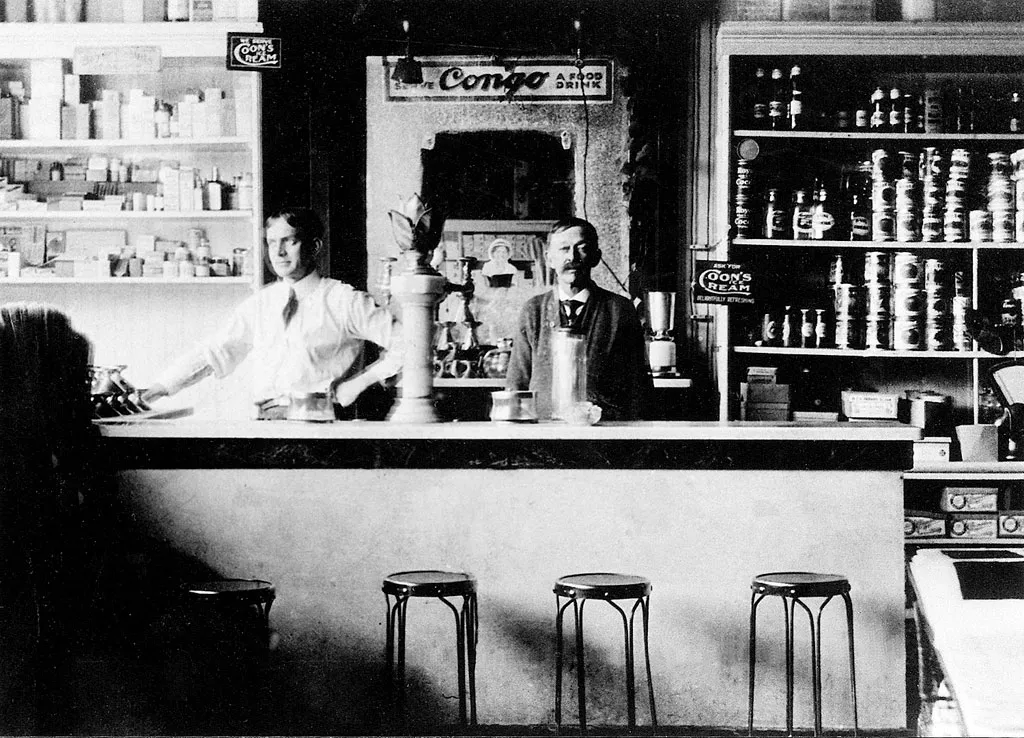 Courtesy Of Cambridge Historical Society
H.A. Hawley store interior
Like poetry, dance or visual art, food has a story to tell. But unlike other forms of expression, food reveals a vernacular tale — a living history. A plate of food reflects the economic and social status of those making it: their habits, the ways they celebrate and the ways they mourn.
In late December 2014, the Cambridge Historical Society teamed up with Shelburne's Wind Ridge Books of Vermont to publish Tasteful Traditions: A Collection of Cambridge History, Memories and Family Recipes. The hefty, well-designed hardcover is filled with recipes and stories submitted by residents and compiled from newspapers, personal collections and community cookbooks. It's an ode to one working-class town's gustatory tendencies — part cookbook, part scrapbook. And even to someone not from Cambridge, its recipes and photos — turn-of-the-century shots of Holsteins pulling wagons or babies wrapped in feather boas — are fascinating.
Courtesy Of Cambridge Historical Society
Ruth Powell and Florence Hitchcock
After finding some deteriorating community cookbooks, coeditor and CHS board member Justin Marsh said he wanted to document his hometown's heritage. "These books were barely hanging on for dear life," he told Seven Days via phone last week. "And they were filled with these recipes from the early 1900s. We wanted to preserve them so they could live on for another generation."
Marsh and coeditor Tamra Higgins, who has lived in Jeffersonville for nearly three decades, posted submission requests in Lamoille County's News & Citizen, on Front Porch Forum and on Facebook.
At first, the community was lukewarm, Marsh said: "Another cookbook?" some residents asked when he told them about the project. "I have dozens of cookbooks. I don't need another," they told him. But when word got out that people's stories would appear alongside the recipes, contributions began to flood in.
Most of them came through word of mouth. "[Since] we're a historical society," Marsh said, "we have some members who are not as techy. For them, it was having phone conversations with their friends. It's that old-school phone-train network." The responses spanned far beyond the town's borders, which encompass the villages of Cambridge and Jeffersonville.
"We got stories from people we had no idea even existed," Marsh said. Folks from as far as Florida and the Carolinas — with roots or family in Cambridge — sent along old scraps of paper. "The stuff we collected ranged from really faded old photographs to copies of really old faded photographs, newspaper scraps," Marsh said. "Lots of the [newspaper articles] were cutouts, and we didn't know the dates or even what newspaper they were in."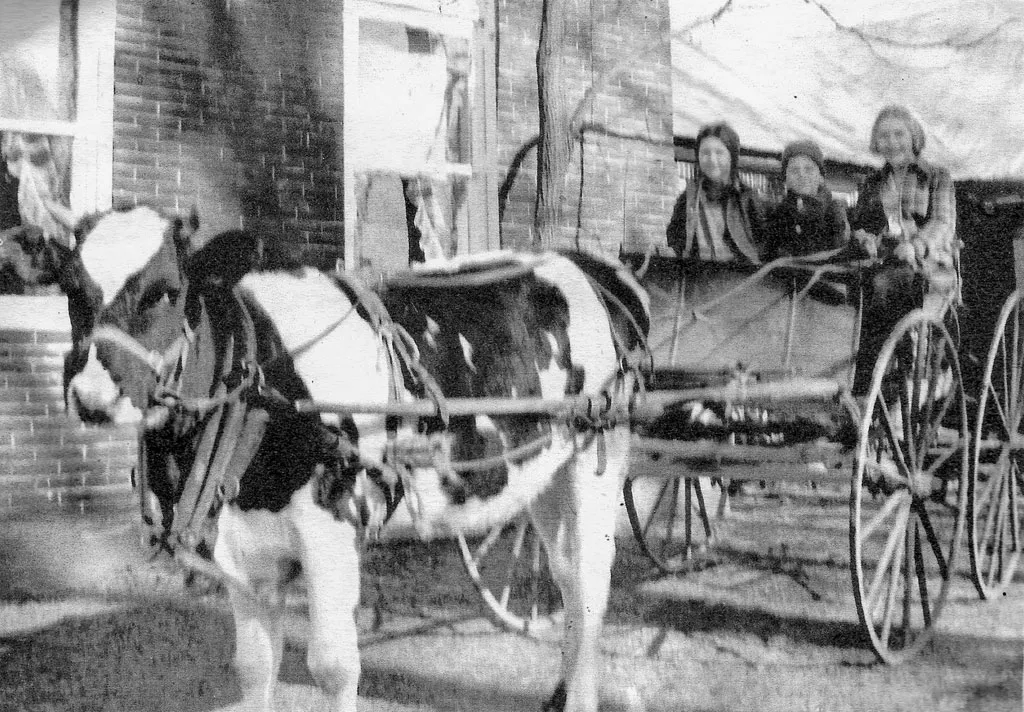 Courtesy Of Cambridge Historical Society
Cow and buggy
For months, the editors sleuthed out sources for each piece. "There was an element of guessing," Marsh conceded, "and process of elimination. Like, that was in the Burlington Free Press, and this is in the exact same typeface. We were working as librarians and archivists. It was definitely a new process for us."
Marsh's grandmother, Roberta Marsh, is a retired CHS board member who has lived in Cambridge since 1952. She said she enjoyed stringing history together, connecting the dots between a dish gleaned from a primary source and something obtained from a secondary source, such as a newspaper or cookbook.
At one point, the elder Marsh said she was digging through a cache of 100-year-old newspapers at the library, looking for something on the Hotel Melendy (now the Smugglers Notch Inn in Jeffersonville). "People would stay at the hotel," she said, "and there was this really crude road up through the notch, and people would go by horse and buggy to the top of the mountain. Mrs. Melendy would pack them lunch, and one of her favorite things to make was this sunshine cake. Then, we were going through this old cookbook and there it was! This recipe for sunshine cake. That kind of thing happened more than once."
Roberta Marsh said that back in the day, the threshold for local news was different than it is now: "It was sort of like people were writing in their diary. Someone got intoxicated and fell down and broke their leg, and it would be in the paper." And that's a good thing since, at 83 years of age, Roberta Marsh has only recently realized that she's an elder — and that members of her dwindling generation are the last people on Earth who would remember some of these stories.
As the unofficial Cambridge town historian, Roberta Marsh said she gets calls from people all the time asking various things. Sometimes she knows the answer, sometimes she doesn't. "There are just so many times when I think, Who would know the answer to this or that question?" she said. "And the [person who would know is] gone. So if you don't put it down on paper, you lose all that information."
To illuminate and preserve the culinary past, here are a few recipes annotated as they appear in Tasteful Traditions.
Doughnuts
This recipe came from Lucy Brewster. Lucy and Marion Brewster would have used sour milk for the buttermilk and lard to fry the doughnuts in.
1 cup sugar
1 teaspoon nutmeg or cinnamon
1/2 teaspoon ginger

1/2 teaspoon salt
2 eggs
2 tablespoons oil
1 cup buttermilk
1 teaspoon baking soda
3 cups bread flour, more if needed to handle dough
Canola oil
Use cast-iron or electric frying pan (375-400-degree setting) with about 2-3 inches of canola oil.
Combine sugar, nutmeg or cinnamon, ginger, and salt. Add eggs and stir well. Add oil and mix. Holding cup of buttermilk over bowl, add baking soda to buttermilk and stir. Add to bowl and mix. Add flour 1 cup at a time, mixing after each addition. Dough should be thick enough to handle.
Spread about one-third of the dough on floured surface and cut with doughnut cutter. Fry in oil until golden brown, remove and drain on paper towels. Repeat with remaining two-thirds of the dough, until all the doughnuts are cooked.
Parker House Rolls
Recipe submitted by Roberta Marsh.
Carrie Lease ran a boarding house for several pupils living in Belvidere, Vermont. My mom, Hersa Potter Stockwell, was one. She boarded with Carrie, graduating from Cambridge High School in 1928. A story she told was coming back after a weekend at home, they would bring cookies, fudge and other treats to snack on throughout the week. However Carrie would confiscate the treats and dole them out at mealtime, insisting she was looking out for their welfare!
1 quart milk
butter, size of an egg
one-half cup sugar
1 cupful yeast
A little salt
2 quarts flour
1/2 teaspoon baking soda
Moderate oven (350 degrees)
Mix thoroughly milk, butter, sugar, yeast and salt into two quarts of flour. Let stand in a warm place until morning. Then add baking soda dissolved in a little water and rise again. Knead again at about four o'clock to have warm for supper. Cut into biscuits and rise again. Bake 20 minutes.
Impossible Quiche
Recipe contributed by Nancy Nagel.
1 cup Swiss cheese, shredded
1/3 cup onion, finely chopped
Bacon, shrimp, crab, SPAM or other meat of choice, cooked and diced
2 cups milk
1/2 cup Bisquick
4 eggs
1/4 teaspoon salt
Set oven at 350 degrees. Lightly grease a 10-inch pie plate.
Sprinkle cheese, onion and diced cooked meat over the bottom of the plate. Place remaining ingredients in the blender and blend on high for one minute. Pour into pie plate. Bake 50-55 minutes or until knife comes out clean. Let stand five minutes before cutting.
A Recipe for Scandal
Everyone loves a good scandal — except, of course, the people involved. But in small, sleepy, close-knit communities, everybody knows everybody else's business. Since not a whole lot else is going on for entertainment, gossip tends to run rampant.
In Tasteful Traditions, the recipes aren't limited to things you can eat. The end of the book contains formulas for cold remedies, poultices and other first aid, as well as saltpeter pesticides and other "things worth knowing." These things include a 1913 "Recipe for Scandal," sourced from an old publication by the Jeffersonville Cemetery Association. It would be a shame not to share it.
Take a grain of falsehood, a handful of run-abouts, the same quantity of nimble-tongue, a sprig of the herb back-bite, a teaspoonful of don't-you-tell-it, six drops of malice and a few drachmas of envy; add a little discontent and jealousy, and strain through a bag of misconstruction; cork it up in a bottle [with] malevolence and hang it up on a skein of street yarn; keep in a hot atmosphere; shake it occasionally for a few days and it will be fit for use. Let a few drops be taken before walking out and the desired result will follow.