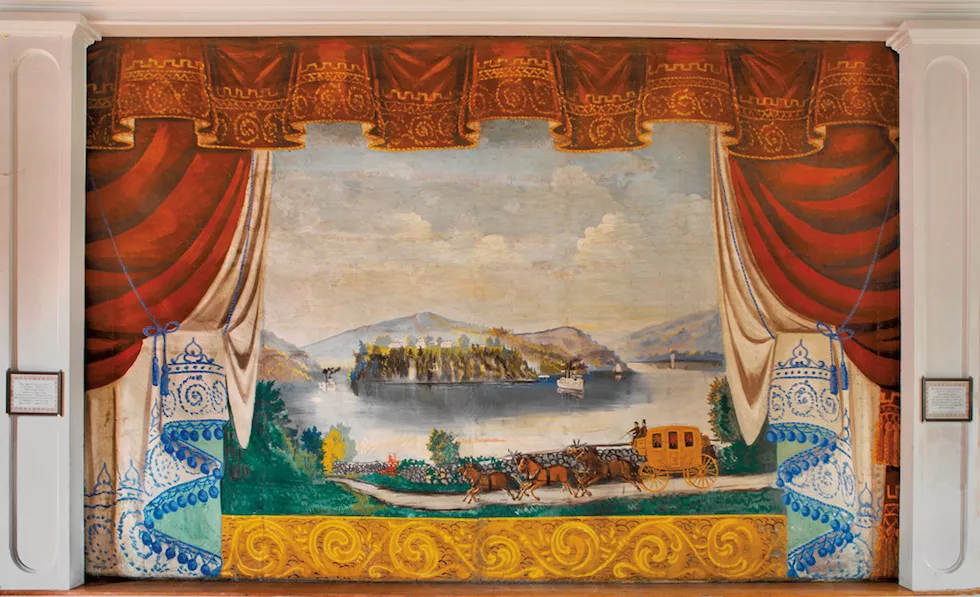 Christine Hadsel
Curtain by Charles Henry, Albany town hall
In 1900, the O.L. Story Scenic Company, a Somerville, Mass., outfit that painted scenes on stage curtains, promised in an advertising pamphlet that its products would last "with good care from 12 to 15 years." This seems about right for 10-by-18-foot spans of cotton muslin primed with handmade glue and painted with water-soluble paints. Depicting rural scenes, domestic interiors, city streets or fanciful European castles, these canvases were the all-purpose, roll-up stage sets of the day; it was assumed they'd get heavy use.
Clearly, O. L. Story didn't count on Christine Hadsel coming along 100 years later. The Burlington resident has spent the past 15 years ferreting out painted theater curtains from crawl spaces in town halls, grange halls, theaters and opera houses in Vermont, New Hampshire and Maine. She and teams of volunteers have catalogued 500 individual curtains made between 1890 and 1940 and restored about half of them. Because of Hadsel's efforts, many curtains have been returned to use as backdrops to town meetings, community dinners and local concerts. And, she predicts, the restored ones will last another century.
Now Hadsel has produced a book documenting these works of public art and detailing her unprecedented endeavor, which was largely supported by the National Trust for Historic Preservation and the National Endowment for the Arts (NEA). As befits its subject, Suspended Worlds: Historic Theater Scenery in Northern New England is an art book, gorgeously and fastidiously published by David R. Godine. The book's shape imitates the aspect ratio of the curtains, vividly shot by Burlington-based architectural photographer Carolyn Bates and laid out one per page. Its text playfully adopts the conventions of drama, with acts and scenes replacing chapters.
Hadsel's book is equally a cultural exploration of an era before movies, when community life and entertainment in small northern New England towns centered on the stage of the local town hall or grange. There, a painted curtain provided the backdrop to itinerant musicians and other acts, as well as to community gatherings. A 1940 flier for Londonderry's (long-gone) Union Hall, reproduced in the book, advertises a game dinner of "venison, coon, bear, chicken pie. With the fixings."
In their day, these halls' painted curtains were "the largest, most colorful pieces of art in most people's lives," Hadsel writes. While some are primitively executed, many are quite beautiful. Plainfield, N.H., has the only backdrop designed by Maxfield Parrish, the wildly successful American illustrator. Granted, the artist directed his studio to paint the autumnal woodland scene, but the 1916 work has the same fine details, luminous color and balanced composition as the illustrations that made Parrish famous.
Suspended Worlds is organized by painter and state, but lacks a town name index, so it can be hard to look up curtains by specific location. Of the three states covered in the book, Vermont appears to have the most historic stage curtains, and the most pleasing ones. Most of them adorned town halls, which favored theater scenery, instead of grange halls (as in Maine), which tended to buy curtains covered with ads for local businesses — hence Vermont curtains' greater appeal.
South Londonderry Town Hall has a shiver-inducing winter scene from 1890 featuring a path through the woods buried in deep snowdrifts. Townshend Town Hall offers a series of backdrops from 1922 in an art-deco style, depicting streamlined streetcars, trains and black Ford Model Ts and exuding machine-age optimism. Those two towns' curtains are attributed, respectively, to the Troy, N.Y., studio of Charles Huiest and the Brattleboro-based scenic artist William Stuart.
Hadsel spotted her first painted curtain at the Vergennes Opera House in 1998. It was a wreck. "This great, big, dirty piece of scenery — I had no idea what it was," she recalls by phone. By 2009, Hadsel's team had unearthed all 185 of the state's extant curtains. Many came in sets of five: one front "grand drape," showing a view revealed by pulled-aside trompe l'oeil painted drapes, and four stock scenes to hang behind it.
Vergennes' one remaining curtain was a grand drape. While the town sent that one to a professional conservator out of state, Hadsel developed a much cheaper conservation plan for her other discoveries: Locals helped sponge and vacuum away dust while a few trained conservators patched and in-painted damaged areas. She had the curtains rehung on padded metal downspouts, an inexpensive grange trick used a century ago. Conservators Richard Kerschner and Mary Jo Davis describe the process in detail in the book's final chapter, "Act 4."
Christine Hadsel
Curtain by William Stuart, Townshend town hall Courtesy of Christine Hadsel
In 2003, the NEA's national initiatives coordinator himself helped conserve a curtain. Reached at his D.C. office, where he is now the interim media arts director and coordinator for the multidisciplinary arts division, Michael McLaughlin admits with a chuckle that it's not often an NEA staff member visits a recipient of arts endowment money. While on a vacation in New England, however, McLaughlin got an invitation from Hadsel to accompany her to Concord, Vt., for a day. He soon found himself wielding a "pencil eraser and getting tiny smudges out" of a grand drape.
"The coolest thing about the whole day," McLaughlin recalls, was when Hadsel brought him to a picnic lunch at nearby Shadow Lake, where they ate overlooking the scene depicted on the drape he had just helped hang.
All of Vermont's curtains have been conserved, and many now hang again on the stages for which they were made. Those stages and their delightfully varied proscenium arches (shown in the book's photos) are all scrubbed and dusted — a requirement of rehanging, according to Hadsel, who directed the Vermont Museum and Gallery Alliance for 10 years. Many of the town halls themselves have been restored in tandem with curtain conservation, with funds from the Preservation Trust of Vermont. The book includes a number of exterior building photos, which help the reader imagine the curtains in place.
When a curtain can't be reinstalled, Hadsel's team instructs volunteers to roll it for storage in conservation-friendly materials. Occasionally she finds it a new home. When she learned that a grange hall in West Paris, Maine, could no longer maintain its set of five Charles Huiest curtains, Hadsel notified some Wardsboro, Vt., residents who she knew were interested in sprucing up their town hall.
"She was the matchmaker," recalls Karen Davis of Wardsboro. Davis and other volunteers drove to Maine to collect the curtains, and then rounded up 20 volunteers and a Vermont Arts Council grant to conserve them. It took the group four days to restore and hang three of the curtains; the other two were put in storage.
On finishing, says Davis, "Everyone who volunteered [was] pinching themselves — these curtains were 120 years old."
Hadsel's research for Suspended Worlds initially suggested that painted curtains were most popular in northern New England. Perhaps they survived in greater numbers there because of the Yankee reluctance to throw things away, she speculates in the book, and the relative lack of sprawl. The South had little interest in curtains, Hadsel writes. When she authored the book, only a few examples had turned up in New York and the Midwest, even though large scenic studios in Buffalo, Chicago and Omaha produced many of northern New England's curtains.
Yet, as Hadsel's conservation project has expanded in scope — from its start as the Vermont Theater Curtain Project in 2000 to Curtains Without Borders in 2009 — more curtains have turned up, most recently in Texas, Colorado and Tennessee. Hadsel received another National Trust grant to canvass Massachusetts, but she recently changed tactics and, in May, decided to pursue a new project: Curtains Nationwide. Its ambitious aim is to catalog every curtain in the country. Grants will fund trips to provide coaching to other states' regional foundations and conservators.
The 50-year heyday of painted theater curtains came to an end, as Vermont Humanities Council director Peter Gilbert writes in the prologue to Suspended Worlds, when people started choosing private entertainment over public gatherings. "Live, local entertainment couldn't compete with the quick pace of movies, even silent movies, and friends and neighbors onstage were just not as dazzling as lofty movie stars," he writes.
Now the pendulum has readjusted, if not swung the other way. Suspended Worlds includes a final chapter documenting the gigs of today as they occur in front of the stage sets of a century ago — a spectacle that would never have been without the enormous and dedicated work of one woman.