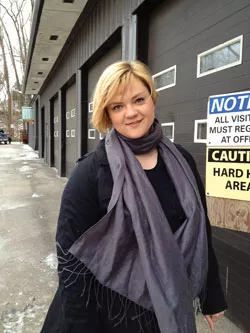 In Burlington's South End, a creative-economy hotbed, an artrepreneur is spreading her wings — again. Christy Mitchell, director of the S.P.A.C.E. and Backspace galleries at 266 Pine, took on a managerial role last fall across the street at Studio 266 (South Champlain Street), a warren of artist studios in a former Curtis Lumber building. This spring, she's developing eight more artist spaces in rooms behind Feldman's Bagels.
The former Champlain Valley Auto building — across from the Cumberland Farms gas station and convenience store, further south on Pine — is a capacious, industrial-looking structure with high ceilings, steel beams, concrete floors and a towering (grandfathered-in) sign by the street. While the front of the building will soon be occupied by Roy and Maddy Feldman's bagel bakery, the back, with four garage bays, will be divided into artist studios that Mitchell will manage. The studios will have a common hallway, Wi-Fi and shared heat, bathrooms and kitchen, she says. Mitchell is calling the space Satellite Arts — launched from S.P.A.C.E., get it?
While her opening is scheduled for May 1, Mitchell is planning an event on March 21 that further plays with the space theme. March 21, after all, is "3-2-1 — blast off!" She says there will be a parade down Pine Street from S.P.A.C.E. to Satellite — participants will be encouraged to wear space-inspired costumes — with food and music, and an art exhibit and a photo booth awaiting at Satellite down the road.
When Roy Feldman approached Mitchell (the two were executive and associate director, respectively, of the South End Arts and Business Association a year or so back), she says, "I couldn't really say no. I didn't know if I was ready, but when an opportunity comes up…"
Now, she adds, "I can't even stop thinking of new ways to collaborate with other South End people. Starting a place like this really helps artists to get themselves out there."
Accordingly, Mitchell has issued a call to artists — with a space theme.
Satellite Arts will open on May 1 at 660 Pine Street. The pre-party and fundraiser will be March 21, 6 to 9 p.m., with a parade beginning at S.P.A.C.E. Gallery. $25 ticket helps fund the construction of working artists' studios. Call-to-artist info at spacegalleryvt.com/call-to-artists.