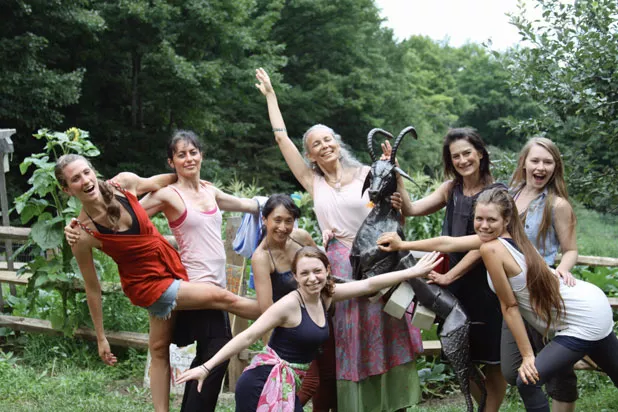 The cast and crew of the indie film Brujo are huddled in a garage in tiny Washington, Vt., one recent afternoon, waiting out a downpour. They've been filming the modern-dance movie on writer/director Glenn Mack's sprawling homestead for almost three weeks, and with just two days of production left, they're preparing to shoot the final scene.
When the rain lifts, everybody treks down a winding dirt road — past a pair of dairy cows munching on tall grass — to a leveled-off dirt stage encircled by cameras, musicians and onlookers. Beside them is an abundant garden enclosed with a fence, on which hangs a hand-painted sign: "Le jardin naturiste: Clothing is optional."
As filming begins, the soft clucking of chickens drifts from the woods. Several dancers, including Vermonters Maris Wolff, Hanna Satterlee and Jane Beaumont Snyder, move their bare feet across the dirt while violinist and singer Mazz Swift improvises on a theme: "The Flower Duet" from the opera Lakmé.
From behind the cameras, Mack, 62, watches the performers, a widening grin on his face. "At some point, you just stand back and let the experts handle it," he says.
This is Mack's first feature film. Splitting his time between Vermont and California, he's worked in the Hollywood film industry for years, usually as transportation coordinator. He recently started a feature in California, but that project fell through when money ran out.
"After that humbling experience, I thought I should plan a project that I could actually afford on my own," Mack says. So he began to write a movie he could film on his own land in Washington.
Set at a rural modern-dance retreat, Brujo tells the story of a woman who grows suspicious of her girlfriend after an alluring and flirtatious boxer shows up. With the help of a mysterious brujo – or male witch – the jealous lover attempts to put a curse on the boxer, with disastrous results.
"The plot is important," says Mack, "but the dancing is what the movie is really about."
Why dance? "I thought every Teamster wanted to direct a modern dance movie," he jokes. Mack's interest in dance actually goes way back: His mother was an accomplished ballet dancer in her native Netherlands. When he decided to make a movie, he asked his friend, Marina Fukushima, a San Francisco-based dancer and choreographer, to be involved from the start.
"I think dance can speak through intuition and nuance," says Mack. "So I'm letting the dance have the last word."
For Mack, this project has been all about creative collaboration. He wrote the script, but left the details of the movement entirely up to Fukushima. He offered Allan Nicholls, the film's music supervisor, the same kind of freedom. Nicholls, a Burlington-based musician, actor and producer, whose credits include more than 30 years working with the late director Robert Altman, hatched the idea of riffing on music from Lakmé.
"That's why I took the job, because I knew I could be creative," Nicholls says. "I knew [Mack] was open to input."
Nicholls brought in the musicians, including Burlington bassist and composer Aram Bedrosian, drummer William Noel and Beaumont Snyder (a singer as well as a dancer). He also enlisted Ariel Zevon, founder of Barre's L.A.C.E. nonprofit (Local Agricultural Community Exchange), who catered the shoot and plays a small role as an immigration officer.
The project is distinctly Vermont-y. "It's kind of a contagious, familial thing that's happened," says Nicholls of the roughly 60 members of cast and crew, many of whom spent all three weeks camped out together on Mack's property — which is home to the cows, chickens and farmers of Symphony Farm, operated by Jonathan Falby and Meg Kane. (Shooting was planned around the cows' milking schedule.)
For the first few nights of the shoot, Nicholls slept over, too. "Then the interns came and slept in the loft," he says. "Then the grips set up tents outside. Then another person was sleeping in his car. Then beer cans showed up in the sink. Then the odor changed." Nicholls decided he was happier commuting.
A few days after the shoot wrapped, Mack was experiencing a little of what he calls "postpartum depression." But he's happy with the results. "There were a lot of holes in our crew, in our plan, but there always seemed to be someone around who was capable of filling in," he says. "Not only did we have good performances and good pictures, we got it done on time."
So far, Brujo has cost Mack $73,000; he raised $3400 on the website Indiegogo before shooting began. Now the fundraising for postproduction editing begins. "I'm out of money, yes," he says. Still, Mack is optimistic that the film has rustled up enough interest from supporters to see it through to the end. "I'm starting to hear the rumblings," he says.