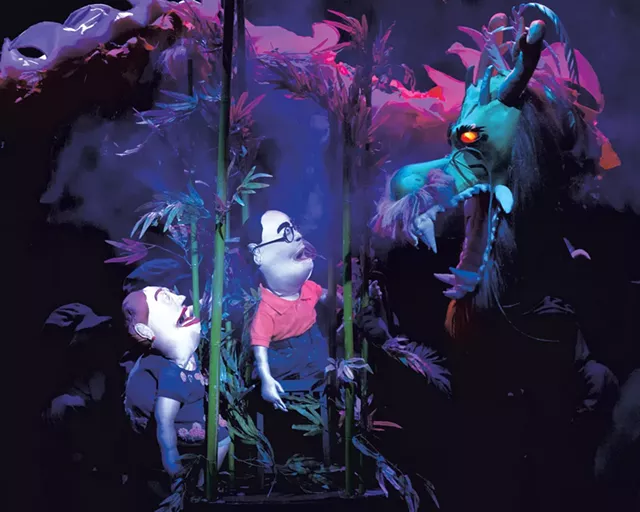 According to the New York Times, in 2011, an Oregon Goodwill manager named Julie Keith bought a package of Halloween decorations for $29.99 at her local Kmart. A year later, she opened it up — and discovered a handwritten SOS note from a man imprisoned in a Chinese labor camp.
This improbable story of connection, consumerism and oppression in the globalized economy helped inspire — what else? — a new "musical satirical romantic puppet thriller." From New York-based Wakka Wakka Productions, Made in China will be performed two nights this month at the Hopkins Center for the Arts in Hanover, N.H.
"I've never really encountered a company like [Wakka Wakka]," Hop programming director Margaret Lawrence told Seven Days by phone. "They're just so unusual, taking this brilliant puppet making [and] finding a way for you to really care about the characters — it's extraordinary."
The Dartmouth College facility, a coproducer of the show, hosted the company for an early development residency in 2015. It's one of only two venues outside New York City offering Made in China during its initial run; the other is Keene State College, also in New Hampshire.
What can one expect to see at a "musical satirical romantic puppet thriller"? The show features 30 puppets of all sizes, controlled by seven puppeteers, as well as animated video components. Original songs by Chinese Canadian composer Yan Li provide the soundtrack.
The surreal plot of Made in China follows the romance and exploits of two middle-aged neighbors, American Mary and Chinese expat Eddie, who travel to China through a magical portal (in a toilet!). In a phone conversation with Seven Days, core company member and show cowriter and codirector Gwendolyn Brooks described the show as an Alice's Adventures in Wonderland-type adventure that focuses on "the darker aspects of what's underlying the uneasy relationship between the [U.S. and China]."
Humor is a vital element of the show, even as it addresses an economic and moral quagmire. The musical seeks to present "serious subject matter under a lens that sometimes can be very funny — even charming," Brooks said. "The balance of exploring those two topics together has been the challenge of this piece."
Singing household products (all made in China, of course), baby pandas and fire-breathing dragons all contribute to the spectacle. Lawrence described the show as chock-full of "hundreds of cultural references, from manga characters to Chinese opera to Chairman Mao and Ai Weiwei." And, if you've never seen a puppet naked "in the flesh," now's your chance — the show is recommended for ages 16 and older, in part owing to puppet nudity.
Like protagonist Mary, Brooks noted, Wakka Wakka company members have had their own experiences with the U.S./China "rabbit hole." Most have traveled to that country. When asked how working on Made in China affected her consumer choices, Brooks offered: "To say you're not going to buy stuff from China — it becomes a ridiculous effort. It's almost impossible." The more one pays attention, she said, "the more you see how interconnected our economies are on many, many levels."
The goal of the show is not solely a didactic one. "People don't feel lectured," said Brooks, "but they are walking away with more questions." That such an experience might also be a riotous good time is the magic of Wakka Wakka.