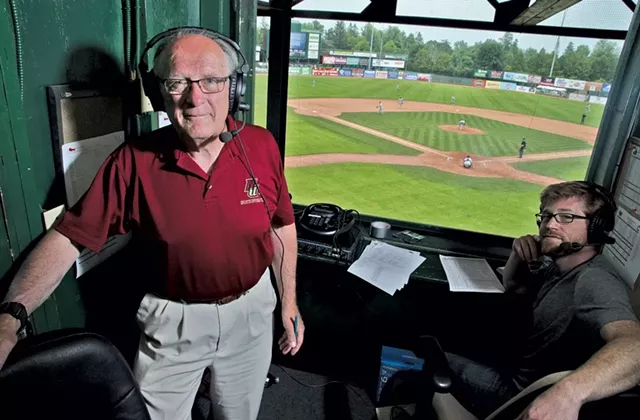 Matthew Thorsen
George Commo (left) with Dan Bolles at Centennial Field
Originally published July 22, 2015.
For me, the best way to enjoy baseball next to being at the ballpark is listening to the radio, not watching TV. Perhaps it's because of the hazy nostalgia that pervades and defines America's Pastime. Perhaps I'm just too cheap to spring for cable. Whatever the reason, the sweet crackle of a Boston Red Sox radio broadcast is my preferred soundtrack for summer hours spent sipping beer on the back porch, dangling my toes in the lake or lounging on a Cape Cod beach.
Though I make my living writing about music, baseball was my first love, an affection that bloomed long before my interest in rock and roll — or girls, for that matter.
I've often dreamed ofbeinga radio play-by-play announcer, surmising that getting paid to watch and talk about baseball might just be the best job in the world. At a recentVermont Lake Monstersgame at Centennial Field in Burlington, I tested that proposition under the on-the-fl y tutelage of a man who would know — George Commo, a Vermont Association of Broadcasters Hall of Famer. And I found out I was right.