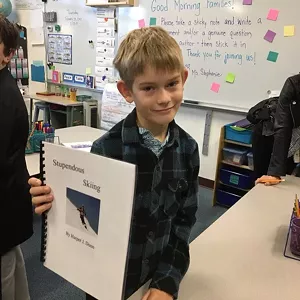 Sarah Tuff Dunn
Third-grade writer Harper
When Shelburne Community School staged a third-grade author celebration last month, my 8-year-old son, Harper, was beside himself with excitement about his latest work, titled "Stupendous Skiing." The words had just seemed to flow out of his Ticonderoga No. 2. "Have you ever wondered how to ski," Harper wrote. "Well this book will tell you. Downhill or cross country. You name it. Skiing is the most popular snow sport in the world. So let's get reading!"
As a mom, I was proud. As a writer who suffers from the occasional block — well, I was jealous. But when it came to his delivery, I was empathetic. Harper refused to read the words aloud, instead choosing to run around the classroom and eat Oreo cookies at 8 a.m. Chip off the old block, as they say.
So when I saw that Burlington's
Fletcher Free Library
hosts something called the "Poetry Experience" on the first and third Saturday of each month, I had a bit of a light-bulb moment. Perhaps this could give Harper and me the tools for not only the written word, but the spoken word, too. We recruited our neighbor Ariel, a fourth grader, to join us on a frigid Saturday earlier this month. Upon arrival, we found our way to the library's basement Community Room where there was a circle of empty chairs.
We sat there. And sat there. And sat there. The Poetry Experience was supposed to run from 1 to 3 p.m., but by 1:30, nobody had shown up. We decided to stage our own workshop, making up riffs on "Roses are Red" and haikus about chewing gum, and eventually giving up to check out the engaging
"Exploring Human Origins" exhibit
upstairs.
When I track down Rajnii Eddins, a poet, rapper and Burlington School District paraeducator who oversees the Poetry Experience, I learn that a family emergency had prevented his attending the workshop, which sprang out of his mother's work as a writer and performer. "It's about self-expression and imagination, not critique," Eddins tells me over the phone. "Everybody has a story that's valuable. It's a safe space to be creative and vulnerable and willing to share. As a hip-hop artist, I know that one can benefit from having a platform."
The Poetry Experience typically sees between five and 10 participants as young as 7 and as old as 80, says Eddins. Participants get time for writing and sharing their work. They also work in tandem to create a collaborative story or poem. Which means that Harper, Ariel and I weren't too far off in creating our own Poetry Experience. In hindsight, it was a success — with not an Oreo cookie in sight (we went to Lake Champlain Chocolates afterward instead).