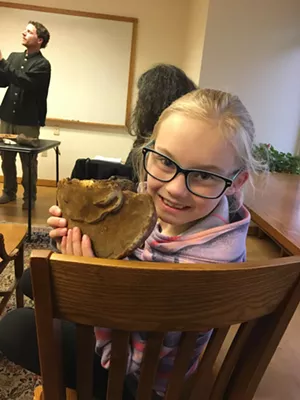 Sarah Tuff Dunn
Dillon holding a mushroom
I love mushrooms. Shitake, portabella, oyster or white button — you name it; I'll stir-fry it, roast it, toast it and make the most of it when preparing meals for myself.
My children? Not so much, unless you count gathering the toadstools that pop up frequently in our yard. So when I heard about "Responsible Mushroom Foraging & Harvesting," a free seminar hosted recently at Shelburne's Pierson Library, I was hungry for more on the spores, envisioning a spring and summer full of 'shrooming around the Green Mountain State.
It took a bit of healthy bribery (
Books!
) to get Dillon, 10, and Harper, 8, to the library, but once we entered the back conference room, they seemed transfixed by the folding table display of what looked not like the soil-dusted stuff found wrapped in cellophane on the shelves of Hannaford, but gnarled knots of dense, Hobbit-esque growths.
"If you're here with the intention to harvest mushrooms you can eat," said presenter Elliott Cluba, a Vermont-based naturalist, herbalist and primitive skills educator, "this is not the class."
Sarah Tuff Dunn
Elliott Cluba
Oh.
"We're talking about medicinal mushrooms," he continued before launching into a gentle lecture on how we would not, should not and really could not munch one of these medicinal mushrooms. "You'd have to hammer it or take an ax to it," he explained. "The cells are essentially the same as crustaceans. Imagine trying to eat a lobster shell."
Slightly red with embarrassment at having arrived late to Cluba's talk, I took notes on the role of chaga mushrooms in Chinese medicine dating back 5,000 years, and its habitat on silver birch trees and old New England fences. Dillon and Harper, meanwhile, passed around samples. "It takes 10 to 20 years to grow, and I want to make sure we don't take another awesome living organism and wipe it off the planet," said Cluba.
Still, the half-dozen of us in the audience were curious about the potential poison in these puppies, the "herniated mycelium that had pushed itself out of a tree."
"When I started doing this in my early 20s — well, I'm happy to be alive, because I was pretty excited," said Cluba. "Mushrooms! I'm going to eat them! I'm not scared! I know what I'm doing!' And I didn't know as well as I should have."
Dillon and Harper were unfazed — or fazed? I couldn't tell. Harper sat transfixed with his legs crossed, and Dillon looked earnestly through her owl-like glasses at Cluba.
"I'm glad there are a couple of kids here," said Cluba with a nod toward my tots, "because kids can see things a lot clearer. It's about taking a peek and seeing things."
It was also about learning some nifty new info, such as how drying mushrooms in the sun increases their vitamin D content, and tips for storing the spores. "You never want to put mushrooms in a paper bag — ever," said Cluba. "They don't like having their moisture contained."
Midway through an April staycation, the talk also reminded me of my growing relationship with my kids as we push ourselves into the natural world. "A parasitic mushroom is something that parasitizes something that's living, and then grows off of its host," said Cluba, "and a symbiotic mushroom is something that works with an organism and helps it to grow, helps it to be stronger."
Sarah Tuff Dunn writes a monthly blog post on an unusual excursion she's taken with her kids. Read her previous posts on a poetry workshop at the Fletcher Free Library and a visit to the Fleming Museum here and here.