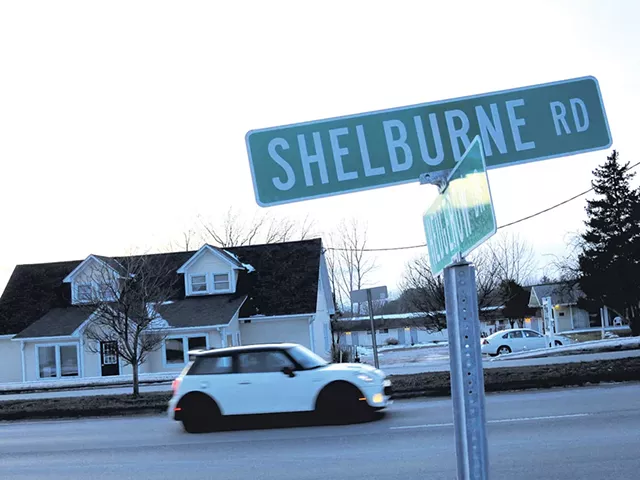 Matthew Thorsen
Harbor Place
Harbor Place looks like so many other no-frills two-star motels that line Shelburne Road. The only thing that appeared out of the ordinary last Wednesday was someone pushing a child on a swing set on the snow-covered grounds.
But Shelburne officials see a problem. They say the facility, which caters to homeless people, is attracting criminals and straining the suburban town's resources. Last October, they issued a zoning violation disputing that Harbor Place is operating as permitted — as a motel.
Champlain Housing Trust, which owns and operates Harbor Place, has appealed the charge. Next month, the nonprofit affordable housing developer will make its case before the Shelburne Development Review Board in a hearing that could change the direction of a larger discussion about the town's obligations to alleviate poverty.
When CHT bought the 59-room Econo Lodge in 2013, the state was shelling out millions to temporarily house homeless people in motels — a costly stopgap measure that did little to actually reduce homelessness. CHT offered a different solution: The nonprofit would run the motel, rebranded as Harbor Place, where the state and community organizations could pay discounted rates to put up homeless clients. Partner organizations, including the Howard Center and Women Helping Battered Women, would send case managers to Harbor Place to help guests find permanent housing and get medical and other treatment.
It's working, according to CHT spokesperson Chris Donnelly. He claims that Harbor Place guests are twice as likely to find housing as homeless people staying in traditional motels.
The state is saving "a significant amount of money," too, according to Sean Brown, deputy commissioner of the Department for Children and Families — roughly $700,000, according to Donnelly's estimates.
"It's also a better service-delivery model," Brown said, explaining that caseworkers find it challenging to reach clients scattered among different motels.
Noelle MacKay, commissioner of the Vermont Department of Housing and Community Development, agreed that Harbor Place is an "innovative model" that is "really making a difference in our goal of ending family homelessness by 2020." MacKay happens to live across the road from Harbor Place — in a quiet neighborhood with ranch houses, neat hedges and driveway basketball hoops.
Not all of the residents there share her assessment.
Referring to Harbor Place as an experiment gone awry, some of MacKay's neighbors have said it's become a magnet for criminals and overburdens the town's 12-officer police force. People frequently refer to an incident last spring when a fugitive heroin dealer, who had parked his car at Harbor Place, fled on foot when police arrived, prompting a chase through their neighborhood.
In a letter to the editor in the Shelburne News last May, Patty Kissell, who lives nearby, wrote that she and her neighbors, many of whom are elderly, "feel unsafe to walk and even be in their homes ... I no longer go to my mailbox if I come home after dark."
Residents also suspect that people either staying at or visiting Harbor Place have been responsible for crimes that have occurred elsewhere in town.
"There certainly seems to be a correlation between the spike in crime in Shelburne and the opening of this facility," alleged selectboard chair Gary von Stange during an interview last week. He brought up another oft-cited incident: Last summer, items from a burglarized home were discovered in a room at Harbor Place.
Others are withholding judgment. "It's easy to point the finger," said Beth Quarles, a real estate agent whose family lives close to the facility. Noting that her family's home was burglarized prior to the creation of Harbor Place, she said, "Before, you just didn't have anyone to blame for it."
Annual crime figures might shed some light, but Shelburne Police Chief James Warden didn't provide the data Seven Days requested. In an interview, he said, "Crime in general in Shelburne has increased like it has in most urban areas outside the big cities."
Last September, the Shelburne News — citing data provided by Shelburne's emergency communications supervisor, James Mack — reported that there were 575 crimes in 2012; 395 in 2013; and 324 in 2014 — and that the town was on pace to have fewer incidents in 2015.
Warden did confirm that police calls to the cream-colored complex have increased since it became Harbor Place. In 2014, there were 185. The next "busiest" motel generated around 50.
CHT officials contend that the spike is a result of heightened vigilance. Donnelly ticked off a number of changes to address concerns: They've built a fence around the property, installed security cameras with a live feed to the Shelburne police and hired a security guard who stays on-site from 8 p.m. to midnight. A CHT staffer lives on the premises. The organization has taken neighbors on tours and created an "advisory committee" to work directly with them.
Whereas previous criminal activity might have gone undetected, Harbor Place employees take the initiative to alert police about suspicious behavior, Donnelly said. Plus, CHT reimburses the town for any police calls above the site's historical average.*
Chief Warden observed that the type of criminal activity at the property has changed under the new ownership. "Back when it was the Econo Lodge, we handled a lot of calls with drug dealers coming in there, armed. We'd find people wanted out-of-state — heavy hitters like that." Now the calls are more commonly for domestic disputes or people in emotional distress, Warden said.
Von Stange isn't so impressed by that trend. During selectboard meetings last year, he frequently praised CHT for showing up and working with the town. These days he's less pleased. "To date, Champlain Housing Trust has not provided any meaningful cooperation," he told Seven Days. Asked to elaborate, von Stange noted that CHT hasn't heeded repeated requests to adopt a stricter "screening policy" for accepting guests.
Donnelly pointed out that CHT doesn't allow registered sex offenders at Harbor Place, and staff can ban people who break the rules. Additional screening, he suggested, could qualify as discrimination.
The town's zoning permit challenge could also address von Stange's concern. Before CHT purchased the property, Shelburne officials explained that as long as the nonprofit continued to operate the place as a motel, it wouldn't have to apply for a new permit.
Then, last fall, the current town manager and zoning enforcement administrator, Joe Colangelo, issued Harbor Place a "notice of violation," listing nine "new uses" for which it had not been approved. They include creating dwelling units, providing emergency housing, temporary housing and transitional housing, and the addition of medical and business offices.
Colangelo declined to provide more detail about the charges, but he stressed that the investigation "really has nothing to do with the population there. That has absolutely nothing to do with it. It's simply ... the use of the facility is not consistent with what is permitted for." Translation: CHT has to reapply for a zoning permit.
CHT maintains that Harbor Place meets the town's definition of a motel — a facility that offers "transient lodging accommodations on a daily or weekly rate, to the general public, and which may also provide additional services such as restaurants, meeting rooms or recreation facilities."
Donnelly argued that Harbor Place only seems different because of the clientele. "People look at Harbor Place, and they see homeless people staying there, and homeless people don't typically stay at motels," he said. "The services are geared towards the needs of the guests of the motel. If we had wealthy guests, we may have spa or massage services."
The debate over Harbor Place has also prompted the town to take a second look at its zoning laws, which don't contain definitions for homeless shelters or transitional housing. And it's jump-started a broader discussion about the economic implications of accommodating low-income populations.
At a July 28 selectboard meeting, Dan Burke, a member of the town's planning commission, stood up and suggested that Harbor Place and other motels along Shelburne Road that put up homeless people through the state's voucher program are discouraging businesses from setting up shop on the north-south route.
Burke proposed rewriting the town's zoning rules to establish clear differences between motels and homeless shelters, "so we don't get into that mess again." Soon after, the planning commission began doing just that. The effort is ongoing.
When interviewed last week, von Stange made assurances that Shelburne wasn't about to renege on its commitment "to help those in need." But he defended the scrutiny of Harbor Place, saying, "Simultaneously, it is the responsibility of the selectboard to do our best to provide for the safety and peacefulness of our town."
Donnelly praised the generosity of Shelburne residents, who, he said, have donated items and supported Harbor Place during the dispute.
State officials are watching closely as the debate plays out. "It is concerning," said DCF's Brown. It hasn't dissuaded his department from encouraging other organizations to adopt models similar to Harbor Place. But, Brown added, "We recognize that these can be difficult conversations for communities to have."
*A previous version of this story incorrectly described the Champlain Housing Trust's arrangement with Shelburne's ambulance services. In fact, Champlain Housing Trust has offered to pay for for ambulance calls, but those generally get billed to the hospital or to insurance.