The first thing I noticed as I stepped through the gingerbready wooden door to Vermont Salt Cave Spa & Halotherapy Center in Montgomery Center was several inches of thick, white salt crystals crunching beneath my socks. With it came a cool mist of ultrafine salt that tickled my eyes and nose.
It wasn't an unpleasant sensation, so I continued inside. More than 50 salt lamps bathe the artificial grotto in a serene, amber glow. Pinpoints of light embedded in the ceiling create the illusion of gazing at the night sky. Artificial stalactites hang from the roof of the 23-by-15-foot cavern, which is small enough to feel cozy but not claustrophobic.
Tree roots and branches protrude from the floor and white walls, which are lined with 20,000 pounds of imported Polish rock salt. If not for the New Age piano music, complemented by the tinkling of an artificial waterfall, I would have felt as though I'd wandered into the den of the Abominable Snowman.
I took a seat in one of the nine zero-gravity chairs arranged in a circle beside a glowing rock-salt pyramid. My host, Sarita Khan, draped blankets over my body to keep me warm, as the cave's temperature hovers around 63 degrees and 40 percent humidity. She then left me alone to enjoy my first 45-minute halotherapy session. I reclined, gazed at the faux constellations overhead and promptly nodded off.
A relatively new trend in American spa treatments, salt-cave halotherapy purportedly taps the healing properties of sodium chloride to relax and rejuvenate users. For centuries, people have visited the natural salt caves of Poland and Russia to relieve various ailments of the skin, joints and respiratory system. Now their manmade counterparts are gaining popularity in this country. In the last decade, more than 130 such facilities have opened in the U.S., including the Salt Cave and Speliotherapy Clinic at Pyramid Holistic Wellness Center in Rutland.
Sarita and Nafis Khan built the Vermont Salt Cave on Main Street in Montgomery Center last summer. Sarita, a native of Jamaica, and Nafis, who hails from Guyana, are lifelong enthusiasts of alternative remedies.
The Khans, who have lived in Vermont since 2003, got into this briny business almost by accident. While working as property managers in the Jay Peak area, they owned an old barn on Main Street that needed a new roof. But, because Montgomery Center lacks a municipal sewer system, the Khans couldn't get permits to put in apartments or offices to recoup that expense.
"Then, in September of 2015, something pretty life-changing happened for me," Sarita explained. She read a post on a Facebook alternative health forum by a European woman whose 80-year-old mother suffered from chronic obstructive pulmonary disease. The mother had been in and out of hospitals, was no longer responding to medication, and was predicted to have only a short time to live.
Sarita's grown daughter had begun visiting a salt cave in Chicago to control her psoriasis. Having just read that halotherapy might also relieve COPD symptoms, Sarita suggested it for the woman's mother. "I put the post on Facebook and forgot about it," she said.
A few months later, Sarita learned that the author of the Facebook post had found a salt cave in London and was bringing her mother there three times a week. According to Sarita, the woman claimed her mother was off her meds and hadn't been hospitalized since.
"I sat there and just cried," she said. "I thought this was just phenomenal."
The Khans decided to construct their own salt cave in the former barn. They visited several in the U.S. and Canada before investing in Polish salt. As Sarita explained, Polish salt formed during the same geological era as Himalayan salt, which is often used in halotherapy. A second therapy room in the Khans' Montgomery spa is outfitted with heated Himalayan salt domes that treat clients' hands and feet.
The salt cave itself is created by a halogenerator, a machine that crushes pharmaceutical-grade sodium chloride into ultra-fine particles — smaller than 10 microns — and then sprays them into the air. Sarita described the aerosolized salt mist as "a toothbrush for the lungs.
"Think about it. When you have a cold, you gargle with saltwater," she added. "You can't get saltwater into your chest, but you can get salted air into your chest."
The Khans claimed that the cave is also heavily saturated with "negative ions" that generate a "feeling of well-being, like being at the beach." As Nafis pointed out, the quantity of salt you breathe inside the cave is actually no more than a teaspoon.
Since opening in November, Vermont Salt Cave has attracted considerable public interest, drawing skiers and snowboarders from nearby Jay Peak, as well as remedy seekers from Island Pond, Burlington and Brandon. According to the Khans, one regular client is a man currently awaiting a lung transplant in Boston.
The Vermont Salt Cave website itemizes numerous ailments and symptoms that halotherapy may improve. These include the effects of allergies, Lyme disease, cystic fibrosis, post-traumatic stress disorder and depression. Though some claims are unsupported by scientific evidence, the Khans include links to credible studies posted by the National Institutes of Health, rather than rely solely on overseas research or anecdotal evidence.
Those studies aside, peer-reviewed clinical research on the benefits of halotherapy remains sparse in the U.S. That may be because salt caves are a relatively new phenomenon, even if knowledge of salt's rejuvenative effects is not.
Salt, a natural antimicrobial, has been used for thousands of years to prevent meat from spoiling and has long been sought out for its therapeutic properties. According to information on the American Lung Association website, a Polish physician named Feliks Boczkowski was the first to observe, in 1843, that salt-mine workers didn't experience the respiratory ailments that typically plagued other miners. Nearly a century later, German doctor Karl Hermann Spannagel noticed that his patients' health improved after they hid inside salt mines to escape aerial bombing during World War II.
Recently, Dr. Norman Edelman, a senior scientific adviser to the ALA, suggested that halotherapy might benefit patients with obstructive lung diseases such as asthma and COPD.
"When fine salt particles are inhaled, they will fall on the airway linings and draw water into the airway, thinning the mucous [sic] ... thus making people feel better," Edelman writes in a statement on the ALA website. "Also, these environments are allergen-free and thus good for people with allergies affecting their lungs."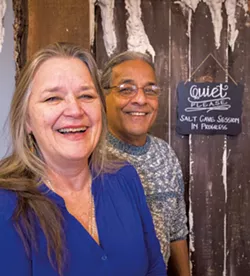 That said, a March 2016 statement by the Asthma and Allergy Foundation of America warned that halotherapy may not benefit asthma and allergy sufferers as much as its proponents claim and, in some cases, may exacerbate symptoms.
"If your goal is to find a new way to de-stress, salt caves can do the trick. They're cool, quiet and relaxing," said Maureen George, a member of AAFA's Medical Scientific Council and an associate professor of nursing at the Columbia University School of Nursing. "If you're looking for a natural way to treat your asthma, halotherapy is not what you're looking for. It has not been rigorously studied, despite claims from 'experts.'"
Despite the dearth of U.S. research, local anecdotal evidence suggests that salt caves do improve some people's quality of life. Lisa Sanville, a 53-year-old woman from Jay who walked in shortly after my session, said she's been going to Vermont Salt Cave at least once a week since her daughter bought her a gift certificate in late November. Sanville, who permanently damaged her sinuses in a fall when she was a child, has had breathing difficulties for years.
"My whole life I've been breathing funny. I can't do things everybody else can do," she said. In fact, before starting her salt-cave treatments, she couldn't walk from the building's front door to the cave — a distance of about 20 feet — without stopping to catch her breath.
Sanville's breathing improved "almost immediately" after her first session, she claimed. She now visits the salt cave twice weekly and once braved an ice storm to make her appointment.
"It's been my lifesaver," she added. "I swear by this place, I really do. It's amazing."
Amy Cochran of Montgomery Center has had similar results. The 63-year-old retired chemist said she's suffered for years from respiratory, vision and cognitive problems associated with an environmental illness. She tried the salt cave shortly after it opened and began seeing her symptoms improve within days. Cochran now goes once or twice a week.
A lifelong Catholic, she admitted she's not into "the crystals and weird New Agey music." Still, she doesn't believe her improvements are caused by the placebo effect.
"It definitely works," Cochran said. "The salt gets into my eyes and into my system. I don't have any respiratory problems anymore ... I'm feeling much better."
The Khans want to keep their prices low so locals can afford to go regularly, they said. As Sarita noted, some salt caves in California charge as much as $80 for a 45-minute session. One session in Vermont Salt Cave costs $30; five sessions are $100.
Vermont Salt Cave's owners expect their facility to grow. They recently began holding yoga classes inside the cave on Thursday nights and hope to expand their offerings with Ayurvedic massage, iridology and other holistic treatments.
Happily, I don't suffer from any chronic ailments, but before I left, Nafis told me I would still feel the salt cave's effects. "Watch how you sleep tonight. I think you'll be very surprised. Once somebody goes in there and lets themselves relax, it's like your body clock resets."
Perhaps it was just a coincidence, but that night I slept like a baby.