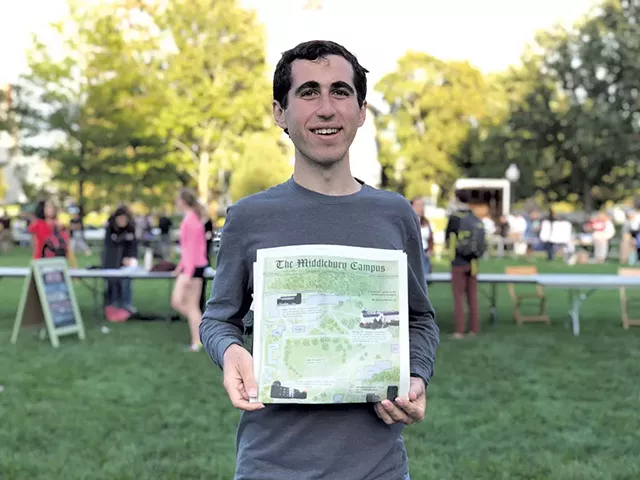 Courtesy Of Sabine Poux
Benjy Renton
Public health officials have long stressed that contact tracing is key to suppressing the coronavirus pandemic, which has made all the more concerning the White House's apparent failure to track the spread of an outbreak that has sickened President Donald Trump and people around him.
While the Trump administration initially claimed it was conducting "full contact tracing," it has instead been slow to inform hundreds of people that they may have been exposed to the virus at several recent events. Chris Christie, the former New Jersey governor who tested positive over the weekend after serving as the president's debate coach, told CNN that the administration had given him no formal directions on how to assist contact-tracing efforts. A New York Times journalist who tested positive after attending an event at the White House said he had not been contacted even days after the president's diagnosis.
So how are Americans supposed to understand the extent of an outbreak impacting their top levels of government when those very people haven't made that information public?
To Benjy Renton, the answer is simple: Do it yourself.
Renton, a 21-year-old Middlebury College senior described by colleagues as a "walking news aggregator," is one of three people behind a new COVID-19 dashboard that sources publicly available data to track who may have been exposed to the virus at six key events attended by the president. The tracker, which has been viewed nearly 500,000 times so far, represents one of the most comprehensive attempts to gauge the extent of the White House outbreak. It is only the latest of Renton's pandemic-related projects to earn him national recognition.
"He's just such a powerhouse," said Amelia Pollard, 21, who works on the Middlebury student newspaper, the Middlebury Campus, with Renton. "He's totally unparalleled."
Renton first began tracking the president's contacts in a PowerPoint spreadsheet last Friday with the help of Dr. Jesse O'Shea, an infectious disease specialist at the Emory University School of Medicine. Peter Walker, the data visualization coleader of the COVID Tracking Project, a volunteer project launched by the Atlantic magazine, stumbled upon the data set and offered his expertise. The three men have never met and communicate only on Twitter, but they share a desire to bring transparency to the White House outbreak.
"It's a complicated puzzle with a lot of moving parts," O'Shea said. Renton added, "People obviously want this information, and we hope that they are able to get it all in one place."
Renton is in charge of adding information to the dashboard, relying on public news reports and a virtual tip line that has yielded more than 250 submissions over the last few days.
Some are duplicates of high-profile cases; a flood of tips arrived on Monday about White House Press Secretary Kayleigh McEnany's positive COVID-19 diagnosis. Others include harder-to-find information. One submission linked to Instagram photos of several well-known Republican donors at an October 1 fundraising event that Trump attended in New Jersey. The dashboard names a handful of GOP donors who were at that event. It labels as-yet-unidentified attendees with monikers such as "New Jersey fundraiser donor 17."
Renton, Walker and O'Shea make clear that the dashboard is not a scientific contact-tracing effort. They are not contacting people who may have been exposed. Still, the trio says one of its main goals is similar to that of public health officials: saving lives.
"If these people, or whoever is doing a contact investigation, happens to see their name on this list that was at an event, maybe they'll get tested or self-quarantine," O'Shea said.
Renton's involvement stems from his monthslong fascination with the pandemic, which began well before COVID-19 had engulfed American life. Back in January, he was one of 11 American students enrolled in Middlebury's language program in Beijing. On January 21, Renton wrote his first blog post referencing the deadly virus.
"We are aware of and are actively monitoring an outbreak of pneumonia originating in Wuhan, Hubei Province," Renton wrote, adding that it appeared the illnesses had been caused by "a novel coronavirus."
Renton, whose family lives in Rye, N.Y., moved to Hong Kong at age 6 and lived there until he was 11. He has visited China nearly 20 times and spent summers there traveling, working and studying. As an East Asia studies major, he had hoped his latest trip would be a six- to eight-month journey spent advancing his Mandarin proficiency and learning more about China's history.
But on January 28, Middlebury abruptly suspended Renton's program and urged students to quickly return to the United States. Given his familiarity with the country, Renton helped his peers close out bank accounts and cellphone plans and arrange cars to the airport. He went on grocery trips and cooked meals for the group — efforts that were documented in an NPR story about students a broad scrambling to return home. The Middlebury contingent left in waves over the next three days. The last to depart, Renton caught a flight home on February 1.
A month later, as college officials around the country raced to determine their spring plans, Renton kept track of campus-by-campus decisions in a spreadsheet that was widely shared online in mid-March, when virtually all American colleges pulled the plug.
Renton then started a weekly newsletter — he's sent 25 — that aggregates national news reports about the coronavirus. He spent the spring collaborating with student journalists on a series of webinars about covering college campuses amid the pandemic.
He also coauthored a scientific paper with researchers at the California Institute of Technology and Johns Hopkins University comparing COVID-19 testing plans across hundreds of American universities, work that has been cited in the Washington Post and the New York Times. And he has continued to monitor case counts at more than 80 campuses through the fall, frequently updating an interactive map.
Since the White House tracker launched last Friday, Renton has been consumed with media appearances. Speaking to Seven Days on Monday afternoon, he recounted eating his last four meals in his dorm room, where he has set up a wall with a map of Vermont and a stack of books in hopes of scoring points with the Twitter account Room Rater, which assesses users on their video backgrounds. After a virtual interview with nonprofit news organization Democracy Now! on Tuesday morning, Renton tweeted a screenshot of his video appearance and tagged Room Rater asking for its take.
"Good spartan college dorm room look," the account responded, giving him a score of eight out of 10. "Maps are art."
Renton has also earned the praise of his colleagues. Asked to describe the young journalist, Walker said, "Impressive is an understatement."
"He's got a bright future," he said. On second thought, he added, "He's got a bright now."
O'Shea agreed. "His ability to sift through data, sift through news, his networking with journalists — it's been so incredibly impressive."
Even before the White House tracker, Renton was well known on campus for his news prowess, according to Pollard, who, as an editor at large of the Middlebury Campus, cowrites a weekly newsletter with Renton that spotlights the student publication's content.
"He has taken it upon himself to document every single event in town and in the college community at large, even if it's not for the student newspaper," Pollard said of Renton, who is the paper's digital director. "This White House tracker is just the most recent development of his insanely hard work."
That work ethic manifests itself in Renton's Twitter persona. He constantly shares news stories from national and Vermont media outlets while posting screenshots of CNN's livestream, which he watches using his parents' cable login. Renton fired off several tweets without skipping a beat during a phone interview with Seven Days earlier this summer related to college reopenings. And on Monday, just minutes before a live interview with Vermont Public Radio, he updated a pair of graphs he keeps on Vermont's coronavirus figures and tweeted several times about a reported spike in COVID-19 cases in Addison County.
"It just is insane," Pollard said of the amount of news Renton consumes, recalling how he has texted her breaking stories "countless times" before she has even received an alert on her phone from national media organizations.
Case in point: Renton broke the news to her about Trump's COVID-19 diagnosis, FaceTiming her at 1:30 a.m. last Friday to give her "the rundown of everyone [the president] had come into contact with."
"He already knew," Pollard said.
Renton describes his news diet more abashedly. He says he watches CNN "way too often" and concedes that his schoolwork has suffered a bit amid the craziness of the last week. (Pollard put it more bluntly: "As a college journalist, sometimes you put your schoolwork on the back burner. For him, this semester, it's not even on the stovetop.")
Renton said it has helped that Middlebury's stringent COVID-19-related restrictions have dampened activity on campus. But he said he's still working to ensure he has a balance between work and life that is "sustainable."
Renton wants to find a job in journalism after graduation. He assumes the tracker will eventually fizzle out once — or rather, if — people associated with the outbreak begin quarantining. He and his colleagues may recruit a few more people to enter data if the news continues at such a breakneck pace.
Once the news cycle has moved on, Renton expects his next big project to be a deep dive on why some colleges have had more success in reopening without major outbreaks than others. For now, he plans to keep chugging along on the tracker, hoping that it will make a difference.
"The virus is always ahead of us," Renton said. "It's a question of: How fast can you act to slow the spread and take appropriate action before it really gets out of control?"