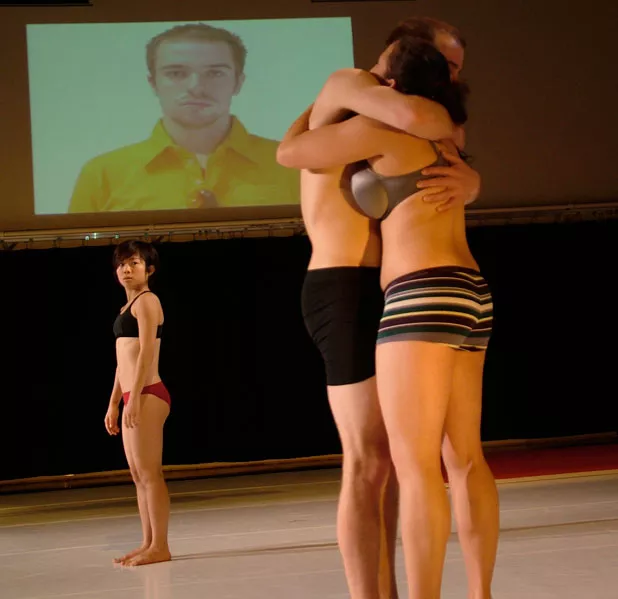 Yina Ng, Simon Thomas-Train, Adriane Medina
Human history is scarred by disagreements, from deeply held opposing worldviews to outright war. Even in the 21st century, ancient hatreds still seem intractable. And so far, no philosopher, psychologist or peacenik has an answer to Rodney King's seemingly simple entreaty: Why can't we all just get along?
Choreographer Tiffany Rhynard, a visiting professor at Middlebury College, doesn't pretend to have solutions to global - or domestic - strife. But in her aptly named piece "I'm Right, You're Wrong," she examines the complexity, and the personal and social consequences, of conflict. In the process, she has taught her dancers to hit and make up.
The one-hour performance, which will be presented at the Middlebury College Mahaney Center for the Arts this weekend, features five dancers, all alums or current students of the college. Four of them - Jamie Gutierrez '07, Adriane Medina '08, Yina Ng '09 and Simon Thomas-Train '09 - performed "I'm Right, You're Wrong" last year when Rhynard created the piece for the student group Dance Company of Middlebury. Along with '07 grad Louisa Irving, they now compose Rhynard's brand-new troupe, Big Action Performance Ensemble, or Big A.P.E.
Rhynard formed the company, she says, "to move it out of the student spectrum," providing a professional setting for young dancers ready for that challenge. In addition, the choreographer - who is also a filmmaker - wanted to pursue what she calls "fearless and confrontational" work focused on social issues. "I'm not interested in being entertaining or aesthetically pretty," she says. "I'm more interested in taking some kind of stand, [with work that] has a bite."
Accordingly, Big A.P.E.'s mission is "to promote art that is daring, provocative and curious." Rhynard aims to "awaken audiences," she adds, with performance that speaks to "the brutality and bliss of living."
So how do the dancers - or, more precisely, their movements - convey conflict? Not surprisingly, there's "a fair amount of pushing and fighting," Rhynard says, and "sequences dealing with tension and release in the body. It's very athletic - the dancers have gotten very dexterous and well trained to not get hurt." Still, she concedes, there was a bit of blood and bruising along the way.
"I'm Right, You're Wrong" is not only bodies moving on a dance floor; it's a multimedia presentation, courtesy of Marlon Barrios Solano, a digital artist Rhynard met while earning her MFA in choreography at Ohio State University. Now based in New York City, Solano uses multiple cameras, projectors and a laptop with interactive software to create an environment that reflects "surveillance, witnessing and testing behavior," Rhynard explains. "The dancers' movement triggers the video images or sound, so it's literally in sync with them." She adds that, while there is "a fair amount of improvisation" in the dance, it has a clear endpoint. "I like to think of it as, they have a lot of choices, a lot of risks they can take."
"I'm Right, You're Wrong" may leave audiences thinking differently - if abstractly - about conflict resolution. But Rhynard's documentary film project could have a real impact on policy. Shot primarily at the women's prison in Windsor, it follows four former inmates who are participating in Vermont Works for Women. The program provides training in nontraditional - that is, typically male-dominated - trades. "The women are building a house from scratch, getting on-the-job training, a sense of accomplishment and marketable skills," Rhynard explains. "It's amazing to witness this transformation."
Her own learning curve in making the film, she notes, has been steep. "We're just two women with a camera and a very low budget." When the film is finished, she hopes to distribute it to local fests and to "circulate it in the corrections industry to expose other prison systems to this program for women" - the only such program in the country, she notes.
Might this theme appear in future dances? Probably not, Rhynard says. "But I did take this cast of dancers to the correctional facility, and we did several movement workshops. I wanted to give [the dancers] the opportunity to interact with people they'd never otherwise meet. It was very eye-opening."