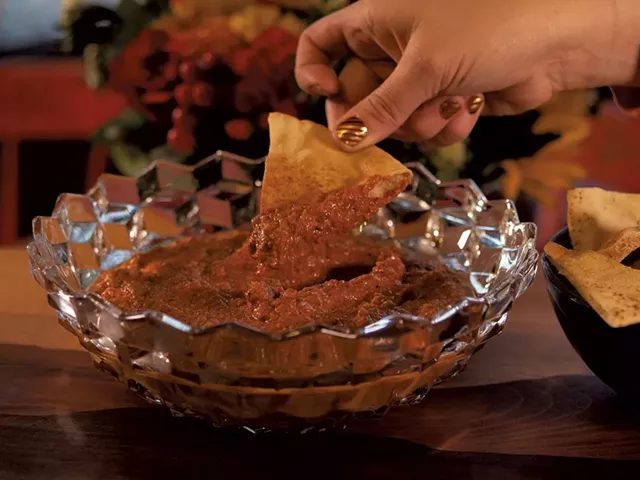 Andy Brumbaugh
Muhammara and Pita Chips
Around my house, we love dips. I have a lot of them in my repertoire and, before COVID-19 put a kibosh on entertaining, my friends looked forward to sampling them at my frequent parties. One time, my best friend even asked if, instead of a dinner get-together, we could just have a dip-and-spread-themed party.
One of the best things about dips is their cultural diversity. Name a cuisine, and you can likely find a dip that's part of it.
Muhammara is one such dip, hailing from Syria. The name means "reddened" in Arabic, which is fitting, because the main flavor in this dip is roasted red peppers. You can, of course, roast your own, but I used the jarred variety as a shortcut. This dip gets its richness from walnuts, a slight tang from pomegranate molasses and a thicker texture from bread crumbs. If you can find ground Aleppo pepper (mine is from mail-order spice company Penzeys), it really does add a great smoky flavor, but if you can't, try substituting Hungarian sweet paprika and a pinch of cayenne. Ground sumac is also a traditional ingredient (also available at Penzeys), but you can substitute with lemon juice in a pinch. Pomegranate molasses is available online and at some international markets, or you can make your own by carefully boiling down pomegranate juice.
This dip comes together in minutes and is wonderful as a spread for sandwiches, a sauce for kebabs or vegetables, or as a dip.
If you're making it, it's fun to also make homemade pita chips as an accompaniment. They couldn't be easier. Just get some store-bought pita bread (white or whole wheat), cut it into wedges, brush with olive oil, sprinkle with garlic powder and bake.
This chips-and-dip combo is fun anytime but would be especially awesome to snack on during a family movie night!
Pita Chips
Ingredients
1 package store-bought pita bread
1-2 tablespoons olive oil
1-2 teaspoons garlic powder
Directions
Preheat oven to 375 degrees.
Cut pitas into wedges and lay on a baking sheet. Brush lightly with olive oil, and sprinkle with garlic powder.
Bake 12-15 minutes, or until crispy and lightly browned.
Muhammara
Ingredients
2 7-ounce jars of roasted red peppers
1⅓ cup bread crumbs
⅔ cup toasted walnuts
4 cloves garlic
4 teaspoons pomegranate molasses
2 teaspoons ground Aleppo pepper
5 tablespoons tomato paste
1 teaspoon sugar
1 teaspoon salt
8 tablespoons olive oil
Directions
Drain and rinse the roasted red peppers. Combine with other ingredients in a food processor or blender, and blend until relatively smooth (you can leave some chunks if you prefer).
The dip will keep in the fridge for about a week, covered in an air-tight container.