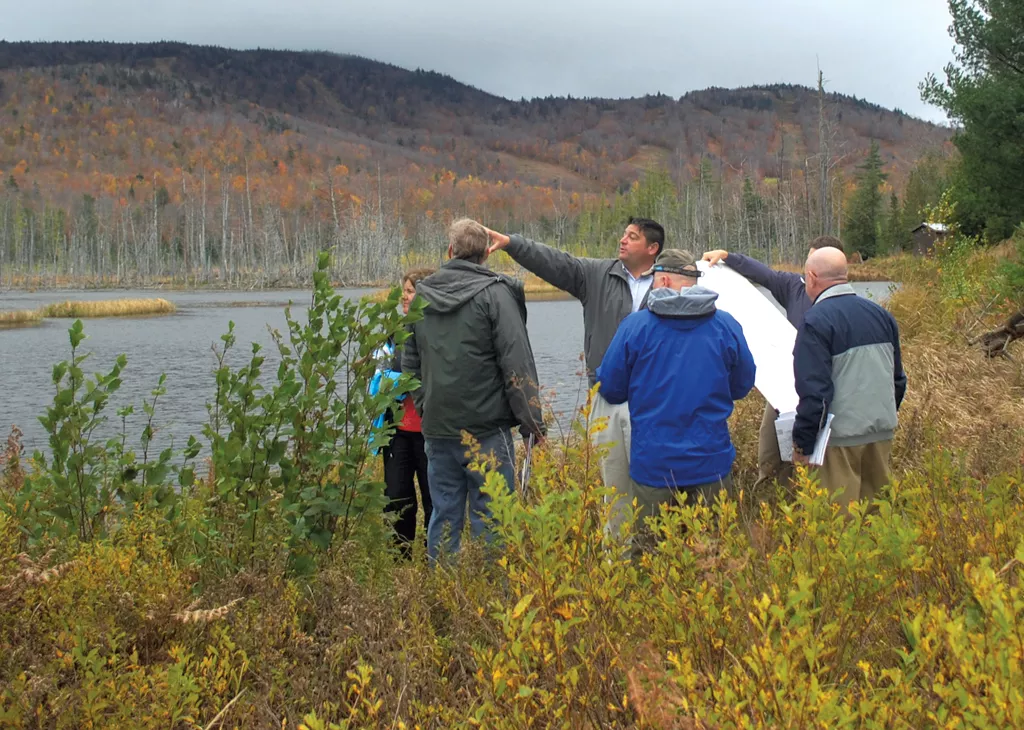 Courtesy Of Jessica Collier Of Theadirondack Daily Enterprise
State officials and Adirondack Club and Resort representatives discussing the proposal alongside Cranberry Pond in 2011
For 11 years, residents of Tupper Lake, N.Y., have wondered whether their once-bustling lumber town would play host to the largest development ever proposed within the Blue Line boundary of the Adirondack Park.
"I think there's been a lot of people on hold, waiting for it," says Tupper Lake Mayor Paul Maroun. "It was dragging down the economy."
Two weeks ago, the waiting came to an end.
In a unanimous opinion, a New York State appellate court upheld state approval of the $500 million Adirondack Club and Resort, which is planned for a 6,400-acre tract of land a couple of miles south of the village center.
Over the next 15 years, the project's developers expect to build 700 condos, vacation homes and luxury "great camps," along with a 60-bedroom hotel. To draw visitors to a town that has long played third fiddle to nearby Lake Placid and Saranac Lake, they plan to revitalize an existing ski slope, a golf course and a marina.
"There's a lot of things that are on the verge of really happening here," says Maroun, a longtime supporter of the project. "There's a sense of optimism now in Tupper Lake."
That optimism is not shared by the small band of environmentalists who continue to fight it.
"This is not a decision that is in the long-term interest of either the ecological health or community viability of the Adirondacks," says Peter Bauer, executive director of Protect the Adirondacks! "It is throwing open the gates of the park for wanton development, and that's a sad fact and a bitter pill."
The Adirondack Park Agency (APA), which governs land use and development within the region's six million-acre patchwork of public and private lands, conditionally approved the Tupper Lake project in January 2012 by a vote of 10-1. By then, after years of hearings and mediation sessions, several environmental groups had dropped their opposition.
One of them, the Adirondack Council, won limited concessions to reduce the project's environmental impact and then vowed to work to strengthen the park's land use rules via legislative action rather than fight the APA in court.
"The council is focused on lessons learned and moving forward," says executive director William Janeway. "While disagreeing with some of APA's decisions on ACR [the Adirondak Club and Resort] Aand agreeing with others, we recognize the APA's authority, limitations and priorities."
But Bauer's group, along with the Sierra Club, pressed forward. They sued the APA in state court, arguing that the agency failed to follow its own rules, communicated inappropriately with the developers and bowed to political pressure exercised by Gov. Andrew Cuomo, who supports the project and appoints most of the APA's commissioners.
"Gov. Cuomo has taken the position that the entire Adirondacks should really be like Lake George," Bauer says, referring to the crowded, kitschy and motel-festooned town on the park's eastern boundary.
Particularly galling to Bauer and his allies are the high-end "great camps" that would be scattered throughout the development, occupying lots ranging from 30 to 1,500 acres.
"This leads to classic forest fragmentation, as a tract that had been in timber production for 100 years will now be sliced with roads, building lots and power lines," he says. "We feel that the precedent the agency enshrined and that now the courts have enshrined is a ruinous precedent for the great forested backcountry of the Adirondacks."
Now that the state's second-highest court has ruled against his organization, Bauer says he does not yet know whether it will appeal again, calling it "a very steep hill."
Adirondack Club and Resort partner Tom Lawson, who spent much of his career developing private islands in the Bahamas, accuses Bauer and his allies of fighting "a war of attrition."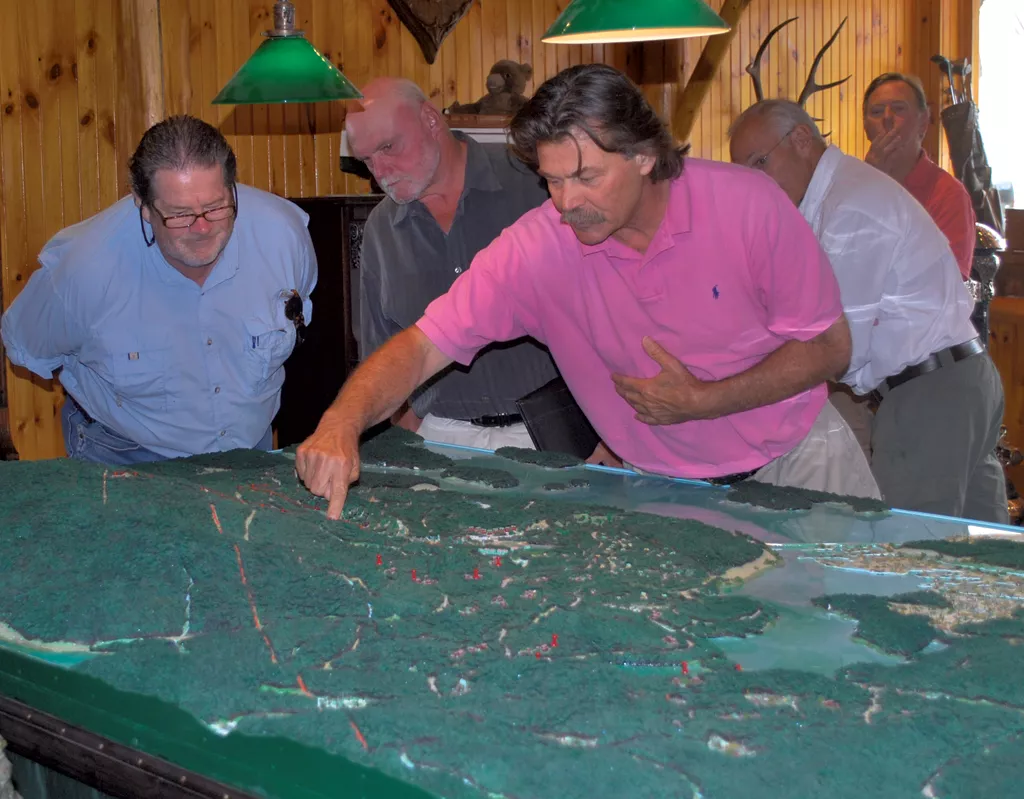 Courtesy Of Jessica Collier Of Theadirondack Daily Enterprise
Tom Lawson explaining his plans for the Big Tupper Ski Area
"If they appeal, it's just more frivolousness," he says. "They have no case. They never had a case."
Lawson and his business partner, Philadelphia developer Michael Foxman, aren't waiting any longer. Last month, they tore down Tupper Lake's aging marina to make room for a replacement. And in the weeks since the appellate court ruled, Lawson says, at least seven investors have signed letters of intent to purchase "great camps."
Supporters and opponents alike say that, if anything, the decade-long regulatory delay may have helped the developers, given the upward trajectory of the real estate market.
"The timing couldn't be better for us, because the economy has come back around," Lawson says.
Critics of the project have long questioned its financing. They say it relies too heavily on public investment, including state Industrial Development Agency bonds, a payment-in-lieu-of-taxes agreement with the town and municipal upgrades to water and sewer systems. They wonder whether, if the project stalls after the town invests in infrastructure improvements, Tupper Lakers will end up holding the bag.
Recently, Lawson says, he met with Jay Peak Resort co-owner Bill Stenger to learn whether the federal EB-5 investor visa program could play a role. The program provides green cards to foreigners who invest at least $500,000 in qualified, job-creating projects.
"I'm willing to look at any and all forms of financing," Lawson says.
Now that the Adirondack Club and Resort appears to be moving forward, Tupper Lake business owners are hoping the town will be carried along with it.
Since the Oval Wood Dish factory closed its doors for good seven years ago, the town's sole major employer has been Sunmount, a state agency that provides developmental services to the disabled. Much of the town's population of nearly 6,000 is clustered around a sleepy village on the shores of Raquette Pond. Like most of the region, Tupper Lake's population and school enrollment has dwindled over the decades.
Real estate agent Jim LaValley, a close friend of Lawson's and one of the project's most vocal proponents, says he hopes retailers, restaurateurs and even light manufacturers will see a brighter future in Tupper Lake. Maroun envisions national chains, such as Target or Ames setting up shop, and he is courting a conference center to be sited in the village.
LaValley himself recently cofounded a coffee and beer-brewing business and plans to open a brewpub downtown.
"The deterioration of our retail services industry has been evident for years. We're trying to turn the corner quickly, given the resort coming," he says. "There's sort of a re-creation of who we are. With the Adirondack Club, it really becomes the engine that pulls the train."
Central to that is the resurrection of Big Tupper Ski Area, which will see a vast expansion if Lawson's and Foxman's dream comes to pass. Once a vibrant family ski slope, Big Tupper has lingered in purgatory as its new owners have awaited regulatory approval.
Volunteers with a group called Adirondack Residents Intent on Saving Their Economy managed to keep the mountain open for several years, but a lack of funds resulted in its closing for the 2012 to 2013 season; it reopened briefly last winter. LaValley points to the volunteer effort as evidence of the town's spirit — and its dedication to reinventing itself.
"People showed up with their tractors and Brush Hogs," he says. "There was just a huge groundswell of support."
Adirondack Club boosters also point to the ski slope as evidence that the project does not set the dangerous precedent Bauer and other environmentalists suggest. Hardly a pristine patch of virgin forest, they say, this is just the sort of land that should be developed.
"You will not find a place like this that has a mountain that's already been logged, with logging roads, with a ski center and piping and chairlifts on it that has water and sewer," Mayor Maroun says. "It's not a slippery slope."
Says Lawson, "I don't think there will ever be another project like the Adirondack Club. I think the environmentalists always knew that."
The original print version of this article was headlined "'Great Camps,' Slopes and Condos; A Tupper Lake Development Gets the Green Light"