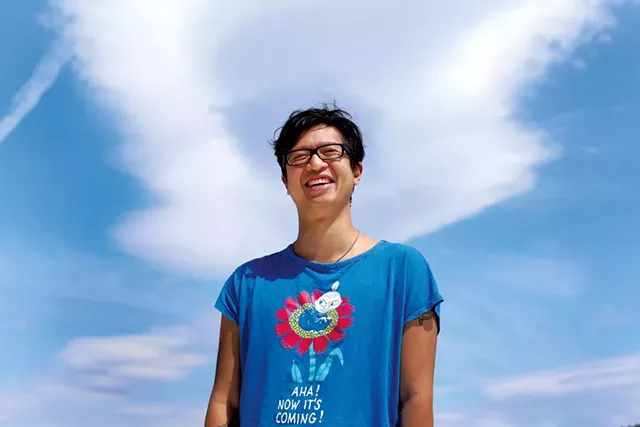 Sarah Priestap
Kazimir Lee Iskander
One Saturday afternoon in late April, students at the Center for Cartoon Studies hunkered down in the laboratory of the Colodny Building. The room was silent except for periodic outbursts of chatter and the slice of the paper cutter. The students' theses were due in a matter of days, and some looked agitated and bleary-eyed.
But Kazimir Lee Iskander cut a different figure. He had finished his comic, the Malaysian student explained quietly in a British-accented voice. He was there to help a friend.
Kazimir Lee — the name he uses professionally as a cartoonist, illustrator and film animator — is among 20 students who will graduate from CCS this month in White River Junction. (The school is throwing a 10th-anniversary block party this Saturday, May 7.) The work displayed on Lee's website includes a wide range of comics, sketches, illustrations and animations, created solo or in collaboration — including comics that he describes as erotic.
Instructor Jason Lutes said he was surprised when he learned that Lee had traveled more than 9,000 miles to attend CCS. But the 30-year-old cartoonist didn't end up in Vermont by chance. He did his research and decided CCS would be a good fit. "The school gives you access to people who are at the top of their game," Lee explained. "When you're doing art, you need honest feedback. Not [from] your mum."
More importantly, the politically conscious artist wanted the freedom to practice his craft openly and felt stifled in his own country. "We don't have a lot of political freedom in Malaysia," he explained.
The elder of two boys, Lee was born and raised in the capital, Kuala Lumpur. By his own admission, he had a sheltered and privileged childhood. Though neither of his parents is a cartoonist, they have artistic tendencies, he said. His father wrote poems for his mother during their courtship; she aspired to be a fashion designer.
Lee remembers constantly drawing dinosaurs and crocodiles as a kid. At school, teachers were uncertain whether he should enroll in Islamic studies or a general moral education class, given his mixed Chinese-Malay parentage. In Malaysia, ethnic and religious affiliations overlap; almost all Malays are Muslims. When the teachers couldn't figure out his ethnicity, Lee recalled, they asked which language he spoke with his family, because the ethnic groups typically use their respective languages. They were even more confounded to learn it was English.
Lee remembers feeling that he had to choose between being a traditional Malaysian — defined by patriotism and belief in God — and expressing his creative ideas and individuality. "Those two things cannot happen together," he said. He also had a problem with authority: "People would say, 'Shut up and respect me.' I could not do that."
He believes that attitude contributed to his parents' decision to send him, at age 13, to Tonbridge School in England. Lee remembers the all-boys boarding school as "alienating" and said he spent a lot of time there alone, doodling. But his art instructors encouraged him to be more serious. One in particular dished out tough love, he recalled. "She pushed me, and she believed in me, in her own way," Lee said. "Sometimes you need someone who isn't drinking the Kool-Aid."
According to CCS classmate Lydia Nguyen, Lee is now quite social. "It's very unusual for a cartoonist," she said, describing them as typically introverted because they work in isolation. "Everybody knows him around here," Nguyen added.
Lutes agreed, describing Lee as a "very, very engaged student who brought a lot of intelligence and critical thinking into the classroom."
CCS isn't the cartoonist's first stop in the U.S. He graduated from the Minneapolis College of Art and Design in 2008. The school provided pivotal experiences, Lee said; before that, he hadn't seen "much of the real world," and his social circle had been limited to the moneyed class. At school, he began to hang out with feminists and discuss politics, he said, and came to the realization that he is queer. Today Lee describes himself as non-gender-conforming, saying he doesn't believe in the traditional notions of masculinity or femininity.
"It was very freeing. I finally got to be myself," he said. At Tonbridge, he had had to feign being a "proper English student" to fit in.
That new sense of freedom faded when Lee returned to Malaysia in 2010, in search of work — in the U.S., the recession had dried up his supply of freelance jobs. In his native country, Lee worked as a freelance animator, creating iPad games for children. He networked with feminist, queer and immigrant-rights' groups. But, he said, he was growing restless and wanted to create more independent comics, particularly ones with political and erotic undertones. So he asked his friends to share their fantasies, he recalled, offering to draw them. These became comics, which Lee liked drawing so much that he realized he wanted to do it for a living.
In 2014, Lee decided to enroll at CCS and move to Vermont. "I wanted a more comfortable life where I can make a living making comics," he said. Still, he regretted leaving the peers he'd discovered at home: "Sometimes I feel guilty for not being part of the struggle" in Malaysia, he said.
Lutes didn't need to teach his student much about drawing, he noted, given Lee's previous accomplishments. The artist's background in animation, which entailed creating thousands of drawings, helped him polish his skills. "The level of drawing he's able to produce is of very high quality that's out of scale with most of his peers," Lutes said. So instead, the instructor encouraged the cartoonist to focus on improving his storytelling, which Lee had already identified as a priority.
When he's making a comic, Lee starts by sketching the layout of each page, as well as writing the script. Then he pencils and inks the comic while watching movies or listening to podcasts such as Serial.
His cartoon characters have an exaggerated physicality. "The people look like actual peanuts," Lutes said. The instructor also noted the density and multiple levels of his student's stories. "It's not just plots and jokes; there's stuff going on with the characters," Lutes said. "And there's things happening in the background, actual themes he's trying to incorporate."
One such comic is "Not a Crime," which the online magazine Slate published last year. It recounts the experience of a group of trans women arrested by religion department officials in Malaysia in 2014 for "cross-dressing." Lee describes the piece, which took him a month to draw, as a "comics journalism," because it involved interviewing the people involved. The story is "beholden to the facts," he noted.
Lee created the comic to show Western readers that Malaysia doesn't always fit the model of a fully developed Muslim country, he said: "Our democracy is not functioning properly, and there's a lot of homophobia and racial supremacy."
Some readers accused him of casting Malaysia in a negative light, but the cartoonist pointed out that his comic also shows the strength of activism there. For instance, it depicts a transgender activist group called Justice for Sisters, which successfully raised money to help the trans women pay their fines and legal costs.
With graduation from CCS imminent, Lee's immediate plan includes publishing his thesis. It's a graphic novel that explores the theme of Islamophobia in the U.S. through the central characters of Asian American and Iranian American women.
Breaking down stereotypes and introducing diversity to the comics world matters to Lee. He noted that his childhood heroes were all white, and, at some level, he wanted to be white, too. "I drew myself as white. And I never want to do that again," he said.
Now Lee wants to collaborate with journalists and draw more comics that discuss such issues in the U.S. But he doesn't rule out returning to animation.
Lutes said Lee is "really serious" about making the best comics he can and has made narrative complexity his trademark. "He's looking outward into the world and finding ways to use his tools and medium to address it and reflect back on it," the instructor said.
While Lee is excited about his own prospects, he's also enthusiastic about his talented classmates. Some of their works revolve around themes such as immigration and healthy eating habits. "They're doing their own thing ... and they're helping me do my own thing," he said, "and I think that's pretty beautiful."