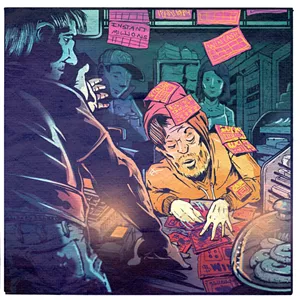 Cole Ward is one of the top-ranked master butchers in the United States. He's taught his trade to college students and farmers, been featured in culinary books and articles, and produced his own book, CD and instructional video on raising, butchering and marketing gourmet meats. In short, Ward knows exactly how lambs are led to slaughter.
So here's the unkindest cut: Ward often feels like a lamb himself — when he plays the lottery.
Over the years, the 64-year-old Fairfield resident has dropped a chunk of change on his personal vice: instant scratch-off tickets. Though Ward insists he's not a gambling addict, nor does he attend Gamblers Anonymous meetings, he briefly consulted a counselor to determine if he had a problem. (He didn't stay long.) And, while Ward has never lost his house as a result of his lottery habit, he admits it's occasionally "put a crimp" in his monthly finances.
Has he ever tallied up his losses? "I would be embarrassed to say, because it's a large number," Ward admits. "But I could probably retire at my age now on what I've spent on the lottery over the course of 20 years. And I have a relative who could probably double my retirement" from his own lottery losses, Ward adds.
Ward insists he's neither stupid nor bad at math, which he says are common assumptions about those who play the lottery regularly. He asserts that the Vermont Lottery deliberately preys on the poor, the elderly, the uneducated and those like himself, who have trouble resisting the urge. Contending that the lottery takes more from Vermonters — in terms of stress-related ailments, depression, property crimes and financial ruin — than it gives back, Ward wants the state to get rid of it.
Though he generally avoids businesses that sell lottery tickets, Ward recently met a reporter at the On the Run convenience store in St. Albans. There he aired his grievances about the lottery, which he calls a "numbers racket." While we spoke, Ward recognized several people at the register buying scratch tickets, including one who he knows has a serious gambling problem.
"The lottery has those [tickets] strategically placed so you have to see them every place you have to go, and they become a habit," he says. "You walk into a store to buy a coffee, and there they are. When I was a smoker, a pack of smokes would cost me 50 bucks. And it wasn't because of the [price of] cigarettes."
Ward's lottery woes date to the 1980s, when he owned a grocery store in St. Albans. Back then, his problem wasn't with buying lottery tickets but with selling them. The lottery commission automatically debited his store's checking account to recoup the proceeds from ticket sales. Though some retailers keep separate accounts for grocery and lottery sales, Ward assumed his lottery sales weren't enough to justify two accounts.
One day he got a call from his bank informing him that the account was overdrawn by more than $2,000. After doing some "internal research," Ward determined that one of his cashiers was playing the scratch tickets when he wasn't around. Though he couldn't prove the thefts, he dumped the lottery immediately.
Ward started buying scratch tickets himself in the mid-1990s. For several years, he had a route selling automotive detail supplies to stores in Vermont, New Hampshire and upstate New York. Typically, he'd stop at each store, buy coffee or a hot dog, then drop $10 or $20 on lottery games.
"Next thing you know, you get home and you've spent $100 on scratch tickets," he recalls. "I don't think anything bothers me more than spending money and not getting anything for it."
Actually, Ward has probably had better luck than most lottery regulars. In the 1990s, he bought a $10,000 winning ticket at a store in Richford, which netted him $7,200 after taxes. Then, six years ago, he hit a $25,000 ticket at a St. Albans grocery, from which he took home $17,200.
Like many a gambler, Ward can describe in detail how he hit the big jackpot. It began with a dream several nights earlier about buying the winning ticket. Then came the ritual of playing the scratch game "in reverse" — from the bottom of the ticket up — and the moment of scratching the final winning number while sitting alone in his car.
"Playing scratch tickets isn't about greed. There's a certain sense of excitement to it," he explains. "But there's a certain amount of depression that comes with it, too. And that's there for everyone."
Indeed, like most lottery players, Ward has lost far more than he's won — though not nearly as much as others he knows, he says.
What bothers him most, he suggests, is that the games prey on the desperation of poor people who can least afford to piss away their money. He knows one woman who was recently forced to sell off farmland in northern Vermont because she'd spent too much on scratch tickets. Another just had her car repossessed. Last year, a "very close relative" of Ward's dropped $16,000 on scratch tickets in one month and almost lost his business.
"How many Vermont kids go to bed hungry due to lottery losses? A lot of them," he suggests.
In response, Ward has called and sent letters to the governor, the attorney general, the speaker of the House and anyone else in a position of power, urging them to investigate the lottery as a "scam," a "rip-off" and a "drain on our economy." Recently, his efforts found a sympathetic ear in the legislature.
Earlier this session, Rep. Tom Stevens (D-Waterbury) introduced H.244, a bill that would repeal the lottery entirely. A second bill introduced by Stevens, who's also vice chair of the Committee on General, Housing and Military Affairs, which oversees the lottery, would consolidate the lottery, the Department of Liquor Control and the medical marijuana registry under a single "Agency of Controlled Substances." In effect, the lottery would be regulated with the same scrutiny as tobacco, booze, medical cannabis and recreational marijuana, Stevens adds, if the last is ever legalized.
For Ward, it's fitting to compare the lottery to a controlled substance. As he puts it, "Telling someone to 'play responsibly'" — a message featured on all lottery tickets and advertising material — "is like telling someone to use cocaine responsibly."
But realistically, both Ward and Stevens acknowledge that the odds are against them: The Vermont Lottery is not likely to cash out and go away any time soon. Since its inception in 1978 — the result of an overwhelming statewide referendum calling for a state-run lottery — the number of games and ticket vendors (aka "agents") has only grown.
Three years ago, the Vermont Lottery installed 100 new vending machines in retail outlets statewide. Last year, the commission unveiled its newest gaming device: a pilot project of 25 video "consoles" that each stand six feet tall and sell nearly all Vermont Lottery products electronically. Executive director Gregory Smith reports that lottery revenues in the last three and a half years have jumped by more than 10 percent.
Today, the Vermont Lottery takes in between $100 million and $110 million annually, part of a $70 billion nationwide industry. As HBO's John Oliver noted recently, that's more than Americans spent last year on movie tickets, music, porn, the National Football League, Major League Baseball and video games combined.
While Smith touts the lottery as a funding source for public education — in fiscal year 2014, lottery contributions to the Vermont Education Funding System totaled $22.6 million — Ward notes that figure is just 1.5 percent of the state's total education budget.
How are lottery sales any different from revenues from tobacco and alcohol, two potentially addictive products that are also state sanctioned and taxed?
As Ward puts it, if he walks into a convenience store, buys a six-pack of beer, downs it in 20 minutes and returns for more, the store should refuse the sale. No such restriction applies to the sale of lottery tickets to someone with a gambling problem. And, as Stevens points out, the lottery has begun putting gambling machines in bars without studying the hazards posed to people who are addicted to both activities.
The field of psychiatry now formally recognizes gambling as an addiction. Peter Espenshade, president of the Vermont Association for Mental Health & Addiction Recovery, as well as the Vermont Council on Problem Gambling, says that one reason gambling addiction is so pernicious is that it's difficult to tell when someone is in its clutches.
"If you were a meth addict, I would be able to tell pretty quickly if I were a friend or family member," Espenshade explains. "A gambling addict? No, because you wouldn't have the physical manifestations."
Espenshade agrees with Ward on one point: Gambling has taken a serious toll on Vermont taxpayers. Early findings of a study of problem gambling in Vermont, which is due out by the end of June, already indicate that many of Vermont's public embezzlement cases were a direct consequence of gambling addiction.
Nevertheless, Espenshade — whose organization is funded by the Vermont Lottery — hedges his bets by not calling for an end to the lottery itself.
"As addiction specialists, we're opposed to heroin," he says. "But we're not opposed to the lottery, because exposure does not necessarily lead to addiction."
Lottery director Smith points out that its market research, conducted every two years, studies the stratification of consumers' education, income levels, gender and age demographics. As he puts it, "We are very evenly distributed at all levels.
"Our playership is also evenly distributed for people making under $35,000 a year to people making over $100,000 a year," he adds. "What they're spending I can't tell you, but people with the deeper pockets obviously have the potential to spend more."
For his part, Ward doesn't take chances anymore. He's put safeguards in place for himself, including not keeping cash, debit or credit cards on hand. His paychecks are directly deposited into his savings account. When he needs gas money, he takes out exactly what he needs.
Finally, Ward tries not to patronize businesses that might feed his habit, and urges them to drop the games.
"Retailers in Vermont owe their customers as much loyalty as they expect from their customers," he says. "In my day, we counted on those regular customers coming to your store every week and supporting your business. Do I want to reward them by stealing from them? No."