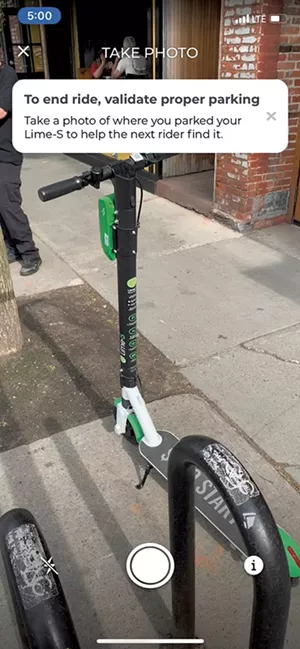 Liam Griffin
The scooter
Burlington officials have yet to green-light an electric scooter-share program for the city, but a lucky local took one for a test drive.
A lone Lime scooter mysteriously appeared outside of Zabby & Elf's Stone Soup on College Street last Thursday, and Liam Griffin, who caught wind of the scooter sighting on Facebook, went to check it out. He had the Lime app on his phone because he's used it in other cities.
To Griffin's surprise, he was able to unlock the scooter, which costs $1, then take it for a quick spin, at 15 cents a minute, up and down Center Street.
"I didn't actually need to go on a scooter ride," Griffin said. "It was a $1.30 joyride."
Griffin used the opportunity to document on Twitter the steps it takes to rent and return one of the e-vehicles in the hopes of informing city councilors about the process.
So where'd it come from? A friend later told Griffin that it belonged to a Lime employee who happened to be visiting Burlington. Most times, a user will lock the scooter if they plan to reuse it, but Griffin said he guessed the owner had "just assumed that nobody in Burlington has the Lime app on his phone."
"I could have ridden it anywhere in the city I wanted and parked it and locked it using the app," Griffin said. "And he would have come out and been like, 'Dude, where's my scooter?'"
A Lime company spokesperson did not respond to a request for comment.
The Burlington City Council is considering allowing a company called Gotcha to operate locally. The details are yet to be ironed out, though the council is likely to vote at its next meeting on whether to allow the program.
Griffin, an alternative transportation advocate, is all for it, despite some critics' safety concerns.
"How much do we trust the people of Burlington to responsibly navigate our city streets using this 15-pound electric scooter?" he said. "I don't think it's like, doom and gloom, apocalyptic visions of rampant scooter gangs."