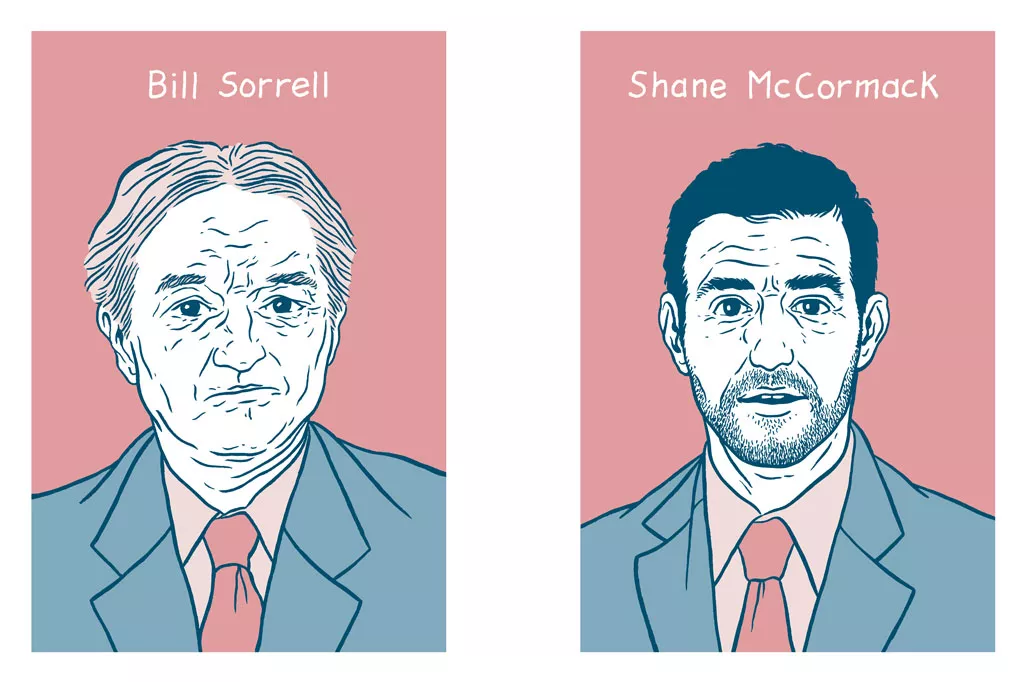 Until recently, Vermont Attorney General Bill Sorrell, a Democrat who has been in office for 17 years, appeared comfortably headed for reelection in a race that seemed a foregone conclusion.
Shane McCormack, a contracts lawyer in Burlington, assumed that someone would challenge Sorrell. After all, the attorney general had nearly been unseated in the Democratic primary in 2012, and Republicans usually manage to put at least a token opponent on the ballot. But as filing deadlines came and went, no one stepped forward.
McCormack, an Underhill resident who has never run for office, didn't want to see the incumbent go unchallenged. So he mounted a last-minute write-in campaign for the Republican line, convincing more than 700 Vermonters to scrawl his name on the ballot in the August primary. It was enough to snag his party's nomination and win a spot on the November one.
Since then, McCormack has been driving across Vermont introducing himself to Republicans and trying to overcome the stigma usually attached to write-in candidates.
"That's the problem, no one knows who I am," McCormack, 39, said in an interview. "That's part of the challenge of being a write-in. There's a general assumption that there's something wrong with you, or you want to talk about fringe issues. But I don't think it's insurmountable."
McCormack spent most of his childhood in Jericho and Charlotte — and, like Sorrell, graduated from the private, Catholic Rice Memorial High School in South Burlington. He got his law degree and MBA from Boston University in 2000, and after four years at a large New York City firm, returned to Vermont, where he and his wife are raising four young children.
McCormack is still working full-time on his commercial lending and business law cases while he tries to attend four campaign events a week. "It's completely outside my comfort zone," he said of the spaghetti dinners and other Republican Party fundraisers, "but I enjoy it."
Every chance he gets, McCormack charges that Sorrell has devoted too much time to filing lawsuits in consumer-protection cases, and not enough to helping police and other prosecutors fight a spike in opiate abuse and related crime. In debates and interviews, he has mocked Sorrell's lawsuit against the makers of 5-Hour ENERGY, which alleges the company made false claims about the product's invigorating effects. McCormack also criticized what he called Sorrell's "puritanical" lobbying of the U.S. Food and Drug Administration to ban menthol cigarettes.
"If you're asking yourself what is the No. 1 threat you see, you can't be looking at Marlboros," McCormack said of the attorney general's role. "You have to look at what is killing people. You have to allocate the most resources to what is harming the most people. Leadership is about taking the limited resources you have and saying, 'This matters.'"
Sorrell, 67, said he takes pride in his fights on behalf of consumers. Smoking remains a leading public health risk, he said, and his office's effort to get companies to play by the rules is important to many residents.
"As I go around Vermont, there's not one aspect of my office that I receive more positive feedback on than our consumer-protection efforts," Sorrell said. "Consumers of Vermont deserve to have the law of Vermont enforced. My opponent thinks that government should let the marketplace work, and let consumers get their relief from the marketplace. That's wishful thinking."
Sorrell even recently sued a meat salesman who went door to door in central and northern Vermont hawking bulk purchases. The attorney general's office alleges customers received boxes of foul-smelling meat that weighed less than promised.
Sorrell grew up in Burlington at the same time as former governor Howard Dean, and the two families were close. Sorrell earned his law degree from Cornell Law School but returned to Vermont to be Chittenden County state's attorney from 1977 to 1978 before taking a job in private practice. He served as Vermont's secretary of administration, a key role overseeing numerous parts of the state's bureaucracy, for five years before Dean appointed him attorney general. Within weeks, Sorrell launched the first of many actions against tobacco companies.
In following years, he helped defend stricter standards for automobile pollution, and sued so-called "patent troll" companies for violating Vermont's consumer protection laws.
The attorney general said he has also done plenty to help what both candidates characterize as an "opiate epidemic" that threatens the quality of life in Vermont. In the past two years, Sorrell has sent one of his lieutenants on a special assignment to Rutland to prosecute drug cases. Two other prosecutors from his office are working with the Vermont State Police Drug Task Force to prosecute dealers, Sorrell said.
"We do the most serious state court drug prosecutions all over the state," Sorrell said. "The big cases that don't go federal, by and large, are done by my office."
McCormack said it isn't enough. If elected, he said, he would pivot away from consumer-protection issues and devote more staff attorney time to help police and prosecutors reduce the use of heroin and illegally obtained prescription opiates.
McCormack noted that the attorney general's office has dedicated three attorneys to drug crimes. That's the same number of lawyers that Sorrell has assigned to his defense of Vermont's GMO labeling law, which has already been challenged by food industry giants.
"He's got three lawyers signing briefs on the GMO case. He has I don't know how many lawyers working on 5-Hour ENERGY," McCormack said. He described those as lost "opportunities." (The candidates agree that Vermont lawmakers will eventually legalize marijuana. Both support drug courts and alternative justice programs designed to get nonviolent drug offenders out of the legal system and into treatment programs.)
McCormack's criticisms are similar to those leveled by Chittenden County State's Attorney T.J. Donovan during his failed 2012 run against Sorrell in the Democratic primary. To be successful, the latest contender for Sorrell's seat knows he'd need to convince the same Republicans and Democrats who sided with Donovan two years ago. Sorrell won by about 700 votes in the closest race of his career.
To that end, McCormack has faulted Sorrell for taking contributions from firms that have worked for the state. During the Great Recession, Sorrell's office joined with representatives of other state and union pension funds in a class-action lawsuit against Bank of America's Countrywide Financial Corp., alleging the company knowingly hawked risky securities on subprime mortgages.
The lawsuit was settled for $500 million in 2010. One of Sorrell's assistants filed a motion in federal court defending the plaintiffs' decision to award $85 million of the settlement to the private firm that handled much of the work: Kessler, Topaz, Meltzer & Check.
Last month, that firm, which has offices in Pennsylvania and California, donated $2,000 to Sorrell's campaign.
It isn't the only questionable contribution, according to McCormack. Another came from Dallas-based Baron & Budd, one of three companies the state hired to litigate a groundwater contamination case against the nation's top gasoline providers. Sorrell's campaign received an $8,000 donation from Baron & Budd, which Sorrell claimed was chosen by his deputies and the Vermont Agency of Natural Resources. The other winning firms have not made any contributions.
McCormack has proposed that Sorrell should not accept donations from any law firm that's done work for Vermont.
"I think that's wrong, and I think most people can appreciate that's wrong," McCormack said.
Sorrell said he has nothing to apologize for. "Have I received contributions from outside the state? Yes, I have. Am I for hire for campaign contributions? Never."
Sorrell noted that he went before the U.S. Supreme Court in 2006 to defend Vermont's doomed law that would have tightly restricted private-sector donations to political candidates. In that case, the court ruled 6-3 that Vermont's law, which limited single contributions to statewide candidates to $400, among other restrictions, was a violation of free speech.
Sorrell said he would prefer it if those limits were in place today.
"No attorney general in the country has done more to fight large-money influence in campaigns," he said. McCormack has raised $3,000: half from his own pocket; the other half from a couple of friends. In all, Sorrell has raised more than $40,000.
While he said he sometimes gets advice from state Republicans, McCormack is handling almost all of his campaign himself, traveling on his own dime and learning the fundamentals, such as writing press releases, as he goes.
Still, he comes across as fairly poised and polished for a political neophyte. At a recent fundraiser dinner for Orange County Republicans in Randolph, McCormack, traveling well outside his Chittenden County comfort zone, ripped through his platform without stumbling or sounding robotic. He also made a crack about sharing a last name with Dick McCormack, a longtime liberal state senator from nearby Bethel. The quip won knowing guffaws from the crowd of conservative insiders, most of whom were hearing Shane McCormack for the first time. Afterward, several rushed up to introduce themselves and ask McCormack if he had brought any lawn signs they could put in their yards.
Sorrell has been making his own appearances at party events, but the incumbent requires no introduction. Last Wednesday, while McCormack carved out a few minutes from his workday to give an interview, Sorrell was in Washington, D.C., joining with other attorneys general to announce that AT&T had agreed to a $105 million settlement to resolve charges that it improperly billed consumers for some services. Sorrell quickly fired off a press release that earned him some free publicity: He said that up to 45,000 Vermonters could receive payments as a result.
But will it get voters to pay attention to this down-ballot race? Just as much of a challenge, according to both candidates, is explaining exactly what the AG's office does. With an $8 million budget and more than 40 staff attorneys, it's essentially Vermont's law firm — best known for its role defending the state in civil lawsuits, big and small, and pursuing litigation on behalf of the state.
While the attorney general is informally known as "Vermont's chief law-enforcement officer," that moniker exaggerates the office's influence in fighting crime. Almost all criminal prosecutions in Vermont are handled at the discretion of 14 independently elected state's attorneys, who answer to voters in their county. (State's attorneys have acceded to the partnerships that police have made with three of Sorrell's deputies to prosecute drug crimes.)
Much of the power of the attorney general's office comes from the bully pulpit and the ability to influence state legislators, according to Kim Cheney, who served as Vermont's attorney general from 1973 to 1975.
During his tenure, Cheney lobbied lawmakers to overhaul the state's criminal code, scrapping arcane laws — including one prohibiting the "painting and disguising of horses"— and simplifying more commonly invoked statutes.
"The attorney general is really in the best place to take a strong look at the architecture and say, 'What can we be doing better?' and then convince the legislature that you're right," Cheney said.
Sorrell says his work in consumer protection has demonstrated his ability to lead. But McCormack insists that more could be done.
"This office is an incredibly powerful tool," McCormack said, "if you use it the right way."