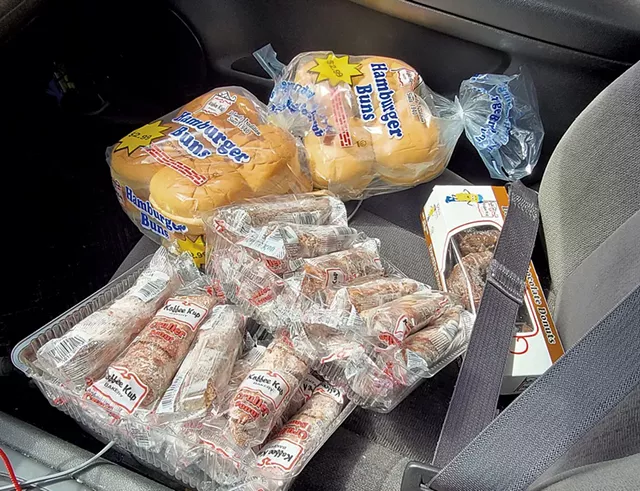 Jordan Adams ©️ Seven Days
A stash of Koffee Kup Bakery products
Last April, when I found out that Koffee Kup Bakery had abruptly shut down production, I grabbed my keys and burned rubber. With factories in Burlington and Brattleboro, the company made one of my favorite treats: a sugar-blasted Cruller Donut. I raced to snap up as many of the cellophane-wrapped goodies as I could, because the ones on the shelves were surely the last in existence.
After hitting two grocery stores and half a dozen gas stations, I'd amassed a hefty stash of 20-odd crullers, along with some hamburger buns and a couple of boxes of other Koffee Kup doughnuts. I enjoyed one cruller and put the rest in my freezer to savor bit by bit.
Just shy of a year later, I had one cruller left. I ate it with my morning coffee just before writing this.
Why the hysteria around a freaking cruller? Because Koffee Kup's packaged doughnuts – crullers, cake and raised alike — were head and shoulders above similar mass-produced products. Country Kitchen Fine Donuts? Not fine by me. Krispy Kreme? The Winston-Salem, N.C., company might have two Ks in its name, but it kan't hold a kandle to Koffee Kup.
Koffee Kup's cruller has been with me my entire life, and I'll be 40 next year. It was there for me as a post-church treat on Sundays. It gave me a boost in the 15-minute windows between school and play rehearsal. It was waiting for me when I visited Vermont during the years I lived in California. Its recipe and packaging never seemed to change. Its place in my heart surely didn't.
When I told my California-based brother about the company's shutdown and my stockpile of pastries, he asked if I could send him some. I put four in the mail. A Cali-based former Vermonter friend planned to visit in summer 2021. I promised her one. When I gave it to her, she ate half of it, then looked longingly at the remainder, wistfully creasing its crinkly wrapper.
"I should save this for my parents," she said solemnly. I laughed and gave her two to go.
As my stash dwindled, I contemplated selling a few crullers. I wondered how much I could get for a pair on Craigslist or the Facebook group BlackMarket-U. But it felt wrong to profit from the messy situation. Obviously, the loss of a consumer product pales in comparison with the job losses that Koffee Kup employees experienced when the factories closed. I hope their ongoing lawsuit against the company has a satisfactory outcome.
Though it spent nearly a year in my freezer, its brethren long gone, my last cruller did not disappoint. Dense yet tender, more savory than sweet, it was everything I'd built it up to be.

Small Pleasures is an occasional column that features delicious and distinctive Vermont-made food or drinks that pack a punch. Send us your favorite little bites or sips with big payoff at food@sevendaysvt.com.