I love weddings. That might explain why, at 23, I was the first in my circle of friends to tie the knot, with a down-on-the-farm bash so wild and wooly one guest asked if she could borrow my diaphragm after the reception. At least someone was consummating the union while the groom and I toughed it out in a tent. The marriage didn't last, but the memories sure did.
Perhaps because of the timing of my nuptials — right after graduation — and the size of the guest list — pushing 200 — I got invited to a lot of weddings in my twenties and thirties. By the time I met my current boyfriend, who is more than 10 years my junior, baby showers had replaced bridal bouquets among my contemporaries. His young friends, though, are still pairing up like penguins. Since we started dating six years ago, I've gone to a dozen weddings I wouldn't have experienced otherwise.
What is so appealing about these frilly festivities? I love all the ritual stuff, but each ceremony has its unique charm. I remember dancing with a Jesuit priest at a Seattle University wedding; bawling with appreciation at the vows exchanged under a chuppah in Stockbridge; marveling at a professional women's soccer team that cheered on the bride — their teammate — in Pennsylvania.
But for sheer entertainment value, nothing is likely to top a Brattleboro wedding we attended four summers ago. After a gorgeous hilltop ceremony on the bride's family farm, we repaired to a huge barn for dinner. Everyone noticed the trapeze hanging from the rafters, but no one expected the half-time air show we got from the bride's identical twin sisters.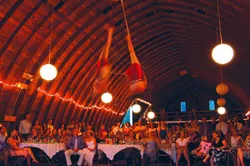 When they're not on the road with Cirque de Soleil or Ringling Bros., the duo, known as Gemini Trapeze, practices on the family farm. After dinner, they appeared in costume and dazzled us, net-free, with an original piece choreographed for the occasion. The synchronicity of their movements was meant to convey the harmony they wished for the bride and groom, but it also showcased their mirror-image precision on the bar. At times, it was hard to believe there were two different people up there. It was a stunning display — and a most unusual gift.
There are plenty of variations on the "I do" to-do. I asked a slew of wedding goers to recall the most memorable ones they've attended.
Greg Trulson, Waterbury
Greg Trulson and his partner Willie Docto are innkeepers of Moose Meadow Lodge, a popular bed-and-breakfast destination for weddings and civil unions on 86 acres in Waterbury. Trulson handles all the wedding planning, and he's a justice of the peace. "I tell each couple I work with: 'This is your ceremony, so we will create it any way you wish,'" he says. But he never expected a request to incorporate an "Irish Car Bomb" into the proceedings.
Trulson thought long and hard about whether a cocktail alluding to "the Troubles" could be an appropriate symbol of unity. "What I came up with turned out perfect," he says. "I did not use the words 'Irish Car Bomb,' nor did I use the word 'liquor,' but I was able to describe the joining of three Irish liquids and what each one represented."
The Jameson Irish Whiskey represented the groom — "driven, solid and strong in character." The Bailey's Irish Cream represented the bride — "sweet, smooth and refined." The Guinness Stout represented life. "As these liquids are consumed, they are blended together, blended within, and can never be separated again," Trulson recalls his rap. "So will your relationship be." He called this part of the ceremony "the Glass of Life."
"The bride and groom loved the wording that I came up with so much that they even had their grandmothers help pour the Jameson and Bailey's into the shot glass prior to it being dropped into the Guinness. It was such a hit," says Trulson. "Friends of the groom were impressed with how they pulled off having an 'Irish Car Bomb' drink as part of their wedding."
Nick Patch, Charlotte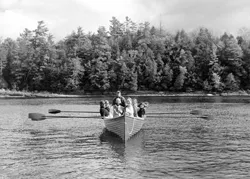 Several years back, boat builder Nick Patch was part of a seven-man crew that rowed bride and groom Lisa Windhausen and Jeff Severson half a mile from the Ferrisburgh Town Beach to their wedding at Kingsland Bay State Park. "It was definitely a notable arrival," Patch recalls of that cold and blustery October day. "People were wearing down jackets and stuff," he says, "but everybody was really a good sport about it."
An avid rower, Severson asked Patch to deliver him in one of the pilot gigs built at the Lake Champlain Maritime Museum, where Patch runs boat-building programs. But the six groomsmen who manned the oars might not have known they were in for a Ben Hur experience. First the well-dressed "cousins and in-laws" were conscripted to lift the 1000-pound boat off a trailer and drag it down to the water. Then Patch turned coxswain: "I definitely had some green crew members in the boat," he says, after offering to spell the word coxswain. "You gotta yell at them, yeah."
Katra Kindar, Shelburne
Katra Kindar never dreamed her son would end up being a professional high-wire walker. Back in the '80s, Jade Kindar-Martin, a Circus Smirkus grad, crossed Burlington's Main Street on a wire strung between Nectar's and the Courthouse Plaza. In 1997, he set a Guinness World Record by walking a high wire across the Thames River in London.
And when he got married, he pulled off a balancing act — literally. Kindar-Martin and stunt woman Karine Mauffrey exchanged vows on a wire 30 feet off the ground with no net. It's a tradition among high-wire walkers, according to his mom, who witnessed the nuptials in the horse-racing town of Chantilly, France. "We were all standing there, below them, with our champagne," Kindar recalls. "Jade is in his tux and tails. And she has this gorgeous gown that she kind of hooks up so it doesn't trip her."
The couple was acting out a poem about their love, the text of which was delivered by the best man. Katra tries to recreate it. "Jade is walking across the wire; then he spots her — 'the most beautiful thing he ever saw.' He walks to get her, and she puts her hands on his shoulders. He walks backward; he's got the balancing pole. And everybody raises their glasses." The image of this spectacular high-altitude kiss is now a commercial wedding card.
Barbara Thomke, Jeffersonville
The guest list tends to self-select when you tie the knot on skis. Barbara Thomke remembers one Smugglers' Notch employee and his bride who got hitched on the snowy banks of Sterling Pond. Directions: Take the lift up. Wear your skis. "It's very pretty with all the pine trees circling the pond," Thomke says, noting that a small white dog adorned with roses was in attendance. He got down the easy way — in someone's jacket. Everyone else skied down the mountain. "The bride had a white jacket with a design on it," she recalls.
Thomke, who is the public relations director at Smuggs, has seen more obvious bridal parties descending the slopes. "I remember looking out my window once and seeing this white-dressed woman coming down the hill — Morse Mountain this time. She had a strapless gown on. He didn't look like a very good skier, but she looked like an expert."
Jokes about cold feet aside, the athletic bride didn't seem to let shivers bother her. "Somebody was waiting for her at the bottom with a shawl," says Thomke. "They both clicked out of their skis and ran inside."
Doug Hoffer, Burlington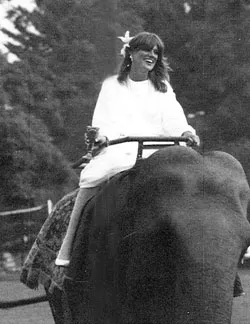 Most people know Doug Hoffer as the "independent analyst" who critiques the economic reports that come out of the governor's office. But in an earlier life, he was a maitre d' at Alice's Restaurant — the one made famous by the Arlo Guthrie song. A former chef from the restaurant asked Hoffer to plan and orchestrate her 1983 wedding. She and her husband-to-be didn't want to know any details about the three-day extravaganza in the Berkshires; they just wanted to show up.
Working with what amounted to an unlimited budget, Hoffer went all out. For the Friday-night Texas barbecue, he arranged to have rattlesnake and long-neck bottles of Lone Star shipped in. Doug Dillard and Vassar Clemens played live bluegrass while the guests played horseshoes using freshly dug regulation pits.
Thirteen waiters in white tails and brand new white sneakers served a semi-formal brunch the next day — for 250 guests — while a string quartet played Mozart and Haydn. A total of 300 were fed at the traditional stone clambake later that night.
"Between the brunch and the dinner is when we unveiled the elephant," Hoffer recalls. He also contracted Morgan horses, a Scottish Highland ox and a tethered hot-air balloon to keep the guests entertained.
"A great time was had by all," Hoffer reports — except, that is, by the piano soloist who happened to be performing across the lake at Tanglewood Music Center when the fireworks started. The Berkshire Eagle would later report that "Concertgoers . . . were understandably startled" when the piece the pianist was playing "began to sound as if it had been crossed with the 1812 Overture." With a sigh, Hoffer concedes, "Everything was perfect except the fireworks during that poor shlep's piano recital."
Kate Hays, Shelburne
As the head chef and owner of Dish Catering, Kate Hays sees a lot of Vermont weddings — albeit from the kitchen. Her biggest job last season was the nuptials of a D.C. couple at their home in Huntington. The bride had lived in Oregon, and wanted Hays to prepare wild salmon in a traditional Native American way. Hays recalls, "It entailed digging a trench, brining whole sides of Pacific salmon, and then cooking them over a live wood fire, along with live lobsters steamed in seaweed, also cooked over a wood fire, which we then offered, sauteed, at a live station with either a fresh corn salad or pasta."
The first step was cutting and splitting slender, 6-foot lengths of alder wood that would be used to spear and stretch the salmon for cooking. Another two days were devoted to "shucking" 275 lobsters. "I loved the challenge," Hays says, "and obviously we had to have a rain plan. If the weather hadn't been perfect, we would have had to can the whole concept of a live fire. I couldn't have tarped it."
Hays placed the fire pit near the reception area, so the guests could keep an eye on the action. When the fish was ready, two workers carried each wooden spit up the hill to a second kitchen. "Visually it was stunning," Hays says. "I know it's something that nobody else has ever done here." Her only regret: "I should saved those damned sticks."
Karen Pike, Hinesburg
As a wedding photographer, Karen Pike is a professional marital-memory maker. And she backs up her favorite recollections with hard evidence. The summer after the civil-union bill passed, Pike shot the union of Susan Murray — one of the lawyers who worked for the law — and her partner Karen at Kingsland Bay. One of the women emerged from the woods accompanied by one of the couple's two poodles, Pike recalls. The other arrived by boat with the other dog. They walked toward each other and met exactly halfway, in a field, where Rev. Roddy O'Neil Cleary awaited them.
Pike's favorite image from the day was the expression on Cleary's face at the moment the two women kissed: "She was so full of joy for these two women. I was lucky enough to capture that in my frame. It's one of my favorite wedding pictures, straight or not." Pike, who came out herself that year, went on to document the civil union of Holly Puterbaugh and Lois Farnham.
On the heterosexual side, Pike has seen it all. At the Stowehof, one couple announced after the ceremony: "Thank you for coming. We love you. It's been fun." Then they took a tandem backwards plunge into the swimming pool.
Last wedding season, Pike photographed her first lactating bride. The wedding gown was especially designed to accommodate the infant, but eventually, Pike says, the woman stopped trying to be discreet, "dropped the top and walked around nursing."
Candelin Wahl, Colchester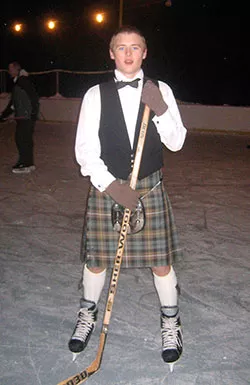 Candelin Wahl's college roommate, Kim Potter, came from Scotland with her family to attend the wedding of one of her three sons — a UVM student — last January in Burlington. Neither Wahl nor her husband, George Thabault, was invited to the family-only ceremony at the Willard Street Inn. But after the vows were exchanged, they received a phone call from the groom's side of the wedding party. The men — all rugby players from Scotland — wanted to come over and check out the couple's backyard ice-skating rink.
The groom, Evan, showed up in the formal Scottish attire in which he'd been wed: kilt, purse, daggers-in-socks. His father, brothers and friends were all dressed in tuxes. After a few glasses of champagne, "they were like, 'We want to skate,'" Wahl recalls. She notes that the ensuing hour and a half of "knock-down, drag-out" hockey turned some heads in the neighborhood.
Wahl, who was standing rink-side with her friend, remembers that as the groom heated up in the 15-degree weather, he "kept taking off parts of his formal outfit. He'd skate over to his mother and say, 'Mum, take me daggers,'" Wahl says, imitating the Scottish accent. "Then he'd come back and say, 'Mum, take me purse. It's flapping.' I kept thinking, I hope he doesn't take off his kilt." He didn't. "Nobody saw anything untoward," Wahl assures. Nonetheless, "it was the most unusual skating party we ever had."
John O'Brien, Tunbridge
Tunbridge filmmaker and sheep farmer John O'Brien is also a justice of the peace. One of the weirdest weddings he ever officiated took place right down the road from his Tunbridge home. The bride and groom — and about half the guests — were members of the Society for Creative Anachronism. The 43-year-old international "living history" group endeavors to "recreate the Middle Ages as they ought to have been," according to its Wikipedia entry.
In a scene that O'Brien describes as "bizarrely surreal," he says, "half the people came as characters in a medieval kingdom, and half came as normal people. We had people in three-piece suits and people in tights alternating shooting arrows at a target. That was one of the reception entertainments." Instead of champagne, the guests toasted with mead.
Adding to the freaky quality of the nuptials, O'Brien spent the whole time talking to the groom's brothers, who were police officers in Kansas City. "They were really into some sort of shadowy martial art," O'Brien recalls. "So over here, damsels were being chased by archers, and meanwhile this guy was telling me how he could kill me in two seconds with his pocket comb."
In "real life," the groom was a headhunter; the bride, an accountant.
Chris Bohjalian, Lincoln
When bestselling novelist Chris Bohjalian was a teenager, his uncle got married for the fourth time. "He would, by the time he died, marry twice more, bringing the grand total to six wives," Bohjalian notes. "Yup, you don't have to be an obese British monarch to pull that one off."
Bride number four was the same age as Bohjalian's uncle: mid-fifties. He recalls, "She had been on the periphery of my family for years, and even as a teen I was pretty sure I knew which of my parents' friends she had slept with." Pubescent Bohjalian was no less shocked by her virginal attire: "a beautiful white gown with a train that must have trailed 6 feet behind her." He concludes, "It was a deeply disturbing wedding."
Roddy O'Neil Cleary, Burlington
When they first came to me, there was going to be nothing conventional about this wedding," Rev. Roddy O'Neil Cleary recalls of the 2006 nuptials of Bill Simmon and Emily Stoneking. But by the time the Big Day came, she says the couple had given up most of their wacky wedding ideas in favor of standard rituals. One memorable exception remained: "The little flower girl came down the aisle dressed as Darth Vader," Cleary recalls, accompanied by the "Imperial March" from Star Wars. A photo of the unusual Sith Lord, who wore a white dress with her helmet, ended up on popular blog Boing Boing.
A former Catholic nun and current Unitarian minister, Cleary also presided over last year's horror-movie-themed wedding at Merrill's Roxy Cinemas in downtown Burlington. "I wore a glittery eye mask."