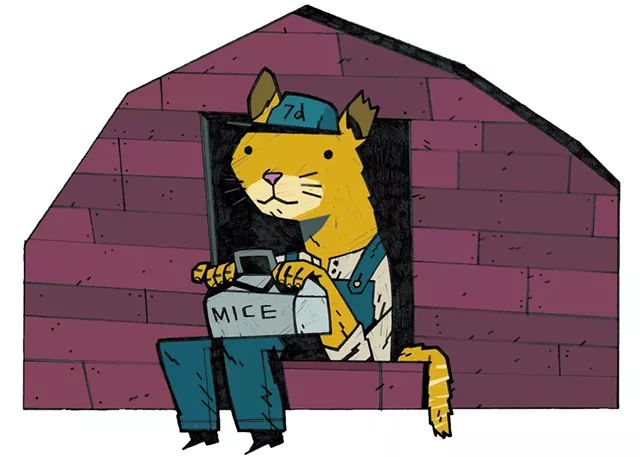 Parents sometimes cushion the blow of a beloved pet's death by telling their kids something like, "Mr. Wiggles has gone to live on a farm in the country." As a ruse, it might or might not work, but the Humane Society of Chittenden County is actually doing just that: sending cats that cannot be adopted to barns.
The truth is, not all kitties make good house pets. Due to limited contact or bad experiences with humans, some are more likely to swat your outstretched hand than curl up and purr on your lap.
When people relinquish such felines to HSCC but the animals are not adopted, the organization often employs an initiative it made public last January.
HSCC's Barn Cat Program places the animals that don't conform to an indoor lifestyle in outdoor structures instead — think barns, warehouses, stables, etc. The move also gives cats a purpose in life: They're mousers, after all. These felines help keep their new homes free of rodents.
Shelter director Cindy Davis says the initiative actually has been in operation for three and a half years but was only published on HSCC's website in January. Since then, seven barn cats have been placed in new homes.
"The cats that go into the barn program don't really live inside," Davis says as an elderly feline with a leonine haircut lounges in a cat tree behind her desk. "It's not really an option for them. They're a little more wild."
Some cats are feral; others are strays that have wandered away from home. While the two terms are often used interchangeably, Davis notes that these types of cat are different. Feral cats were born and raised in the wild, so they behave more like raccoons. Stray cats once lived indoors but have grown accustomed to life outside and may or may not tolerate humans. Both types of cat have a heightened sense of independence.
How can HSCC tell if a cat is right for the barn program? Relinquished cats go through a rigorous vetting process. They get spayed or neutered and given all their shots. Then there's a waiting and observation period. Cats are not euthanized for length of stay or for space.
How an animal behaves in the shelter, Davis says, is an indication of whether it can be a good companion. Generally, HSCC's goal is to adopt out companion animals. If a cat is continually passed over for behavioral reasons, she adds, "we have to make another plan."
There are exceptions, Davis allows; sometimes an animal that goes into the Barn Cat Program eventually ends up indoors. (Most of those are strays that had previously lived inside.)
There is no time limit for a stay at the shelter, but staff work to place cats in new homes within a month. "Think about that existence for that cat, for a month," Davis says. "They're hissing and swatting. Those are cats that might be good candidates for the Barn Cat Program."
Davis asserts that cats like these still deserve a home. Forcing an unsociable cat into a house is "borderline inhumane," she says. "Why should we force an animal to live a certain life that we think they should, if that's not who they are naturally?"
Instead, HSCC provides an outdoor cat with deworming treatments, flea and tick prevention, and vaccinations. Because its lifestyle will be free ranging, it also gets a microchip and an ear tip (a sign that a cat has been spayed or neutered). Then, ideally, that cat finds a home.
There's no adoption fee for barn cats, but new owners are expected to feed them, keep up on vet visits and give them a few weeks to acclimate in an enclosed space. In addition, owners must ensure that barn cats have a warm place to hang out in the winter.
The payoff is worth it, says Marion Bourgault-Ramsay, a part-time customer care employee at HSCC, who adopted three barn cats from the organization. She lives in Charlotte, where she produces pork, lamb, rabbits and eggs at Greylaine Farm with her boyfriend, Michael Kirk. Before adopting her first barn cat, Bourgault-Ramsay says she had a major rodent problem. Now she can leave a bag of chicken feed in the barn and not worry about it getting ruined by rats or mice.
One of her cats, Johnny, a stray from Milton, was "overstimulated" at HSCC Bourgault-Ramsay says. "He was climbing the kennel in the med room. He does better in a barn. He's the most affectionate cat — he just needs to live outside."
The farmer sees different personalities in each of her felines. To keep them warm in the winter, Bourgault-Ramsay puts a heating pad in a cat house. For those that opt for the hayloft, she builds hay-bale structures to snuggle into. One cat, Frank, spent a year in the barn before he decided to move into the warmer house. The others still prefer the outdoors.
"There's a lot of stigma that cats should be indoors, for wildlife purposes or their own safety," Bourgault-Ramsay says. "But certain cats just can't be indoors. My barn cats are healthier and eat better food than some of the house cats I see."
Davis knows that not everyone is a fan of outdoor felines — particularly, perhaps, organizations that are trying to save birds.
How does she reconcile her concern for all animals with her love of cats? "You've got to pick your battles," Davis says. "We believe, for us as an organization, this is a good solution to not euthanize. They're just cats that need a different lifestyle."
Update August 26, 2018: This article was modified to accurately represent the HSCC's euthanasia policy.