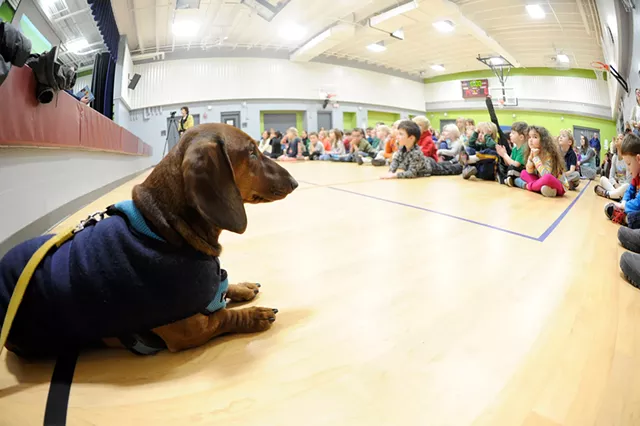 Jeb Wallace-Brodeur
Hobbes at East Montpelier Elementary School
Shortly after lunchtime, several hundred students at East Montpelier Elementary School filed into a gymnasium and sat on the floor. While a pair of teachers tried to quiet the group, the kids instantly fixated on a small, rotund dachshund in a winter coat, which was quietly sniffing around the edge of the stage.
After a brief introduction by J.D. Green, a morning DJ with Froggy 100.9 — the Barre FM station that sponsored this event — Bruce Zeman took the stage. A longtime radio personality and former general manager at WVTK in Middlebury, Zeman was there to read the kids Hobbes Goes Home. He and his wife, Tami Crupi Zeman, wrote and published the children's book in 2013; it chronicles how they came to adopt the dog that would eventually become Zeman's canine radio cohost.
As Zeman, 46, began explaining the story, a large photo of Hobbes flashed on the screen behind him. In it, the dachshund stands at a radio microphone wearing a pair of headphones. The kids erupted in laughter.
Though the assembly began as fun and games, Zeman had come to deliver a serious message. By sharing the story of the abuse that Hobbes suffered as a puppy, he aimed to impress on the youngsters the importance of not hurting others — and not staying silent when they see others getting hurt. As Zeman explained later, it's well-documented that abuse of animals is often a precursor to abuse of humans, which typically starts as bullying.
The reading, Q&A and subsequent pet-the-wiener-dog session lasted about an hour. They all served Zeman's ultimate goal: He intends to visit all 425 Vermont elementary schools, give each a free copy of Hobbes Goes Home, read it to the kids and talk about ways to prevent bullying — of both animals and people. Since he launched the book tour in January 2014, Zeman has already visited more than 105 public schools statewide.
Lately, however, his progress has been slowed by the enormous interest that Hobbes' story has generated elsewhere in the country. As schools, nonprofits and governmental agencies learn about Zeman's anti-bullying program, he's been inundated with requests for his presentation — from more than 11 states so far. Despite his generous support from Froggy 100.9 for the Vermont book tour, Zeman doesn't have the resources (read: corporate sponsorship) to travel farther afield.
"Although I want to do this everywhere, I'm a Vermonter," Zeman explained. "I want to help the kids here first."
Jeb Wallace-Brodeur
Bruce Zeman and Hobbes
Though this particular doggie tale was probably new to the students at East Montpelier Elementary School, many Vermonters already know the story of Bruce and Hobbes, America's first human-canine radio team. In October 2009, Zeman was hosting a morning show on WVTK when he got a call from the Addison County humane society about a newly rescued dachshund. It had been beaten nearly to death by its former owners and needed a home.
Bruce and Tami Zeman adopted Hobbes and nursed him back to health, and, over the next few months, the dachshund became a fixture at the station. Zeman frequently talked about his new pet on his show and occasionally brought him into the studio, where Hobbes' whines, yips and howls could be heard on the air. Listeners took such a liking to the dog that in March 2010, Zeman made Hobbes his official cohost and dubbed their show "The Wake-Up Crew With Bruce & Hobbes." The revamped show helped resurrect the flagging station, and a dog star was born.
Over the years, Hobbes has "interviewed" numerous Vermont celebrities on the air, including former governor Jim Douglas, Rep. Peter Welch and Gov. Peter Shumlin. In 2012, the Vermont legislature and the Vermont Association of Broadcasters honored Zeman and Hobbes for their commitment to community service. Hobbes was made an honorary police K-9 with the Bristol, Middlebury and Vergennes departments; a deputy sheriff in Addison County; and the official canine mascot of the New Haven Volunteer Fire Department.
Zeman left full-time broadcasting in 2014. Last year he launched an animal-themed podcast, with a new episode every Wednesday.
Though Hobbes has raised Zeman's profile, his history of saving animals didn't begin with this particular dachshund. Zeman, a New Jersey native, grew up with the breed. In the early 2000s, he brought a lawsuit against his former apartment landlord that eventually led to the passage of "Nathan's Law" — so named after Zeman's dachshund — recognizing pets as family companions and not just property.
A longtime animal lover, Zeman got certified in advanced animal rescue back in the 1990s through an organization based in San Rafael, Calif., called In Defense of Animals. In 2005, after Hurricane Katrina, Zeman got a call from IDA's executive director asking if he was willing to travel immediately to the Gulf Coast to help with post-hurricane animal-recovery operations.
At the time, Zeman was living in New Jersey working a corporate job and was due to attend a cousin's wedding that weekend. His first wife, he remembered, called him an "idiot" for even considering missing the wedding to rescue animals. As he put it, "My line in the sand was drawn."
In between the wedding ceremony and the reception, Zeman took off his tuxedo, handed it to his then-wife and told her, "I'm done." He drove to the airport, hopped on the next flight to Mississippi — on his own dime — and spent three weeks rescuing abandoned pets from flooded and demolished buildings that even soldiers wouldn't enter.
"That's when you find out what you're made of," Zeman recalled. "I'm not a brave guy, but those animals were coming out, and I was going to be the one to do it."
The experience changed Zeman's life: It cost him his first marriage and left him with post-traumatic stress disorder. He recalled being unprepared for the horrific scenes of injuries, abuse and neglect he encountered.
In 2014, Zeman's passion for animals won him recognition on a national stage. After the Zemans published Hobbes Goes Home, Welch and Shumlin sent copies of the book to the White House. About a month later, President Barack Obama wrote back to the Zemans, telling them how much he enjoyed it.
The Zemans now donate profits from book sales to about 90 organizations around the country. One of them is the Clarina Howard Nichols Center, a shelter in Morrisville that takes in domestic violence victims and their pets.
In this way and others, Zeman's work with animal rescue has dovetailed with advocacy for vulnerable humans. Last year, Zeman got a call from the Northlands Job Corps Center in Vergennes, an educational and vocational training program for troubled youth ages 16 to 24. Could he give his anti-bullying presentation there? The students loved the presentation — and Hobbes. Soon Zeman began working in the program as a part-time recreational coordinator.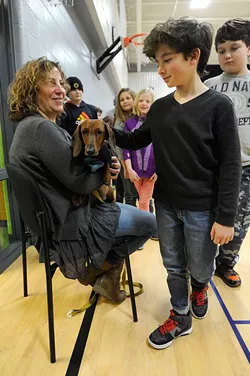 Jeb Wallace-Brodeur
Tami Crupi Zeman and Hobbes with East Montpelier Elementary School students
Zeman and Hobbes are now regulars around the dorms at Northlands, where many of the kids have their own histories of abuse and neglect. "When Hobbes comes, it's a big to-do," noted Ron Dedrick, Northlands' work-based learning coordinator. "Kids are on their best behavior, and they all crowd around. It changes the whole dynamic."
Zeman, who's been overwhelmed by the response of the Northlands students, called it "the most rewarding work I've ever done.
"In a lot of cases you're defining what it means to be a man for these boys," he added. "You go away thinking to yourself, This is the stuff that matters."
Last month, Zeman and Hobbes went to Washington, D.C., as guests of the U.S. Department of Labor, which oversees the federal Job Corps program. Department officials wanted to discuss bringing the anti-bullying program to Job Corps sites around the country. Details of that effort have yet to be finalized.
Meanwhile, the Zemans have been inundated with speaking invitations, including ones from the Miami-Dade County public schools — the fourth-largest school district in the nation — and a biker organization in Arkansas.
Last year, Bruce Zeman visited a boys and girls' club in Vergennes. As always, he told the kids how each of them could make a difference and that they shouldn't be afraid to speak up about something they believe is wrong. "What would have happened [differently] to Hobbes if someone had spoken up?" he asked them. About a week later, Zeman got a letter from a parent whose son had just talked his friend out of committing suicide.
"If that doesn't validate your work," Zeman asked, "what does?"
Zeman always tailors his presentations to the age range of his audience, he said. With kindergartners, it's often not much more than, "Oh, look at the cute little dog." With high school students, he noted, "You can be a little more real."
The kids can get more real, too. Zeman said he's occasionally approached by students who admit they've been bullied — or been bullies themselves. Some have told him about a neighbor or family member who kicks their dog or cat. Zeman always commends them for coming forward and urges them to tell someone, be it a teacher, police officer, coach or clergyperson.
During the Q&A in East Montpelier, Zeman patiently answered all the children's questions, including many that had little to do with his talk. But right before it ended, an older boy in a plaid shirt asked, "Exactly why do people abuse animals?"
"That's a tough question to answer, probably a longer answer than I have time to give," Zeman replied. He briefly talked about people's insecurities and how those who abuse others may have been abused themselves.
Then Zeman asked the students to remember one thing: "Each and every one of you is important, OK? And it matters that you are here."