Bear Cieri
Jenn and Chris Bergeron at their home in Bristol
W
hen Chris Bergeron and his wife, Jenn, moved into their new house in Bristol, they were surprised to discover it was a breeding ground for black cluster flies. Hundreds of insects invaded their space, swarming around windows in the living room and kitchen. They were nesting behind the siding, laying eggs in every crevice.
"It was very alarming, because we just built the house," Chris Bergeron said.
The couple thought the flies might be something they had to get used to, a consequence of living in a more rural area, but when a contractor visited to do an energy-efficiency assessment, they discovered the pest problem was fixable. In fact, the assessment had unexpected health benefits, as well.
The Bergerons initially contacted
Efficiency Vermont
about a home assessment after their first winter. Their house was drafty, cold and more expensive to heat than they had planned. The assessment revealed numerous cracks and crevices that weren't properly sealed.
They planned a meeting with an Efficiency Excellence Network contractor, who recommended solutions that would plug the leaks — and helped them in ways they hadn't anticipated. In fact, they learned that the energy assessment may have saved their lives. When the contractor measured the boiler to check its efficiency, he realized that it was discharging carbon monoxide into their basement. The deadly gas was at a level too low for their alarm to detect, but slowly breathing it in over time would have affected them.
They were so thankful to have caught the problem within the first year. "When [the contractor] measured the exhaust coming out of the boiler, he said that if you were in a closed tent or car in that area, you would die," said Bergeron. "We were really glad he caught this before it became a larger health risk."
Courtesy of Efficiency Vermont
Installation of blow-in cellulose insulation
As a result of the assessment, the couple added blow-in cellulose to the attic, had air sealing and insulation put in the basement and around the foundation, and, of course, repaired the boiler. Since then, their house is warmer, their heating bills have dropped and there are now very few flies.
And the Bergerons have noticed that they get sick less often. They had no idea that improving their home energy efficiency could also improve their health.
Even without a deadly gas leak, indoor air quality can have a huge health impact. Humans, on average, spend 90 percent of their day indoors, and six out of 10 homes and buildings are actually hazardous to occupants' health,
reports the U.S. Environmental Protection Agency
. Efficiency upgrades can also improve allergies and reduce colds, according to
research done by the U.S. Department of Energy
, as well as lessen the symptoms of chronic conditions like asthma.
Keeping Heat = Keeping Health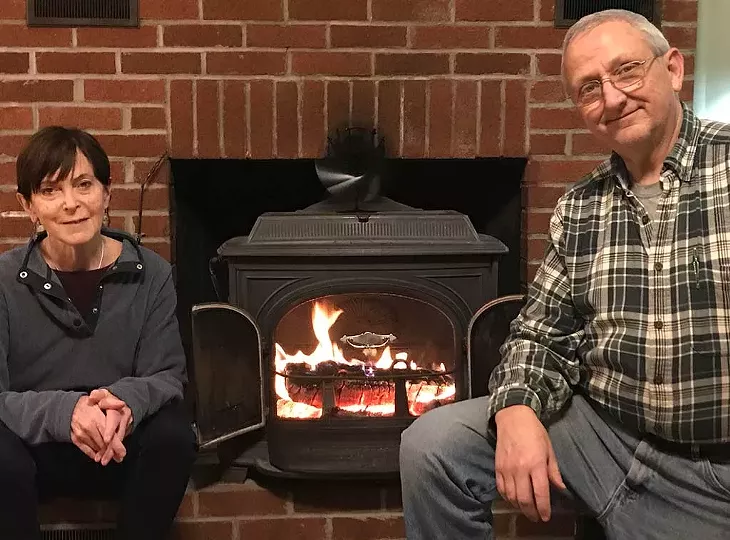 Courtesy Photo
Renee and Jerry Byrd
When Jerry and Renee Byrd sought an energy assessment on their Bennington home, improving their health wasn't their primary concern. They were more interested in fixing their ranch-style home's substandard insulation and serious air leakage. Built in 1959, their house was cold and expensive to heat in the winter.
That was a big issue for Renee, who runs a home-based massage therapy business. She needs to provide a comfortable environment for her clients.
Ready for a Home Energy Assessment?
Efficiency Vermont can connect you to free resources and professional contractors.
When they bought the house, the Byrds had anticipated making repairs. They planned to pour a lot of their retirement money into updating the home, both to save on utilities and to make it as comfortable as possible. They didn't realize that their health would also improve.
Before they updated their home, Renee recalls getting sick every year. Since they weatherized it five years ago, she reports that she's fallen ill only once.
"The health impact has been tremendous," Jerry said. "We don't get sick at all."
The Byrds use a woodstove; they find that since insulating and sealing their home, they have to load it just once at night, and the house holds all of the heat. "The comfort of the house is amazing," Renee added.
"I can't stress how much Efficiency Vermont helped us at every turn," Jerry said. "Finding contractors and figuring out where to start was so hard, but they plugged us in to the right people who were able to help us get the exact results we wanted."
Making It Airtight (and Waterproof)
Jeb Wallace-Brodeur
Mark Snyder at his converted train station office in Greensboro Bend
Mark Snyder of VT Energy Audits, a contractor within the Efficiency Excellence Network, has a motto: "A house should be like a submarine." In other words, you should be able to submerge your house in Lake Champlain and not have it take on water. Once Snyder makes sure the house is properly ventilated, he wants to seal up all of the air leaks.
Snyder walks the talk, too. His office is in a historic restored train station in Greensboro Bend. After inheriting it from his father, Snyder restored it himself over the course of 20 years, adding insulation and weatherizing it. He says it will probably take another 20 years to complete everything on his list, but the space is currently cozy and decorated with train-themed memorabilia and pictures of his family.
"Every house has pretty much the same problems: air sealing and insulation," he explained. Snyder compares fixing up a house to getting dressed for a hike: The air sealing is the windbreaker, and the insulation is the sweater. The sweater keeps you warm, but if the wind is really blowing on the mountain, you'd want the windbreaker to deflect it. "Most houses, in general, just have a light sweater on and no windbreaker."
In his line of work, Snyder has seen it all, the best and the worst. Over the years he's encountered mouse droppings, asbestos, and the "dirtiest, most cramped basements and attics that you can imagine."
"Very seldom do I walk into a nice, dry basement," he said. "That's always the first challenge. We have to deal with the wet and nasty first, then we can start to do work."
Sometimes the problem is upstairs, not down. A house he recently visited had an attic full of contaminated vermiculite and insulation that was full of asbestos. If asbestos is disturbed, breathing it in can cause cancerous mesothelioma. It's a huge health hazard. The occupants didn't even know it was there. In addition, he found antiquated knob-and-tube wiring, a fire safety risk.
He told the owners to speak with a professional who specializes in asbestos removal. "Once remediated, you get a clean slate. It's almost pleasurable to air seal at that point, because you can't air seal as well if there's insulation in the way," Snyder explained. "There's a very small percentage of houses that I can't fix," he said.
Sealing the Deal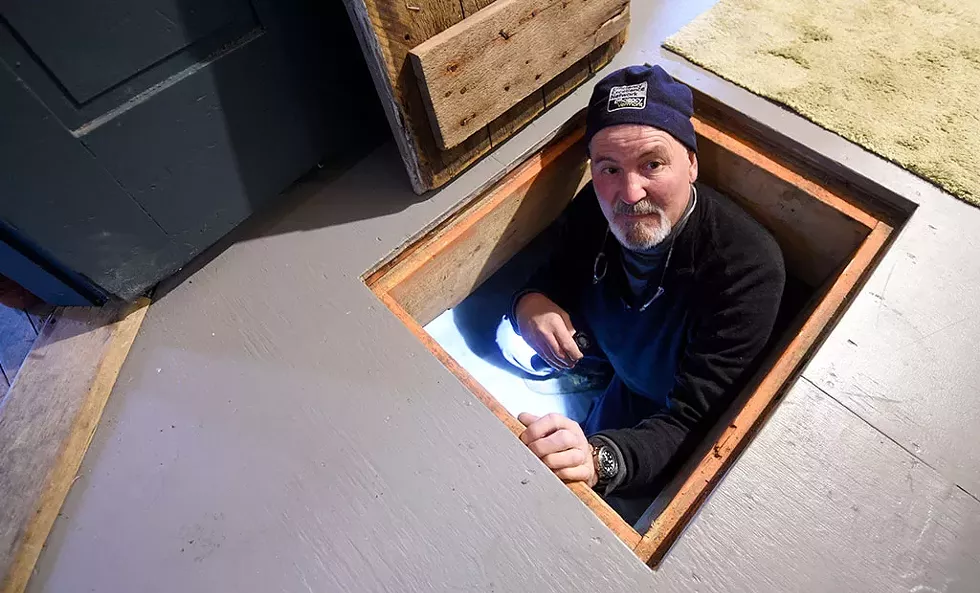 Jeb Wallace-Brodeur
Mark Snyder
When customers call Efficiency Vermont in search of an energy assessment, they receive a list of contractors organized in order of proximity to their home. The customer chooses which contractor to call. Snyder fields dozens of these calls each year. He sets up an appointment and does a walk-through with the owner to identify problems and figure out how to handle them.
Ready for a Home Energy Assessment?
Efficiency Vermont can connect you to free resources and professional contractors.
"What people usually say to me after an assessment is, 'Wow, I never knew my house like I know it now,' so it's really very informative in a lot of ways," Snyder added.
After going through the house, he gives the customer an estimate of what it'll cost to resolve the problems, listing them in order of importance. "Then, the work pretty much sells itself, because it pays for itself," he said.
Snyder pointed out that his customers often wind up saving money because their energy bills can decrease dramatically. When he updated the train station, he made all the money from the repairs back in just seven years due to how much more efficient it was to heat the building. "Seriously, this is the greatest business I could be involved in."
Winter is the time when most people realize their house needs repairs, Snyder noted. It can be extremely difficult and expensive to heat a home that isn't weatherized and has a lot of leaks. If you notice your home is cold and won't keep in heat, or you see icicles and spiderwebs inside, that might just be the beginning of a problem that's impacting other aspects of your life as well, including your health.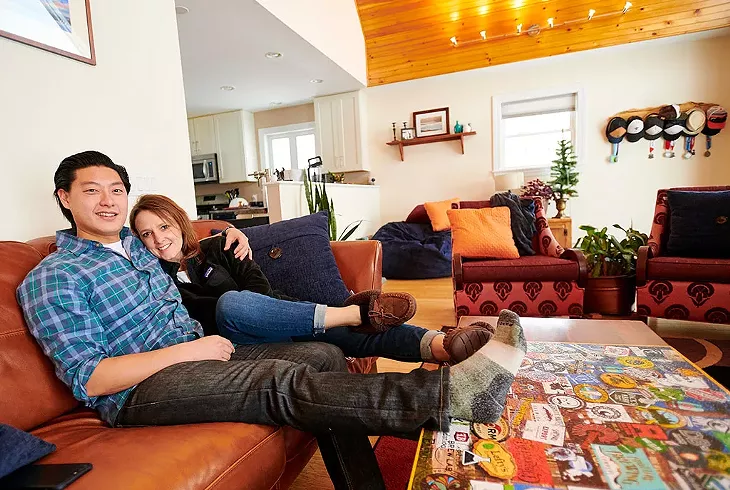 Bear Cieri
Chris and Jenn Bergeron
Bergeron explained that the most surprising part of the assessment process was the payoff. "Our house is so much warmer and more comfortable, and we don't get sick as often as we used to," he said. "I didn't realize all that was available until we went through it — and when we did, it just all made sense. That's why I recommend it to other people."
This article was commissioned and paid for by Efficiency Vermont.