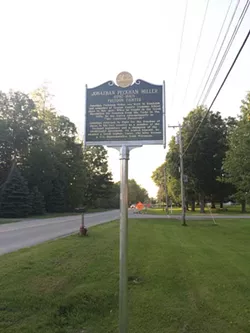 CourtesyVermont DivisionForHistoricPreservation
The missing marker
A historical whodunit in Randolph Center revolves around a missing roadside marker.
Vermont State Police, along with the Vermont Division for Historic Preservation, are looking for the large bronze placard that disappeared several months ago — possibly as long ago as December. State historic preservation officer Laura Trieschmann said a community member noticed the sign was missing last month and notified officials.
The 4-by-3.5-foot marker — which weighs 70 pounds — is usually affixed to a large metal pole just outside Vermont Technical College along East Bethel Road. It commemorates Jonathan Peckham Miller, a Randolph native born in 1797 who earned the nickname "the American Daredevil" while fighting in the Greek Revolution, according to Trieschmann. When he returned, Miller became an abolitionist and pushed for antislavery policies as a member of the Vermont legislature. He died in 1847 and was buried at Green Mount Cemetery in Montpelier.
But without a sign explaining all of that, current visitors to Randolph Center would have no idea. Trieschmann said people sometimes steal the markers as a souvenir or a joke. One taken from Rutland a decade ago turned up in New Jersey.
There's at least one lead in the latest case. State police Sgt. Eric Hudson said he's investigating whether a December car crash dislodged the marker.
Vermont's historic marker program began in 1947, and about 230 signs have been posted at sites across the state. Officials erected the Miller marker in 2015 after a push for the commemoration from local historian Miriam Herwig, who died shortly after it went up.
Trieschmann said the sign, which cost $2,000, is sorely missed. She pleaded for its return.
"It's a very small budget we have for this program, so we don't like having to replace markers," Trieschmann said. "But we will if we have to."