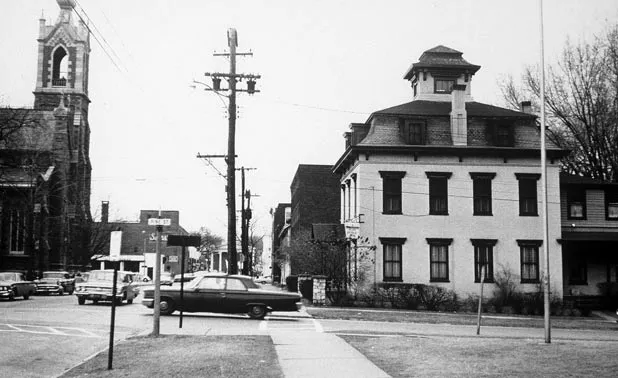 This Saturday, October 6, the Vermont Italian Club will host Piccola Italia, an Italian pride extravaganza with authentic cuisine, music, tours of Burlington's original Little Italy and the unveiling of new interpretive signage in the neighborhood. For additional flair at the event, the club teamed up with Coby Brownell, a Champlain College instructor and graduate student, to develop an augmented-reality website, which pairs historically relevant information with a simulated tour.
"We dreamed of, What if people could see what this was really like?" says the club's president, Adele Dienno, of the former Italian 'hood.
The group's new "app" is not really an app itself but a combination of several other apps and an interactive website, which is compatible with both iOS and Android devices. It utilizes an augmented-reality (AR) app, a Quick Response (QR) code reader — a barcode reader — and a web browser to present all the elements.
"Right now, it's a little pieced together," concedes Brownell. "The tech just isn't quite there." However, he's confident that having to utilize multiple platforms won't present a problem for most users.
Specifically, Brownell has programmed three very different pieces of the Piccola Italia puzzle. Users can scan codes on the Little Italy memorial signs installed around Burlington with a QR code reader. This will take users to the interactive website, which explains how to access the other content. From the website, for example, visitors can download a 3-D map of the area, which can superimposes the image onto the screen of their phone. Hand-drawn images are accessed in the same way.
Users can also view pictures from multiple sources, such as Burlington public records and personal photos from descendants of the families who lived in the area. The photos, along with stories from these families, will provide context for the images. "It's bringing history into the present-day reality," suggests Dienno.
Through the web browser, users can view a high-resolution, 3-D model of the 27 acres (four square blocks) of the old neighborhood, which was razed in the 1960s to make way for urban development, including the Burlington mall. This model is interactive, enabling users to zoom in and out, and to view the image from multiple angles.
"We are going to bring this history alive and recognize this neighborhood," says Dienno.
Piccola Italia, a celebration of Little Italy 1886 to 1968, Saturday, October 6, 2-5:30 p.m., featuring Italian food, family-photo displays and films at Burlington City Hall Auditorium; a Roman gladiator reenactment and music in City Hall Park; and guided "high-tech" walking tours beginning at 3:30 p.m. vermontitalianclub.org