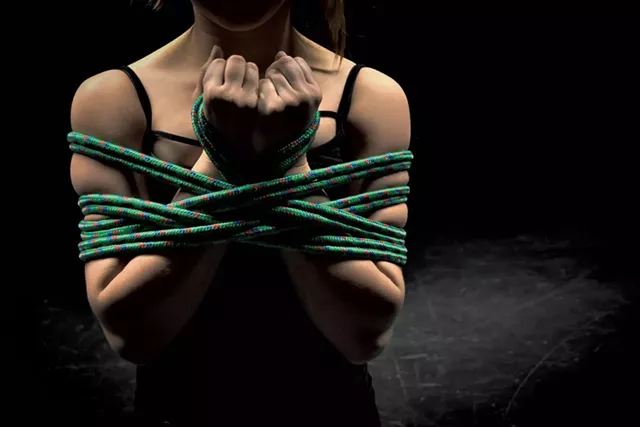 Courtesy of Lea-Or Zarfati-Eirmann
Photograph from Tooti Zarfati-Eirmann's art project
In October 2018, Lea-Or "Tooti" Zarfati-Eirmann decided that her final project in her advanced-placement art class would involve shibari, the ancient Japanese art of decorative knot tying. When her mother asked why, the then-graduating senior at Mill River Union High School in North Clarendon explained, "because it's a great metaphor for the way society is restricting self-expression."
At the time, Zarfati-Eirmann had no idea that her words would prove prophetic. On the morning of June 5, just hours before her final project was supposed to be exhibited alongside works by her fellow students, the 16-year-old was informed by Mill River's principal that her photographs were "inappropriate" for display in a public school and had to be taken down. That decision came just two days before the teen's high school graduation.
Zarfati-Eirmann said she was distraught when she got the news and spent the next 40 minutes sobbing in the bathroom. As she later explained in a last-minute addendum to her artist's statement, which she posted on a blank wall where her photos had been meant to hang, "My work representing the restrictions of society has been restricted itself. I apologize that art is no longer something to spark discussions and challenge the mind."
In a phone interview with Seven Days last week, Tyler Weideman, principal at Mill River, explained his reasons for pulling the plug on Zarfati-Eirmann's photos. Weideman, who took over as principal in March, said that he wasn't part of the original faculty discussions about her art project, which had gotten a green light from his predecessor, Todd Finn. It wasn't until June 4, the night before Mill River's annual Celebration of the Arts event, that Weideman saw Zarfati-Eirmann's photos for the first time.
Courtesy of Lea-Or Zarfati-Eirmann
Photograph from Tooti Zarfati-Eirmann's art project
"I asked quite a few students and teachers what they thought of it," he recalled. Before he'd even reached his own conclusions about the exhibit, he said, "a group of six or seven students" approached him to say that they were "disturbed and offended" by the depictions of their fellow students bound in ropes. As Weideman pointed out, Mill River serves 428 students in grades seven through 12, some of whom are just 12 years old.
According to the principal, Mill River has a written policy that prohibits student art depicting sex, violence, guns, narcotics or drug paraphernalia. While Weideman recognized that knot tying is an ancient art form, he said he couldn't allow a display of photos that might be interpreted as sexual, violent or sadistic in nature.
"We have kids who come from various backgrounds of trauma, and it's not something we can have in a public school," he added. "Don't get me wrong. I think she did an amazing job. She put a ton of hard work into it. But it just wasn't appropriate to show that work."
Zarfati-Eirmann remains perplexed by Weideman's decision. As she explained in an interview with Seven Days last week, she spent two years learning to tie the intricate knots involved in shibari and worked for months to complete her project, which consisted of about a dozen photographs.
Zarfati-Eirmann's models, all of whom were fellow students, had signed consent forms to participate, as had their parents, and were fully clothed in the photos. All of the photography was supervised by an adult and took place within the school building with the full knowledge and consent of AP art teacher Jonathan Taylor. (Taylor couldn't be reached for comment as of press time.) And, she noted, the photos had hung in the school's art room for several months without sparking controversy.
Zarfati-Eirmann readily acknowledged that this particular art form has a dark history. Shibari, which means "to bind" or "tie up" in English, originated in Japan as a method of restraining or torturing prisoners, albeit one that also honored its captives. It later evolved into a form of erotic expression, but it is also used nonsexually for deep-tissue massage and relaxation, akin to acupressure. In fact, Zarfati-Eirmann noted that two of her models later asked if they could borrow her ropes when they were having stressful days, because of the knots' calming effects.
Courtesy of Lea-Or Zarfati-Eirmann
Photograph from Tooti Zarfati-Eirmann's art project
The teen's mother, Zohara Zarfati, understood the principal's decision, even if she disagreed with him. However, she was more disturbed by his unwillingness to engage in a meaningful dialogue to try to resolve the situation. According to Zarfati, she and her daughter met with the principal and art teacher shortly after the decision, during which Zarfati proposed that the administrator review all of the photos to see if he could find some that he deemed acceptable for display. But, according to Zarfati, Weideman declined to do so and was unwilling to offer an alternative venue for displaying the images.
"So, basically, he didn't engage in any communication or problem solving," said Zarfati, who had worked for 30 years as a special educator herself. "Good art is meant to engage [people] in deep, critical thinking and reflection. As an educator, I know that if I don't engage in good, reflective thinking, I'm not a good educator."
Because Zarfati-Eirmann was due to graduate two days later, she said she decided not to spark a major public controversy and mar the otherwise joyous commencement ceremony.
But Rutland visual artist Bill Ramage, a professor emeritus of art at Castleton University, was more blunt in his condemnation of Mill River's decision.
"It's censorship," said Ramage, whose own works have been displayed throughout the country for decades. "I just think people have to be really careful about what they censor and why. It can become a dangerous thing."
Currently, the 16-year-old hasn't decided what she'll do next; according to her mother, she's taking some time off before pursuing further education. But Zarfati-Eirmann was hoping to find another Vermont gallery willing to display her work to a wider audience. (Later, she secured an evening reception on Friday, June 28, at the Chaffee Art Center in Rutland.)
And, while she respects the school's goal of trying to protect students from disturbing imagery, she's still perplexed as to why hers was interpreted in this way.
"In a public high school, you don't want something sexual or violent or drug related," she said. "But this isn't that."