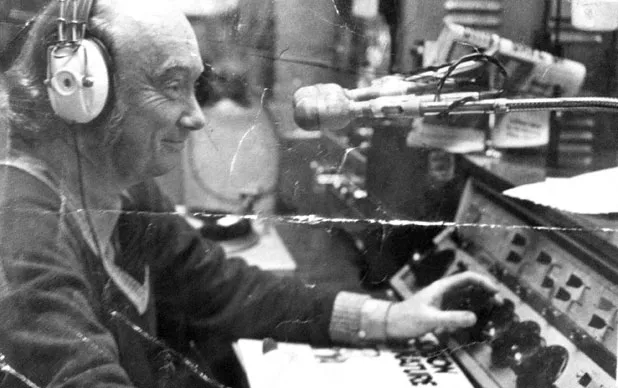 .You may not think you know Ed Bemis. But if you are a fan of jazz music in Vermont, you are familiar with his work.
Bemis, who died last month at the age of 84, was, as local jazz drummer Jeff Salisbury puts it, the progenitor of jazz awareness in Vermont. Most longtime Vermont jazz players and aficionados share that sentiment, and with good reason: Bemis hosted the first jazz radio programs in the state and interviewed many of the genre's iconic figures. He was a key player in the development of the Burlington Discover Jazz Festival, sitting on its advisory board for several years.
Bemis was also instrumental in the creation of the jazz-studies program at the University of Vermont. As his late friend and colleague Larry McCrorey, musician and UVM's associate vice president for academic affairs at the time, wrote in a 1977 memo, "With a somewhat limited formal education, Ed came to UVM, observed a paucity of societal exposure to jazz music, and began, singlehandedly, to do something about it."
That was no small feat, McCrorey noted, since neither "Ed's credentials nor the antipathy of segments of the university made this undertaking easy." The devil's music was a tough sell.
Bemis was a jazz scholar, teacher and ambassador. But most of all, he was a fan. If you caught a jazz concert in Burlington in the last 50-plus years, you probably saw his shock of red hair — it got a little sandy in his later years — somewhere in the crowd. Or, you might have seen him afterward, debriefing with similarly ravenous jazz heads outside.
A memorial concert for Bemis, this Saturday, October 13, at Burlington City Hall Auditorium, features many of the area's fine players. But at the inevitable postgig breakdown, one jazz head will be noticeably absent. To fill the void, Seven Days asked a few local jazz luminaries to share their thoughts about him.
What follows are remembrances of Ed Bemis from some of the folks who knew him best. Bemis' legacy, of course, extends far beyond what this collection of quotes could capture. Anyone who has enjoyed jazz in Vermont — or will in the future — has Bemis to thank. As McCrorey concluded, "What progress has been made toward the furthering of jazz music as a legitimate discipline, Ed Bemis deserves most of, if not all, the credit."
Chuck Eller, keyboardist, Kilimanjaro
I believe that I met Ed around 1970. I was a music major at UVM and had just started my first jazz group, which was a very eclectic group called O. We would do these entirely improvisational concerts at the lounge in Billings Center several times per semester. This music was definitely very out there most of the time, and while there was always a question in my mind whether the audience was actually getting it, there was this one redheaded guy that would come up at the end of each show, just beaming with delight and wanting to know how he could help us promote our music.
This man was, of course, Ed. From that point on, this new friend of mine became integral as an ally in promoting all of my endeavors as a budding jazz player in Vermont. I feel that I owe him hugely for his unbelievable enthusiasm for the local jazz scene and beyond. I don't think that I've met another person in my life that was singularly as enthusiastic about jazz as Ed was. Unfortunately, one gets a sense that when a person like this passes out of your life, they were "one of a kind," or that "they don't make them like that anymore." In Ed's case, I'm pretty sure that that is true, which saddens me, but it's also the reason that we need to celebrate his life and all of the positive energy that he lent to up-and-coming players, like myself, on the local jazz scene. He will be greatly missed!
LJ Palardy, DJ, WRUV
I can't remember when I first heard Ed on air, because it's been so many years. When I was finally introduced to him, my first thoughts were, This old codger is playing some free-form jazz that's not normally heard in staid Vermont. Now that I'm in my early seventies, I can only hope that some young local jazz fan will say the same things about me someday.
Clyde Stats, bassist, teacher
Ed was a loyal supporter of local jazz and a ubiquitous presence at performances of both local and national jazz artists. I always enjoyed talking to him about jazz and was always impressed by his knowledge of the music's history and classic practitioners.
Jeff Salisbury, drummer, UVM jazz faculty
I thoroughly enjoyed our numerous conversations over the years, dating to before the origin of the Burlington Discover Jazz Festival. He was instrumental (pun intended) in getting people to appreciate not only international celebrities but the talent pool here in Vermont, as well. He was a dear, sweet guy with a great ear for jazz and an unquenchable enthusiasm. May he rest in peace.
Lar Duggan, musician
You'd have to say Ed was a true-blue jazz lover. I started playing in Burlington around 1973. Ed was almost always there at the gig, with Anne, for years and years. He always had a smile and something nice to say about the music. And because he had such a seasoned ear, his support meant something. He was a very affable guy, as well … always a pleasure running into him. I'm sure the next time we meet it will be equally pleasant.
Peter Gillespie, host, "Jazz with Pete" on WWPV
What I loved about Ed was that he played avant-garde jazz from the '60s that DJs at that time weren't playing in the area. He and his beautiful wife, Annie, played host to scores of musicians when they came through Burlington to perform, and made a personal effort to make them feel welcome here in Vermont. He shared his encyclopedic knowledge of jazz and personal reminiscences generously and should be credited for his great efforts to promote jazz in the Burlington area.
Jan Morse, musician, jazz head
We recorded about 40 of Ed's shows and listened to them while driving around in the truck.
George Thomas, former host, "Friday Night Jazz" on VPR
If only we could have Lord Buckley give a tribute to Ed: "But I'm gonna put a cat on you ... was the coolest, grooviest, swingin'est, wailin'est, strummin'est cat that ever stomped on this jumpin' green sphere."
The Ed Bemis Memorial Jazz Concert takes place at Burlington City Hall Auditorium on Saturday, October 13, at 2 p.m. Donations.