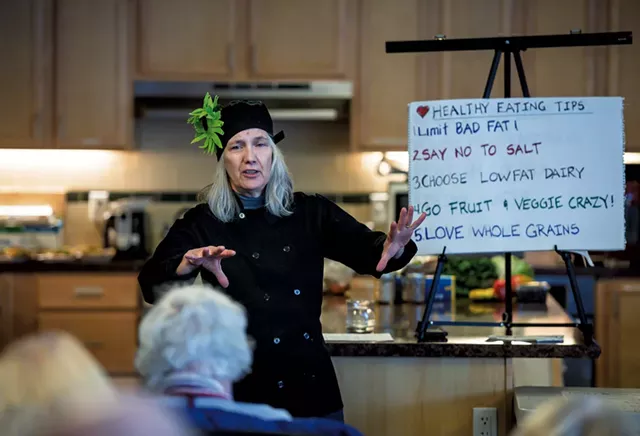 Glenn Russell
Chef Robin Burnett giving healthy eating tips during a Helping and Nurturing Diverse Seniors workshop at Thayer House in Burlington
Cooking can be a lot of work. For the roughly 12,000 seniors in Burlington, adding health and budget restrictions on top of shopping and chopping can make kitchen prep seem all but impossible. But with a creative roster of food-focused services and programming, a local nonprofit is lending its HANDS to keep seniors independent.
Helping and Nurturing Diverse Seniors, or HANDS, was created to provide food to low-income adults 50 years and older in Chittenden County by delivering meals and offering free gardening and cooking workshops.
"HANDS is looking at the whole range of what people are interested in, what their skill level is and how involved they want to get in making their own food," said executive director Megan Humphrey. "We don't want to duplicate things that are already being done."
HANDS in the Kitchen — the nonprofit's series of cooking and nutrition workshops — started three years ago when Humphrey approached chef and cooking instructor Robin Burnett to teach seniors how to use the "weird veggies" that show up in CSA shares, Burnett said. "We started small and focused on specific vegetables, like long, skinny Japanese eggplant, and it just took off from there."
The workshops — which typically run for six to eight weeks at community spaces, senior centers and other senior housing and cover an array of topics — began at Thayer House, an affordable housing community for people 55 and older in Burlington's New North End. Last Thursday, HANDS was back in the kitchen at Thayer House for a one-time workshop focused on heart-healthy cooking. Inspired by resident Roni Lesage, Burnett shared tips for planning, shopping, cooking and eating habits to improve and maintain heart health.
"I had a series of heart attacks last October and it was a wake-up call," Lesage said. She has completely changed her lifestyle and eating habits, and she credits Burnett with helping her to embrace fruit and vegetables. "I never thought I would like them as much as I do," Lesage said. "Chef Robin is a huge part of that, and I get so excited when she's coming to do a workshop."
Humphrey agreed, saying, "Chef Robin is the star of HANDS in the Kitchen. She knows the chemistry of food and the benefits of it, and she's funny, which helps because it's a serious topic."
The workshop drew 25 curious participants, who hung on every word of Burnett's cheeky explanations throughout her 90-minute presentation. "You can't survive like a hamster does, on one type of little pellets," Burnett said, getting a big laugh. "We're complex, and we have to learn what's better for us, how to use it and how to have fun with it."
Burnett emphasized that heart disease is "not a death knell." She pointed to colorful, hand-illustrated posters outlining the components of a healthy plate and tips for heart-healthy eating. (See sidebar.)
Glenn Russell
A Helping and Nurturing Diverse Seniors workshop
When the subject turned to shopping with heart health in mind, the chef began pulling ingredients out of the refrigerator and asking volunteers to rank them from most to least healthy. Vegetables — dark, leafy greens; sweet potatoes; white potatoes; and iceberg lettuce — were quickly ranked without much fuss. Grains and proteins stirred up more debate; participants expressed their surprise when Burnett identified oatmeal as the heart-healthiest grain and red lentils as the best source of protein.
"I like to bring real products for this part of the demo," Burnett said. "Seeing them helps participants remember and recognize them when they get to the grocery store."
The fruit category was also eye-opening for the crowd: Avocado, a fruit with healthy, soluble fat, outranked fellow superfoods blueberries, apples and bananas. When a participant questioned the age-old saying "An apple a day keeps the doctor away," Burnett replied that the phrase came from a time when avocados weren't in every grocery store. "We should update it to 'an avocado a day,'" she suggested.
Every HANDS in the Kitchen workshop ends with sharing something to eat, and avocado was the focus of this workshop's snack. Demonstrating that avocado toast isn't just for millennials, Burnett prepared three variations: one with diced tomato and cucumber, one with an olive and chia seed "caviar," and one with a kale and nutritional yeast pesto.
"Don't be perplexed about how to enjoy it; you can put anything on top of avocado," Burnett said. She encouraged participants — some of whom remarked that they'd never tried an avocado — to use the fruit as a substitute for mayonnaise or butter.
Cleaning up after the workshop, Burnett said she hoped attendees had learned something new. "I hope they feel a kinship with food that maybe they've lost. I want to generate an excitement and desire to cook and some enthusiasm for enjoying food again in their lives," she said.
Tasting the avocado toast and a mango lassi — made with mango, low-fat yogurt, low-fat milk, honey and banana — participants Rowena Carrier and Linda Sabens had mixed reactions to the toast toppings but told Seven Days they were glad they had attended the workshop. "I was looking for guidance and the different ideas and perspective you can get from a workshop like this," Carrier said.
"Any information you can get is helpful, because things change. There was only one kind of potato when I was growing up," Sabens added. "You don't realize when you're young how hard it is to change your habits, but you have to learn to have the taste and palate for things that are better for you."
Burnett, milling around the room and answering questions one-on-one, agreed. "We get stuck in our regional, cultural ways of eating," she said. "As we get older, we realize we've been doing it wrong our whole lives, and it's not easy to change, even when our health depends on it."
The simple, practical tips that Burnett offers in these workshops give participants tools to make those changes, however they decide to include them. From Humphrey's perspective, it's all a way of helping to keep people independent and in their homes — and filling gaps in getting food to low-income seniors.
HANDS is planning to start another series of workshops in early spring, and Humphrey hopes the response will be as strong as it was for this heart-focused event. "Sometimes it's a bit of a challenge to get people in the door, because it might not seem very exciting," Humphrey said. "But once people are here, they're very engaged — this roomful certainly was. They're our best crowd."
10 Tips for Heart-Healthy Eating
© Chueatong2528/dreamstime.com
The HANDS in the Kitchen workshop is geared toward people older than 50, but it's full of practical advice for cooks and eaters of any age. Here are chef Robin Burnett's tips for simple ways to change eating habits and help your heart. Don't worry, she won't tell you not to eat bacon.
Limit bad fat: "If the fat you're using is sitting solid on the counter like my grandmother's lard, it's not the healthiest fat for you."
Say no to salt: "This is the hardest thing for a cook, because salt is a flavor enhancer, and it's in everything. Use flavorful spice mixes to jazz things up instead."
Choose low-fat dairy: "The softer the cheese, the higher the fat content (unfortunately for Brie and Camembert lovers). You don't have to completely deny yourself the food you love, but balance it with healthier foods the rest of the time."
Go fruit and veggie crazy: "Make fruits and veggies half of your plate. Make them big, colorful, bright, fresh and tasty."
Love whole grains: "The night before, pour boiling hot water over a serving of whole grains, then leave it overnight at the back of the counter with a plate covering it. This step will cut the cooking time in half, minimizing the time on your feet."
Fill up on fiber: "If you're following tip No. 4 and eating enough fruit and veggies, fiber shouldn't be a problem."
Choose meat carefully: "It's hard to find a good steak that isn't full of fat, because the marbling of fat is what makes it taste good; plant-based meat substitutes help curb meat cravings. If you must have bacon — and I know Vermonters love their bacon — make it a treat and really savor it."
Control your portions: "Protein portions need to adapt to your needs and your activity level, whether you're climbing Mount Everest or just watching 'The Young and the Restless.'"
Drink water: "Even if you're not thirsty, keep drinking."
Stay active: "If you're sitting and watching your soaps, you can move! Bring your heart rate up by moving your arms and stretching; make it work a bit while you're sitting on your behind. The littlest things we can find in our day to do get us back to how we want to feel."