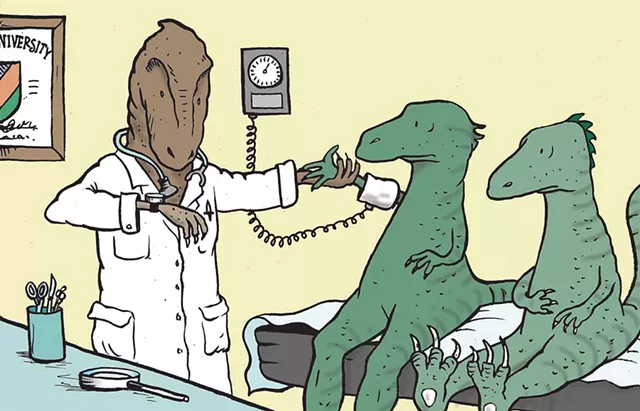 Late last year, Gov. Peter Shumlin shocked many by announcing he was dropping his pursuit of a single-payer health care system because it was too expensive. Shumlin called the abandonment of his signature initiative the "greatest disappointment of my political life." It stalled progress toward state-guaranteed health care for all.
Now Peter Sterling, a respected and influential health care advocate, is stepping forward with an ambitious and sweeping proposal. Sterling is calling for the state to study a plan that could add 120,000 Vermonters to Dr. Dynasaur, the name Vermont uses for three Medicaid programs that offer free and low-cost health care to qualifying youngsters. Sterling's plan would abolish the current income limits for Dr. D and increase the age cutoff for coverage from 19 to 27, essentially creating single-payer for the young.
The 25-year-old Dr. Dynasaur offers comprehensive coverage, including vision and dental. The program has no deductibles, and premiums range from zero to $60 a month. Dr. D has contributed to the state's top ranking in many measures of children's health.
Sterling said he came up with the idea last spring as he contemplated policy strategies after Shumlin's announcement. Sterling said he asked himself: Why don't we expand on something that is popular and rebuild public confidence in publicly funded health care?
The price tag, though, could be a bitter pill. Sterling's estimate: $400 million. He says that it could mean savings of up to $5,000 a year in premiums for a family of four.
Still, with more than a decade of experience lobbying at the Statehouse, Sterling recognizes that lawmakers are unlikely to immediately embrace what would amount to the biggest expansion of a government health care program since the creation of Medicaid. During the coming legislative session, he will ask lawmakers only for a feasibility study to lay the groundwork for debate in 2017. He didn't have a cost pegged for the study.
Opposition to "Dr. Dynasaur 2.0," as Sterling has dubbed his initiative, is already evident.
House Minority Leader Don Turner (R-Milton) called the proposal "unimaginable," given that the Medicaid program is costing millions more than projected this year. Lawmakers learned last week that state government faces $40 million in unanticipated budget pressures, of which $36 million is attributed to Medicaid. Given this financial crisis, which is expected to worsen next year, Turner said of the Dr. D expansion, "I can't believe that they are talking about that."
"To waste time in studying it seems ridiculous" — and potentially dangerous, said Turner. "These studies lead to action. When it comes to these ideological ideas, the next thing you know, we are moving toward it."
Darcie Johnston, who heads an organization that favors private health care over government-run programs, is ready to mount a fight. "We totally oppose it and will aggressively work against it," the Vermonters for Health Care Freedom founder said. She sees the proposed expansion as a backdoor effort to move the state toward single-payer health care.
Johnston argues that shifting young adults from the private insurance market would take the healthiest, cheapest-to-cover people out of the risk pool and would drive up costs for the rest of the population. "It is so destructive," she said. "We can't afford this."
Further, increasing the number of people who pay government's low insurance rates for their care compounds an existing problem, she said. Government plans don't pay doctors and hospitals enough to cover costs, and they either eat the losses or raise charges on those with private insurance.
If the Medicaid cost-shift problem isn't addressed, hospitals could be affected by the proposal. Jill Olson, a staff lobbyist for the Association of Hospitals and Health Systems, said the group has yet to review the Dr. D expansion proposal. "That said, we rarely oppose studies," Olson said. "Instead, we usually advocate for the inclusion of questions that we think are important to the issue being considered."
House Speaker Shap Smith (D-Morristown) supports a study of what he called "an intriguing public health and economic development proposal." It offers the possibility of more comprehensive and affordable coverage for young Vermonters, and that might lure young adults and families to Vermont, he said.
Sterling has created an organization, Dr. Dynasaur 2.0, recruited two people to serve on a steering committee and solicited funding to help him push his proposal. The National Education Association, whose state branch represents 12,000 teachers, has provided $130,000. The Seattle-based Alliance for a Just Society, which is focused on racial, social and economic justice issues, gave $30,000. The funding covers a salary for Sterling and program expenses, such as a website, polling and research. It pays for lobbying and outreach by staff at Main Street Alliance, an organization that works to unite groups of businesses around legislative initiatives. Sterling also hired Steve Kappel, a health policy consultant, to develop preliminary financial information to help him persuade lawmakers that there is merit in pursuing additional research.
Sterling has experience building support for people and ideas. He managed Sen. Bernie Sanders' (I-Vt.) 2002 campaign to keep the U.S. House seat he held at the time. He headed a coalition, the Vermont Campaign for Health Care Security, which pushed lawmakers to create Catamount Health, a government program that extended health insurance to moderate-income Vermonters. With that same organization, Sterling last year secured funding to lobby for a tax on sugary beverages. The legislature rejected Sterling's proposed two-cents-per-ounce excise tax, but it extended the state's 6 percent sales tax to sugary drinks.
For his push to get a study of expanding Dr. D, Sterling has secured support from 13 organizations, many formerly part of the coalition behind the Vermont Campaign for Health Care Security. They include the Vermont chapter of the AARP, the American Cancer Society of Vermont, Vermont Businesses for Social Responsibility and Professional Fire Fighters of Vermont.
Sterling also has recruited people who are examples of those who could benefit from the initiative.
Lachlan Francis is a 19-year-old sophomore at the University of Vermont. Francis argues that expanding Dr. Dynasaur would make the state more attractive to young adults. The Putney native said he wants to remain in Vermont after graduation, but that will be challenging.
Even now, Francis said, he hesitates to see doctors because of the high out-of-pocket costs he has to cover on his shoestring budget under a plan provided by his mother's employer. In November he became ill, but he put off getting medical help until he could hardly breathe. He ended up hospitalized with severe pneumonia.
Stephanie Hainley, chief operating officer of White + Burke Real Estate Investment Advisors in Burlington, also supports investigating the expansion of Dr. D.
"It is an exciting initiative," she said, noting that the status quo in health care is not affordable. She chairs the Main Street Alliance, one of the groups endorsing the study of the proposal. Hainley said a study would flesh out the details of the expansion and allow the evaluation of its merits. "We can't do anything without data."
Blocking a study would seem "misguided," according to Jason Serota-Winston, an intensive-care nurse at the University of Vermont Medical Center and another supporter. He has heard patients and families discuss their worries about how to pay for care. The current health insurance system doesn't meet everyone's needs, he said, and "this study is to find out if [Sterling's plan] would be a money-saver."
Sterling believes his proposal would provide savings to families and employers. He has calculated, for example, that a family of four with $75,000 in income might pay $11,000 rather than $16,000 in annual health insurance premiums — and potentially see $4,000 to $13,000 in savings on deductibles and other out-of-pocket medical payments.
Sterling pledges to abide by the results of research. "If the study comes back and results show that more taxes are needed than there are savings to Vermont employers and employees in health care costs," he said, "we will not pursue this expansion."